On Friday August 4, Feathr held another education and discussion event in the Feathr Live series, this time in the Big Apple. Feathr Live is a chance for progressive event and association industry leaders to gather and grasp the major changes occurring in our industry. Feathr hosts these intimate roundtable discussions several times a year to talk tech, data, and the future. The August 2017 event was Feathr's first in New York, but will not be its last.
An Evolving Industry
Feathr's co-founder and president Aidan Augustin, along with sales VP Heather Holst-Knudsen and customer success manager Kelly MacLellan, traveled to WorkHouse NYC, a modern co-working space in the heart of Midtown. The attendees--consisting of event industry professionals both Feathr customers and non-customers--enjoyed breakfast and networking on the rainy Manhattan morning before presentations. Vena Vongachariya, marketing director of Seatrade Cruise Global at UBM Americas, discussed her experience as a Feathr customer, taking questions from the audience along the way.
Aidan's presentation focused on the emerging challenges in an industry that, until recently, has thrived on a centuries-old business model: the face-to-face marketplace. Technology has democratized the event space, and face-to-face is no longer a requirement; it is now just one of many options.
Despite some compelling data about the decline of traditional event models, the discussion was positive.
Here's why:
A Data-Based Solution
Data event organizers collect can now be leveraged not only into marketing efforts, but scalable, personalized communications. This means exhibitors, sponsors, and attendees can all have different, individualized event experiences. Much in the same way Amazon and Netflix have seen runaway success with personalized shopping and streaming recommendations, event organizers can also harness the power of personalization. That is how live events will be able to prosper in the future. That's what we at Feathr are betting on, and that's the message we presented in New York to event pros who are ready to future-proof their business. Start spreading the news.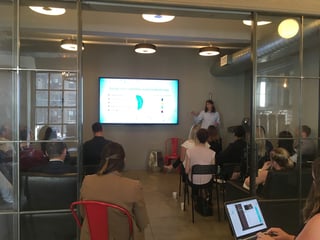 Feathr President Aidan Augustin gives a presentation in New York about the changing events industry.
Ready to discuss your role in the future of events? Join us at Feathr Live!