Last month we announced our entry into the world of email marketing with Single Send Email campaigns. Along with Single Send Emails came a host of new software features, including our Data Importer, library of beautiful Email templates, and more.
Today, we're thrilled to announce our next email campaign type: Smart Sends!
What's a Smart Send Email?
Email marketing is all about relevancy and timing. A high performing email is one that is both highly relevant to the reader AND delivered at a time when the message of the email is top of mind.
Relevancy can be solved by audience segmentation and targeting (i.e. creating key groups of your overall email list based upon activity, interests, and other data points and sending emails that are aligned with their needs) but how can marketers deliver emails at the right time? Is it even possible to know when someone in your audience is thinking about something?
Unfortunately (or fortunately?), we can't read the minds of our audience. But we can observe and respond to their real-time behavior, using it as a way to intuit what they are thinking about.
A Smart Send Email is an email that does just that – it optimizes the time your email is delivered to each person on your recipient list based upon their engagement with your website. It takes the guesswork out of email scheduling, boosts email performance, and kinda makes you look like a genius.
Example: Monthly Email Newsletter
Say your organization sends a newsletter on the second Thursday of each month to all of your email subscribers. You have the email content ready to go a week ahead of time and, in addition to sending it at your normally scheduled time (October 14th) you want to deliver the newsletter ahead of time to people who visit your website, thereby indicating that they'd be highly likely to engage with your newsletter then.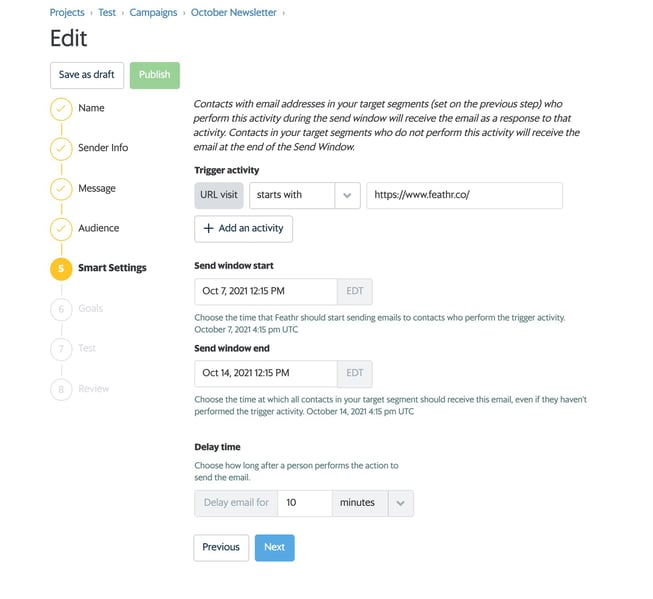 Smart Send Emails are sent when a person in your
audience performs a target activity OR at scheduled future date and time.
With a Smart Send campaigns you're able to accomplish this by configuring:
The time for the bulk send of your email to a target audience
The behavior to watch for that triggers an earlier send
In the example shown in this image here, this October Newsletter would send to my entire list on October 14th at 12:15pm – but would send ahead of that bulk delivery time to anyone who visited our website between today (October 7th) and that send time. That way, a percentage of my audience would get my newsletter as a response to their web activity and be more likely to engage with the email. But, with just one campaign, I also ensure that everyone on my list gets the Newsletter at the target time.
Other Use Cases for Smart Send campaigns
A monthly newsletter is just one example of a great use case for Smart Send campaigns. Here are some other examples of emails that are generally scheduled well in advanced that would benefit from being behaviorally triggered through a Smart Send campaign:
Webinar invitation
End of year donation drive
Speaker/session highlight for an event
Industry report promotion
Special hotel rate offer for event registrants
What other use cases come to mind for you?
A simple way to boost email performance
With flooded email inboxes, social feeds, and notifications of all sorts – it's no wonder that email performance is generally dwindling. But behaviorally triggered emails buck that trend earning, on average, 74.9% better open rates and 161.9% better click-through rates than bulk scheduled emails.
They're an essential part of the any marketers toolkit. And we're delighted to make them available to all customers today.
For a step-by-step instructions for using Smart Send campaigns, check out this article on our help desk.