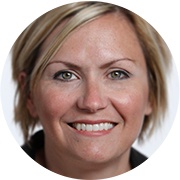 Welcome to the fifth issue of Taking Flight, a newsletter of inspiration and insights from Feathr customers who have earned their wings as association and event industry leaders. Featured in this issue is Dana Hamer, Marketing Manager at AUA.
In this issue of Taking Flight, Dana talks medical industry events and how she successfully markets to 10,000+ attendees from across the globe.
---
Tell us a little about your career background.
I have spent my entire career in non-profit marketing & communications. I began my career in the arts and migrated over to association marketing, which I love! What I love about non-profits and associations is the breadth of experience you get as a marketer. In the morning we might be running a brainstorming session or a SWOT analysis, and in the afternoon we're working on developing a website, or drafting copy, or working with the design team. There are always lots of balls in the air, and every day is different—and I love that about my job! We joke that all roads lead through MarComm, and it's true that we touch just about everything that's going on in this organization.
How do medical industry events differ from other conferences?
Certainly the goal of every professional conference is to educate and advance the field, but I think medical associations recognize that these events are critical to our core mission. In our case, thousands of urologists assemble every year—some traveling from halfway around the world—to share their work or discover new treatments or learn new techniques with the end goal of improving patient care. That commitment from our attendees—and the importance of what we're doing—is not lost on us.
What attendee acquisition strategies have been performing best for you?
I have to give a lot of credit to my colleagues outside of the Marketing & Communications team for their work in engaging—and more importantly, retaining—new audiences. For us, a great example of this is our work with advanced practice professionals. As urologists face a workforce shortage, advanced practice professionals like physician assistants and nurse practitioners have become critical members of the urologic care team. Our Education and Membership teams have done a tremendous job engaging these groups and developing programs that meet their unique educational needs. We can do all the marketing in the world to these groups, but we have to understand their unique needs, and deliver on those needs, to be successful.
How does your strategy differ when marketing for smaller meetings vs. larger conferences?
Larger meetings, especially large international meetings, present a unique set of challenges. The AUA's Annual Meeting welcomes more than 16,000 attendees from over 100 countries—that's incredible! When you're trying to attract people from every corner of the globe, you have to make sure you have a strong marketing mix. Feathr has been a great solution for us in that regard. We rely so much on email—especially for our international marketing—and there are some countries that present serious deliverability challenges. Using Feathr gives us another way to reach our global audiences. [Ed. Note: we didn't ask her to say anything nice about Feathr but we're happy she did!]
What do you wish you knew about your attendees?
Gosh—there's so much more I wish I knew! We have made great strides in our marketing analytics in the past few years through our own annual census and the myriad of data tools we're using. I know where they live, what websites they visit, their educational habits, what mobile device they use. But there's always more I wish I knew. At the moment, as the meetings industry looks for ways to enhance the meeting experience, I wish I had more psychographic data about our attendees. What are they interested in outside of work?
What has been your favorite moment of any of your events?
I think my favorite moments at these events are moments I get to spend with my team after hours. These events are months in the making and everyone works so incredibly hard—it's nice to sit, take a deep breath, recognize everyone's hard work and celebrate a job well done.