We're always hard at work making new things (and making old things better). Check out the latest Feathr updates and features in this article, and be sure to subscribe to the Feathr blog so you can always get the latest news flying in as soon as it arrives.
There's a theme to this set of updated features: Ease. Of. Communication. We've made some handy changes to the way you message Partners, as well as some improvements in contact list importing. Read on to learn about it.
First, the Message Partners tool has been updated to match the Email Marketing Campaign Wizard: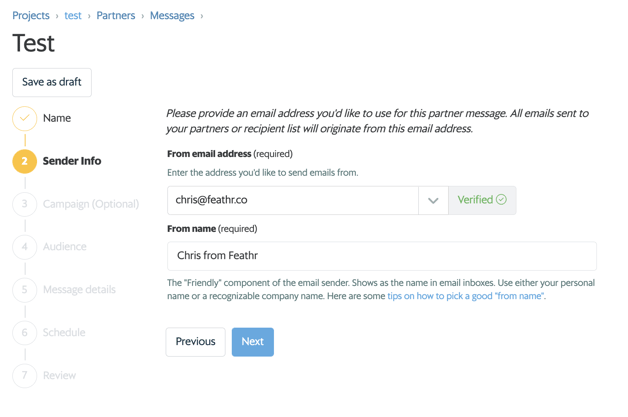 What does that mean for you?
For one, it's now a simpler, more linear process without any loss of functionality. But the best part about this update is the new ability to verify a custom sender address. No more messages sent from "partners@feathr.co." Your partners don't care what Feathr is—they're your partners. So with this update, partner messages can finally come from...YOU.
Read our help desk article for the full details on how to use our new and improved partner message tool.
We also added a collection of improvements in the way data imports are handled in Feathr. Check it out:

There is now an option to

import opt-out lists

for email marketing campaigns. The majority of Feathr customers using our email marketing tools have used a different platform previously, and have accumulated unsubscribers. With Feathr's updated opt-out import, you can upload a list of those unsubscribers and Feathr will automatically exclude them from your email marketing campaigns. Read how, right here on our help desk

.

This one is a great time saver: now, when you upload a contact list for your email campaigns, Feathr automatically generates an audience segment of that list. That means simpler targeting of email lists, but the same flexibility to add to, edit, or combine your list with other audience segments. Nice.
Speaking of importing contact lists, that step can now be done right within the campaign wizard, so no more jumping around to different pages when you're trying to get a campaign up and running. Take a look:


Ready to try this new stuff out? Follow this link to the Feathr app. (Have you bookmarked it yet??) By the way, most of our updates and improvements come from conversations with customers and users like you. Got a suggestion for something you'd like to see in Feathr? Hit us up in the Suggestions menu on the left side navigation of your Feathr account. We'd love to hear what you think.
As always, major props to our ultra-dedicated and extremely smart product team for working hard to make Feathr better for you.
Thanks for reading and remember to check back frequently to stay on top of all the updates we're making regularly.