Display advertising: under the hood of "programmatic"
THURSDAY, AUGUST 25 | 1 P.M. ET
Get the inside scoop on programmatic marketing!
Programmatic advertising drives over 90% of mobile display ads
Understanding the ins and outs of this channel will help give you an edge over traditional mediums.
Programmatic advertising is the automated process of buying digital ad space. Unlike traditional ad sales where advertisers negotiate directly with sellers, programmatic ad buys use algorithms – not humans – to make decisions and fill inventory.
The technology powering this channel
Different ways to target ads to users
Use cases from successful campaigns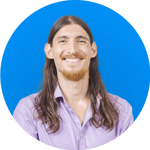 Aidan Augustin is the co-founder and president of Feathr, an industry-leading software company on a mission to make digital marketing more accessible to the not-for-profit sector. Feathr has helped over 1,500 mission-based and membership-based organizations adopt marketing technologies and best practices previously reserved only for large companies with significant budgets. When he's not leading Feathr's industry engagement, he's kayaking the springs, singing karaoke, or reading books about people who changed the world.