Feathr Showcase
TUESDAY, MARCH 28 | 2 P.M. ET
See how organizations use Feathr to know, grow, and engage their audiences with easy-to-use advertising, automation, email, and digital engagement tools.
The Feathr marketing platform allows you to:
Manage campaigns on multiple channels with flexible tools and integrations.

Bring all data into one place to personalize messaging and segment audiences in more nuanced ways.

Track conversions in real-time for quick adjustments to campaign performance.
Hosted by Aidan Augustin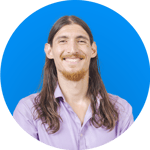 Aidan Augustin is the co-founder and CRO of Feathr, a leading software company making digital marketing technology more accessible to nonprofits and event organizers. Feathr has helped over 1,000 nonprofits and countless events know, grow, and engage their audiences. Aidan leads the sales and marketing teams at Feathr and spearheads industry education as a regular speaker on the topics of digital marketing tools and strategies. When he's not steering the ship at Feathr, he's playing strategy games, singing karaoke, or reading books about people who changed the world.