It's safe to say 2020 has been… interesting. We'll be honest – earlier this year, we weren't entirely sure how things would pan out. With industry events being canceled worldwide, marketing budgets getting cut, and economic uncertainty impacting the decisions of members, attendees, boards, sponsors, and exhibitors, we knew that all we could do was try to help our customers adapt to the changes.
This began with taking a step back to see what they really needed from us. While some customers were pivoting quickly to virtual events and needed our help to drive attendance in new ways, others were having trouble making that switch – due to lack of technology, budget, resources, or general know-how for running a virtual event.
The pandemic acted as a wakeup call for our industry, alerting many organizations that they were less than prepared for the potential challenges of a digital-first world, and it also served as a wakeup call for Feathr.
We realized our customers needed more from us than just tools and services. They needed us to dig deeper, to provide industry insights, to connect them with their peers, to explore alternative use cases for digital advertising, to help them create new revenue streams, and to prepare them for a completely digital future.
Here are just a few examples of steps we took to show our customers, partners, and industry that they could count on us.
Largely thanks to this hands-on approach, we've seen many of our customers adapt and even thrive in the most challenging circumstances. Even more importantly, we've seen a lot of new interest in digital marketing from associations and events.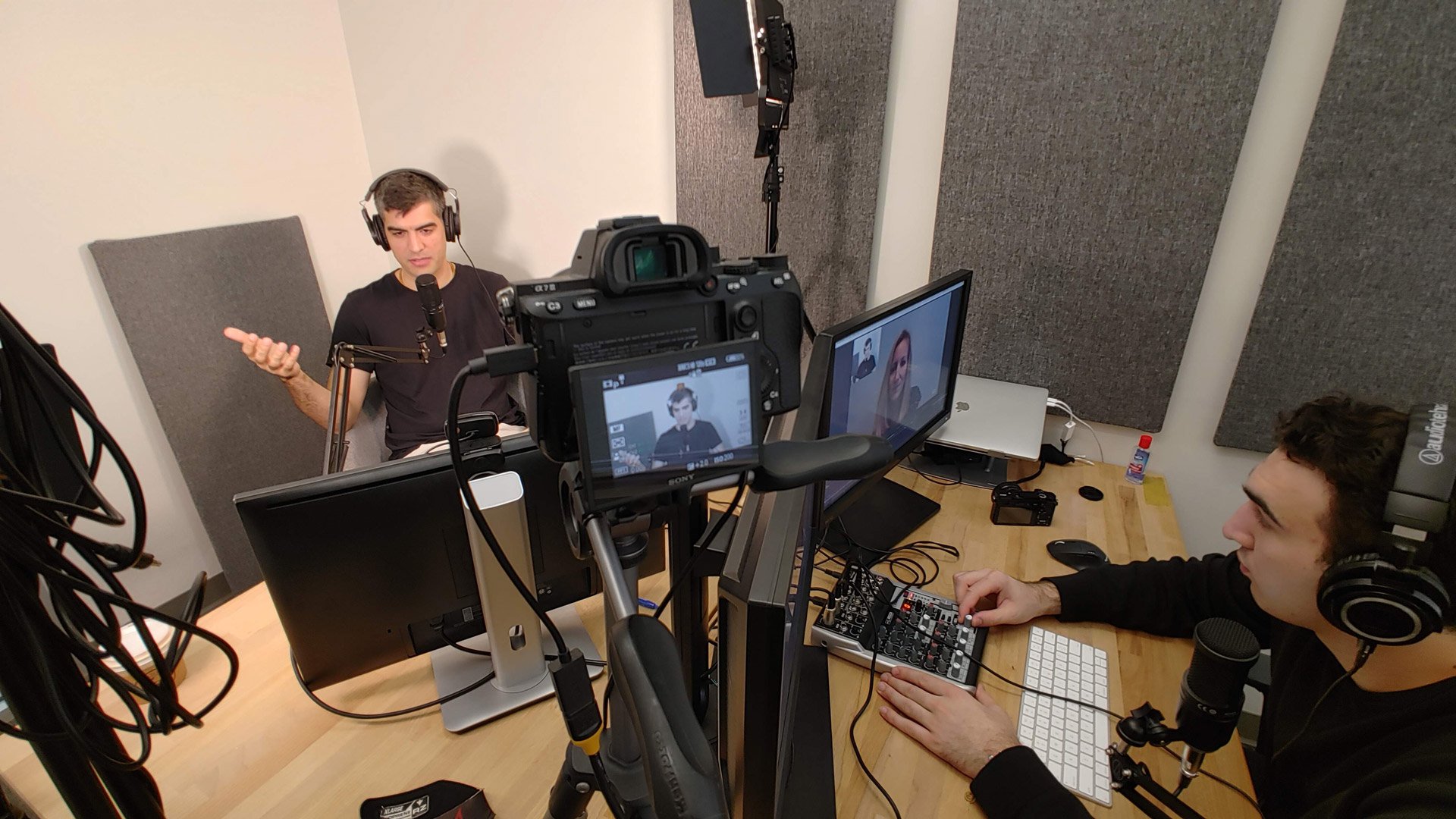 Behind the scenes of our podcast with CMO Abhay Khurana and Video Production Manager James Antonucci.
Associations and events are putting their trust in digital marketing
If it wasn't already obvious before a pandemic made everything go virtual, it's definitely clear now: we are living in a digital world.
Our customers (and many others in our industry) have realized the importance of having digital options. They have also recognized that the pandemic has created an opportunity – their audience members are spending significantly more time online – and they are taking the proactive step to further invest into digital marketing to reach people where they are.
Overall in 2020, more than 700 organizations used Feathr to run over 10,000 advertising campaigns to promote a variety of programs. Hundreds have used Feathr for multiple years, and of the customers who renewed their license this year, 20% actually increased their spending. We even saw our customers on the AMC and agency side nearly double their investment in Feathr in 2020.
It's pretty clear that organizations have been putting more value on digital in 2020 and that they plan to continue doing so going into 2021. Now let's take a peek at some of the specific campaigns our customers have seen succeed this year.
Here's what our customers have been doing in 2020
This year, we helped customers run ad campaigns around virtual events, membership drives, continuing education, political advocacy, and much more. Some of these campaigns were par for the course, but many were a result of sudden changes brought about by the pandemic and were therefore new to us. It was exciting to find new applications for Feathr and to help our customers pivot their ad campaigns – and in many cases, their overall marketing strategy – to survive and thrive.
We put together this cute little infographic (if we do say so ourselves) that depicts what types of campaigns our customers ran in 2020 and the results they've seen.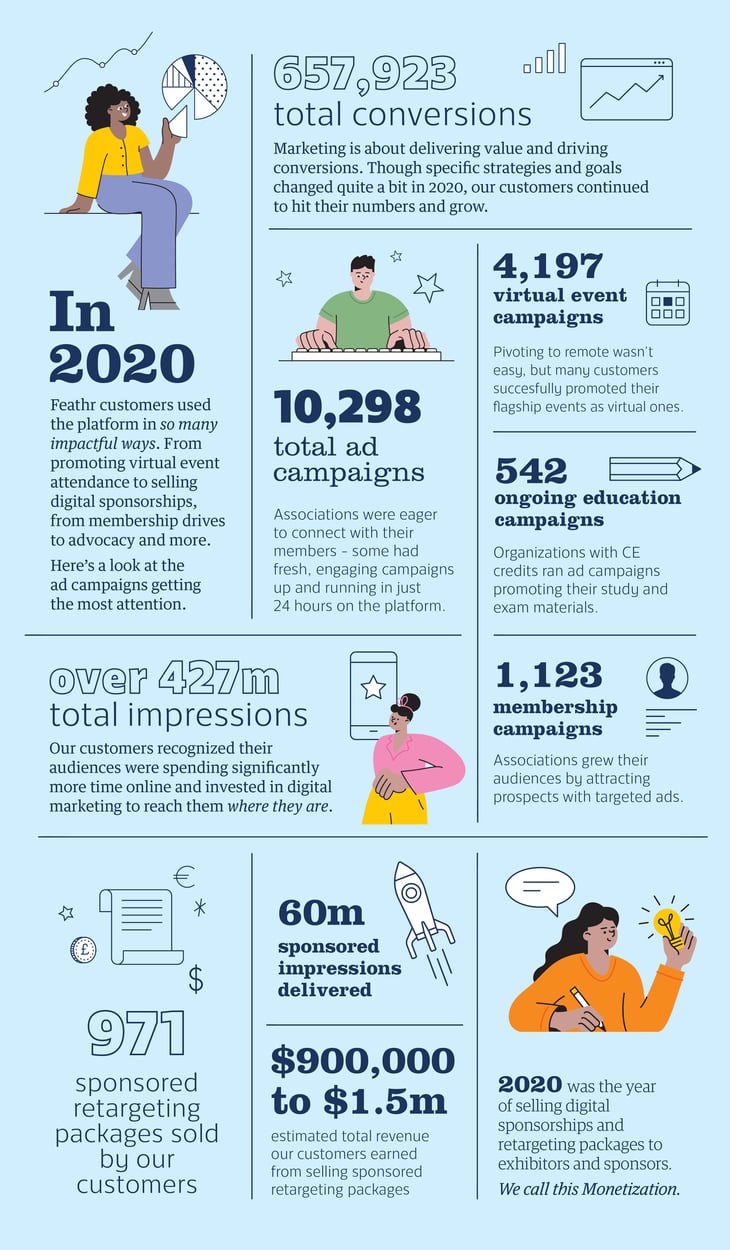 Virtual events
Once stay-at-home mandates were in place, many of our customers had to decide between postponing their events or going virtual. Some hit the ground running with virtual even though they had never done it before, while others postponed or even canceled their events entirely. As the year picked up, however, virtual events became more accessible to organizations of all shapes and sizes, and our customers ended up running more than 4,000 campaigns to drive virtual event attendance.
Membership, education, and more
This year more than ever, we pushed our customers to apply digital advertising to programs outside of events. This is something we have always encouraged, but people really started to see the value once the pandemic forced them to shift some focus away from promoting events.
Membership drives were a non-event use case that we saw perform well. Many associations ran ad campaigns highlighting special offers, deadlines, or other key information to recruit, retain and engage members.
The Association of Texas Professional Educators (ATPE) replaced their ad agency with Feathr and earned 900 new members by pivoting their digital ad campaigns.


"Once covid shutdowns hit, we were able to use Feathr to transition our campaigns to reach an educator environment that was hungry for information and at home. Typically, our volunteers and staff are out attending events, but that has not been as possible this year with limited in-person events, so Feathr has been a great augment to our membership efforts."
- Kate Johanns, Marketing and Communications Director,
Association of Texas Professional Educators (ATPE)

A lot of customers also ran education campaigns to keep members updated on new training opportunities, online CE courses, webinars, and certification prep materials. Some even used Feathr for political advocacy – running ad campaigns to promote voter education, grow public awareness around a specific issue, or influence policy makers.
Selling sponsored retargeting
Another strategy we've seen our customers succeed with this year is selling sponsored retargeting packages. Some organizations needed new ways to retain and attract sponsors and exhibitors after events got canceled, while some were just looking to create a new revenue stream. In 2020, our customers sold nearly 1,000 sponsorship packages through Feathr Monetization, bringing in an estimated $900k - $1.5m in total revenue.
Clarion Gaming earned $100,000 in just seven months of using Feathr to sell sponsored retargeting.


"We don't just focus on selling this around events. It's a year round thing. It allows clients to reach our audience 12 months of the year instead of two days of the year. This has been particularly significant in the very changed world we are currently living in."
- Haydn Williams, Senior Marketing Manager, Clarion Gaming

How we've enhanced the platform in 2020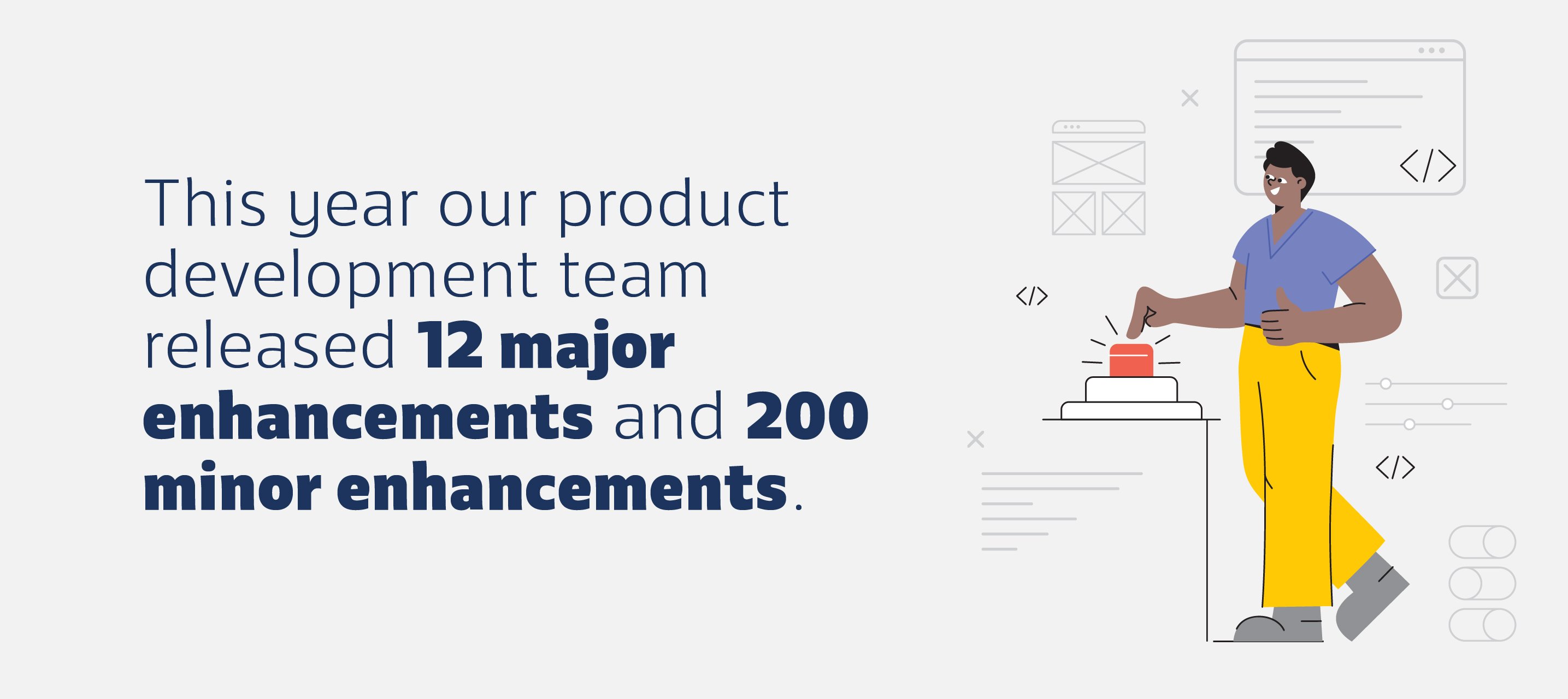 Every year, we make a number of product enhancements to keep up with the evolving needs of our customers, and 2020 was no exception. Since January, our development team has worked hard to move the platform closer to becoming a one-stop shop for our customers' digital marketing needs. This involved releasing 12 major enhancements and 200 minor enhancements, including some popular new features.
Historical geofencing

This feature was particularly helpful for some customers at the beginning of the year, when in-person events were still in the very recent past. Similar to classic geofencing, historical geofencing allows you to advertise to targeted audiences based on their geographic location – except instead of targeting future device location, it lets you target people who were in a specific location within the past (up to ~90 days). Think of it as an ex post facto sponsorship...for much less money, of course.
Although many of our customers haven't been able to take full advantage of this feature in 2020 – since most industries haven't held live events since long before that 90-day window – we expect it to be a game-changer once events are back in full swing.
Facebook campaigns in Feathr
We added this feature in July to allow customers to run Facebook campaigns right from their Feathr account, at no additional cost. This means you get to use your own audience data rather than relying on Facebook audiences, which ensures your campaigns are targeted to exactly the right people.
It also means no more clunky Facebook Ads interface – you can simply manage everything from the Feathr campaign builder you're already familiar with. Plus you can run reports and integrate them easily with data from your other campaigns to get a more holistic picture of your marketing.
And much more…
To learn about some of the other major enhancements we've made this year, check out this help article, which is chock-full of new feature walkthroughs and video tutorials from throughout 2020.
Hey 2021, we're ready for you!
As we head into the new year, we'll continue looking back on 2020 to better understand what worked and what didn't work, so we can help our customers get even more out of their digital marketing and advertising efforts.
We'd like to give a shout-out to our entire team for working hard to ensure our success as a company, and a huge shout-out to our customers for sticking around and letting us prove that we're invested in your success.


"The dynamics created by the pandemic have only highlighted how important our customers are to their respective communities. As the storm of shut-downs, regulations, and economic changes have ebbed and flowed, our customers have worked harder than ever to continue offering value and guidance to their members, partners, and each other. And though we have relished the opportunity to adapt our product, operations, and business model to help our customers continue striving to meet their goals in such difficult times, we are also committed to ensuring that our industry is never again underprepared to face the challenges of a digital-first world."
- Aleksander Levental, CEO and co-founder, Feathr