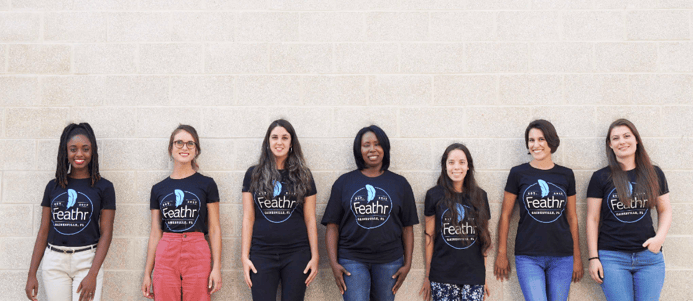 Having the right technology is only half the battle when it comes to growing your association or event. If you don't use your tools effectively, you miss out on the benefits – but for organizations that are already strapped for time and resources, implementation is often the hardest part.
Since associations and events are Feathr's bread and butter, our goal has always been to solve challenges like this one.
We began by creating a comprehensive training program to get users started off on the right foot, followed by ongoing, personalized support from a Customer Success Manager. We also focused on making our platform easy to use, with pre-made templates and built-in best practices, so that even the smallest teams could reap the benefits of digital marketing.
Along the way, however, we learned that many of our customers still weren't using the platform to its full potential. Between tight deadlines, sprawling responsibilities and limited budgets, many customers simply couldn't dedicate enough time or staff toward fully implementing Feathr.
Enter Feathr Concierge.
In late 2017, we partnered with a local digital marketing agency called Springful to launch Feathr Concierge, a managed services program that allows us to help customers set up Feathr, plan campaign strategies, design collateral and ad creatives, and launch and optimize campaigns.
The initial response was overwhelmingly positive, and we were providing managed services to more than 50 customers within a year of launching the program. It became clear that this wasn't just a blip, but something that our users truly needed, so we started brainstorming ways to expand the offering.
The answer turned out to be right in front of us. We were seeing amazing results from working with the team at Springful, and our customers already loved working with them, too.
So we thought: What if Springful could join Feathr?
We started that conversation in early 2019, and the Springful team was officially part of Feathr by April.
It worked out beautifully. Our customers continue to benefit from the expertise of both the Campaign Managers from Springful and the Customer Success Managers at Feathr, and having all of our teams under one roof makes it easier to plan and deliver high-quality services.
Since then, we've expanded our services to include:
Ads Concierge

Implementation & setup of Feathr accounts
Creative design and ad campaign management
Detailed reporting on campaign performance

Ads Pro Concierge

Same services included in Ads Concierge
Implementation of Conversations feature
Design of custom landing pages

Invites Concierge

Design of landing pages, ads and emails.
Outreach encouraging partners to share collateral
Invites campaign management & reporting

We're now providing managed services to more customers than ever before, and they're seeing great results in terms of event growth, engagement, membership and more. We look forward to continuing to build out these services, so we can help more associations and events get the digital marketing results they're looking for.