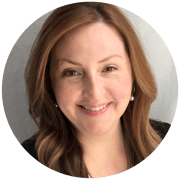 Sarah Varner is Marketing Director for Emerald Expositions.
Welcome to the third issue of Taking Flight, a newsletter of inspiration and insights from Feathr customers who have earned their wings as association and event industry leaders. Featured in this issue is Marketing Director Sarah Varner of Emerald Expositions.
Sarah began her marketing career as many do, in a hybrid marketing/sales role. Eight years ago, she started at Emerald (when it was known as Nielsen) as an exhibitor marketing manager. As her skills and experience developed, she worked her way up to become Marketing Director for Emerald's healthcare group. She is currently responsible for exhibitor and audience acquisition.
In this issue of Taking Flight, Sarah talks show life cycles, successes, failures, and what she loves about her industry.
---
What do you wish you knew about your shows' attendees?
What is it that actually makes them click the Register button? We analyze and scrutinize and have data at our fingertips that tells us a sea of information. But what is it in their mind that finally makes them register? Not what they tell me in a survey, but what they really thought in their mind. I know it would be a variety of reasons and it would be interesting to see.
What acquisition strategies are currently working best for you?
There's not one answer for this, or one strategy that works across the board. What works depends on the segment I'm targeting, the timing in the show cycle, and other factors. That's why it's important to have an integrated marketing plan to get exposure through multiple channels. Email, direct mail, retargeting, social media, web, and engaging exhibitors to extend invitations through the various channels Feathr offers…each plays a valuable role, whether leading or supporting.
What has been an unsuccessful marketing experiment in your career and what did you learn from it?
We tried social media integration with registration that had a sharing option once registration was completed. It was a large investment and the ROI was just not there. The show that we tried it on was not very active on social media at the time. What I learned was not every shiny new thing is a fit for your brand. But I also know that just because I tried it once and it didn't work, doesn't mean that the circumstances can't change so that it will be a success.
What problem would you solve in your line of work if you had a magic wand?
I'd make everyone use promo codes. In most cases, we can embed our codes to attribute the registrant to the proper channel or tactic. But in other cases, ads in industry publications or direct mail for instance, many people don't use the code even when there is an offer attached. I bet I could give away a million dollars and someone still wouldn't use the code!
What has been your favorite moment of one of your shows?
I'm lucky to work on a show that is as rewarding as Medtrade. The attendees at Medtrade provide medical equipment and service to people that need it due to aging, disability, or health conditions. They are truly a serving and caring group of people.
Last year's winner of the Woman of the Year Award, presented at Medtrade by an industry association, was humbled at even being nominated and was so touched to have been selected as the winner. Listening to her tell her story of why she does what she does every day was an emotional moment for everyone in the room and a reminder of why I love the industry so much.