About AES
The American Epilepsy Society is one of the oldest neurological professional organizations in the United States. The Society seeks to promote interdisciplinary communications, scientific investigation and exchange of clinical information about epilepsy. Membership consists of clinicians, scientists investigating basic and clinical aspects of epilepsy, and other professionals interested in seizure disorders. Members represent both pediatric and adult aspects of epilepsy.
The AES annual meeting brings members and other epilepsy professionals together to learn and share new practices, new technologies, and continue their education.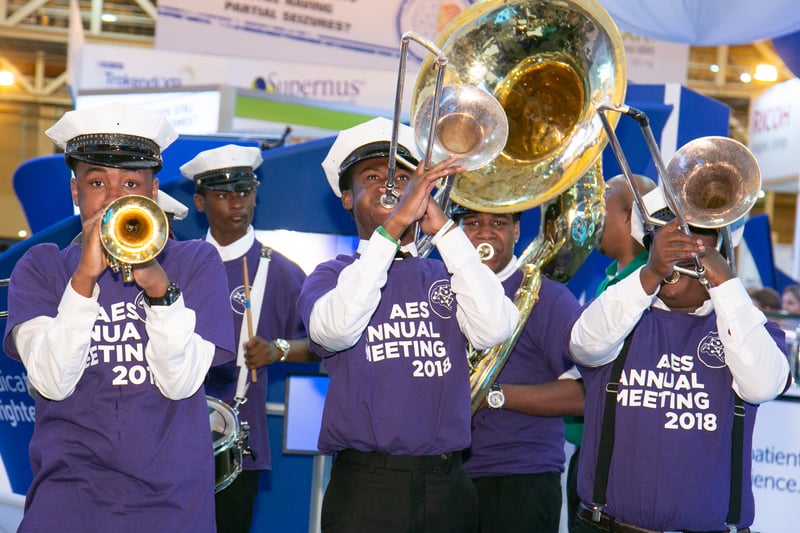 A traditional New Orleans brass band at AES 2018.
AES by the numbers:
6000 attendees (the biggest AES meeting ever!)
148 exhibitors, 278 booths, and 36 non-profit tabletops
~1300 abstract submissions
Event goal: grow audience, reinforce brand, and spread awareness
Like any marketer worth her salt, AES's Nicole Rodriguez says her goals for AES 2018 were to build a bigger audience, reinforce her organization's brand, and above all, spread awareness of epilepsy, as well as the benefits of membership in the American Epilepsy Society. Association and event marketers know that one of the greatest benefits of marketing for such organizations is the opportunity to not only improve their organizations' standing in the market, but to bring people together to share information and work towards a common goal.
AES's mission is to advance research and education for professionals dedicated to the prevention, treatment, and cure of epilepsy, and to improve the lives of people with epilepsy. Bringing more people together to achieve that mission has a positive impact on millions.
That's the kind of thing Feathr is totally on board with. Now, how to make it happen?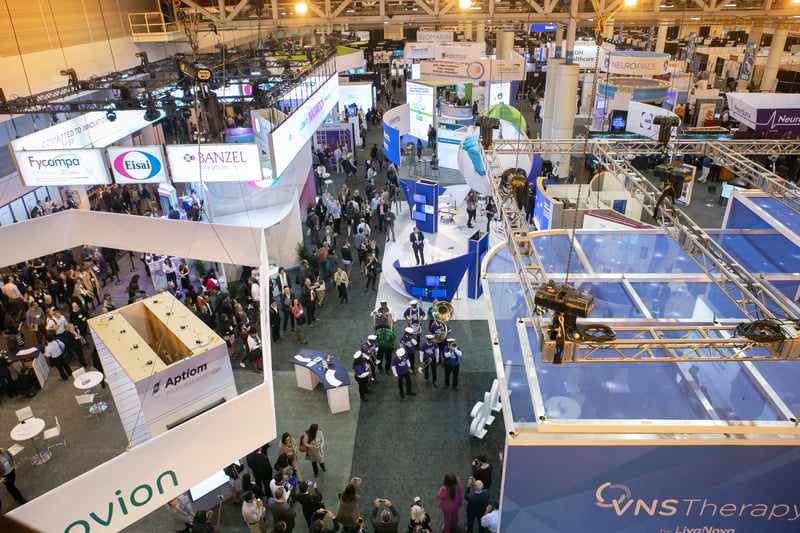 The show floor at AES 2018
.
Plan of action: a variety of retargeting campaigns, beginning 6 months before the meeting
Although Feathr offers several tools built to boost growth and attendance for events and associations, our platform's most popular product is ad retargeting. Even if our customers only use that product, following our best practices ensures their success.
And that's just what AES did.
Nicole and her team ran a variety of retargeting campaigns marketing an event, beginning 6 months before the meeting to maximize campaign interactions. As we've shown in other case studies, it's a proven recipe for success.
How they did it: early bird, save the date, cart abandonment campaigns & more
AES 2018 took place at the beginning of December, but Nicole and her team got started in May. That makes all the difference. A "save the date" campaign reminding website visitors when and where AES 2018 was taking place provided an early bump in registrations with 105 conversions.
The next two campaigns advertised limited early bird pricing, adding nearly 300 more names to the registration list and boasting an impressive 22% conversion rate.
As the event got closer and ticket prices rose, the AES team ran a regular rate campaign, a general awareness campaign to drive more traffic, and then cleaned up with a last-minute campaign that converted the most registrants of any single campaign (people just love to wait until the last minute, don't they?).
Providing clever ground cover for 2019's meeting, Nicole and her team also ran a save the date campaign after AES 2018, keeping their services top-of-mind to their audience while 2018's meeting was still fresh.
In all, AES's Feathr ad campaigns brought in 993 conversions.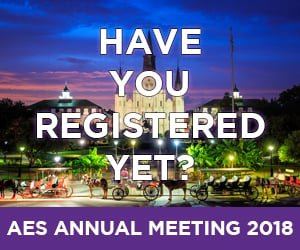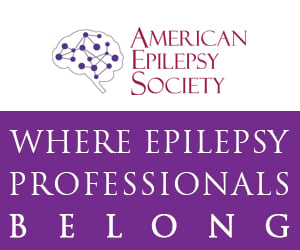 A selection of creatives from AES's successful campaigns.
Results: ads are cheap, registrations are valuable
Without giving away too much sensitive information, we'll say that the ROI on AES 2018 was remarkable. AES's total ad budget for the 2018 meeting was roughly equivalent to the price of a new sofa. That small investment in digital ads earned almost 1000 conversions worth over $600 each (close to the cost of admission to AES 2018).
That's an ROI of 182x.
Additionally, AES's 2018 Feathr campaigns performed 5x better than 2017, demonstrating how the value of using Feathr grows annually as it helps build a bigger and more engaged web audience, and provides valuable data about campaign performance.
Even if we factor in the cost of the Feathr platform on top of AES's ad spend, the results for AES 2018 paid for itself 77 times over. That's free money.
If you're an association marketer, you might want to get in on this ASAP. And we'd love to talk to you. So click here to start a conversation and learn what Feathr can do for you.