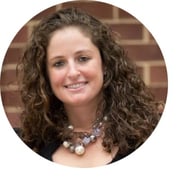 Jessie Wolfe is Marketing Manager at ASIS International.
Welcome to the second issue of Taking Flight, a newsletter of inspiration and insights from Feathr customers who have earned their wings as association and event industry leaders. Featured in this issue is Marketing Manager Jessie Wolfe from ASIS International.
Jessie's career in marketing began at the American Physical Therapy Association, where she coordinated the APTA's foundation booth at their annual and regional trade shows. She then transitioned to event management, working for National Trade Publications on 3-5 shows a year across a variety of industries.
That depth of involvement prepared her for her current role at ASIS International as Marketing Manager of Events, where she says she joined during a time of tremendous change. According to Jessie, her time at ASIS so far has "been an exciting challenge as we've reexamined all of our business strategies and tactics, making big changes by utilizing new marketing techniques and implementing innovative attendee engagement tools."
In this issue of Taking Flight, Jessie talks acquisition, engagement, and makes some unique predictions about the future of the industry.
---
What acquisition strategies are currently working best for you?
Our exhibitor invites program has been our strongest tool for attendee acquisition year-over-year. We have had huge success in that arena.
This past year, we also deployed some new tools that had strong outcomes, and I think these tools will only get stronger as we learn to use them smarter. For example, we had strong conversion rates for our Feathr exhibitor pages, but because it was a new marketing tool that didn't get implemented/marketed until later in the show cycle, we did not have maximum participation. I am confident we can see that increase next year.
What has been an unsuccessful marketing experiment in your career and what did you learn from it?
I launched an exhibitor video contest at one show, where exhibitors submitted videos telling people why they should visit their booth at the show. Attendees would vote on the event site for their favorite video, and the winning video would be promoted heavily in marketing materials pre-show and onsite. I had executed this program on a different show with huge success, but only received 2 entries for this event. It was really embarrassing since we promoted the contest so much.
What I learned was not every show is the same, and you really need to know your audience—attendees and exhibitors alike. Campaigns that work for one event may not necessarily work for another.
How will member and attendee acquisition change over the next 5 years?
I think that non-attendee engagement/experience—engaging an audience that is wider reaching than just the people who travel to the show—is going to become increasingly important. People want to be able to access information at their fingertips 24/7, and there are potential new revenue streams for live streaming your event for people who can't attend.
Experiential events will also be the wave of the future. Keynotes, general sessions, and classroom learning aren't enough…innovative, interactive, engagement throughout the event and on the exhibit floor are essential. For example, in the security profession, instead of having a speaker talk about how to handle an active shooter event, we could simulate a scenario for attendees to participate in. These education platforms are evolving for all ages, levels of experience, and skill sets.
What problem would you solve in your line of work if you had a magic wand?
I'll give you two issues I'd love to see improved…one for attendees and the other for exhibitors.
Attendees keep registering closer and closer to the show. As an events marketing manager, one of my responsibilities is to deliver attendee growth year-over-year, but the ever-growing trend of last minute registrations gives us weekly coronaries as we seem to be tracking behind. This past year, we experienced a massive surge in registration just three weeks before our show which closed the gap and got us to goal, but the stress is still always there. My wish would be that we could lock up registrations as early as possible to feel more secure and not have to reinvent marketing plans on a daily basis at the last minute.
The other one is, I wish exhibitors would better understand the importance of pre-event marketing and how maximizing the free tools we make available can have a huge impact on their onsite ROI. At every event, there are always exhibitors that complain about traffic at their booth (even though the floor was packed that year). When you dig to find out how you may be able to help, you realize the exhibitor did no pre-show marketing or preparation for the event even though you provided them with sample emails to send to clients/prospects, free webinars on how to maximize ROI, show banners, contests to promote their presence, and more.
Do you have a guiding philosophy in marketing and acquisition?
Don't be afraid to try something new and outside of the box. This new generation of working professionals will not attend the same stale trade show of their parents' generation.