About Informa & SupplySide West
Informa is a leading business intelligence, academic publishing, knowledge and events business, headquartered in London. Its events division, Informa Exhibitions, is a global events organization that puts on over 200 major branded exhibitions annually. These events enable communities to gather, share information, conduct research, showcase products, generate leads, secure new business, and make sales and purchases.
One of Informa's exhibition brands is SupplySide, a company that hosts conferences related to the health and nutrition sector. The company is divided regionally into East and West, with SupplySide West being the largest gathering of industry professionals focused on dietary supplement, beverage, functional food, personal care, and sports nutrition innovation.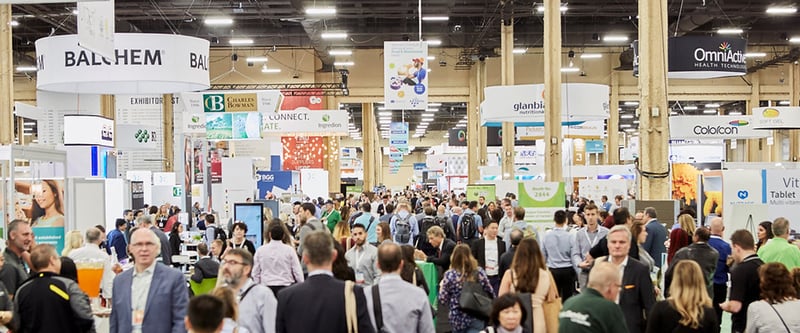 The busy show floor at SupplySide West 2018.


Event Goal: Boost Digital Audience to Reach more Industry Professionals
SupplySide West is a big, bustling show. Each year, the conference attracts thousands of registrants and attendees from around the world.
SupplySide West by the numbers:
17,000+ registrants globally
1,300+ exhibitors
10,000 ingredients, solutions, and products
Since the event covers such a broad selection of products, services and sectors, there's almost no limit to its potential market reach. As a result, Informa set out to help SupplySide West maximize that reach.
Informa Senior Marketing Manager Sky Dailey worked with the SupplySide team to establish a main goal for the 2018 event: reach more professionals in the health and nutrition industry and earn their registration through compelling marketing.


"SupplySide West has achieved tremendous growth and success over the years, but we knew there were even more opportunities to increase engagement. We decided to use Feathr to spread the word about the event and convert more more attendees."

– Sky Dailey, Senior Marketing Manager, Informa Exhibitions

Solution: Leverage Feathr Ads and Invites to Grow Online Audience and Earn New Registrations
The SupplySide team and Informa worked with Feathr to create a marketing strategy for SupplySide West 2018 that was twofold:
Feathr Ads was used to run a variety of awareness and retargeting campaigns to attract and convert more registrants.
Feathr Invites was used to generate custom-branded referral collateral, making it easy for all event partners to promote the conference to their own networks.
In the months leading up to SupplySide West 2018, the teams ran a series of ad campaigns with teasers, updates, and reminders about the conference.
The ad campaign structure looked like this:

A

"Registration Open" campaign notifying SupplySide West web visitors that they should get their tickets soon. Runtime: 11 weeks; registrations: 114.

A

"Why Attend?" campaign targeting first-time website visitors as well as SupplySide West's email list. Runtime: 9 weeks; registrations: 30.

A

cart abandonment

campaign encouraging those who visited the registration page to complete their registration. Runtime: 8 weeks; registrations: 249 (best-performing campaign overall).

A

last-chance

campaign notifying visitors of an upcoming price increase in show tickets. Runtime: 1 week; registrations: 48.


A

drive-in

campaign targeting web visitors within driving distance from Las Vegas, where the show was held. The drive-in campaign ran for 2 weeks and added 30 registrations.


Adding in Feathr Invites...

In addition to the ad campaigns, the SupplySide team used Feathr to create highly customized marketing collateral for over 300 of its partners to encourage them to promote the event on their own channels. The collateral included co-branded emails, landing pages, and banner ads – all designed to capture event leads and get them to register.
Through these new partnerships, SupplySide West was reaching a much wider audience, which led to an additional 218 registrations. To top if off, the added revenue from those registrations covered the cost of Invites almost 9x over.

"Feathr Invites took the burden of content production of off SupplySide's partners, which made them much more willing to help promote the event. They got some free, nice-looking marketing materials to share with their audiences, and SupplySide got tons of extra registrations as a result of the increased exposure. A total win-win."
– Sky Dailey, Senior Marketing Manager, Informa Exhibitions

Final Results
SupplySide West 2018 was a huge success in terms of registration and attendance, and the results of the campaigns far outpaced the effort required to run them:
681 new registrations from Ads
218 new registrations from Invites
$10.50 CPA
20x ROI

If you'd like to see what Feathr can do for your events and see a personalized walkthrough of the platform, request a demo today.

To hear more about Feathr directly from customers, check out our other case studies.