Email open rates have been in a steady decline with the current estimate across all industries averaging 21.33%. But email campaigns also average a $36 return for every $1 spent. With email marketing not going anywhere, how can you make the most of your next campaign? You guessed it: sprinkle in a few ads and maximize your investment.
Building a digital marketing strategy from the ground up can feel overwhelming, but Aidan Augustin, president and co-founder of Feathr, breaks down the best strategies to build synergy with your email marketing in his webinar, "Ads & Email: Better Together."
We've outlined the main points below, but it's not too late to catch the full conversation by watching the replay here (you can also view the slide deck here). It's a packed 30-minute session that offers the tricks you need to smash goals on your next email marketing campaign.
Email marketing isn't as effective as it once was
I know we mentioned it already, but it's important to understand why email marketing alone isn't cutting it. Email open rates peaked shortly after the pandemic began, but over time these numbers weren't sustainable and people began tuning out.
It's easy to get stuck in patterns that worked well in the past, but the organizations that get creative and have the courage to try new things stay ahead of the curve. In other words, it's time to update your strategy and expect more from your marketing efforts.
How to get the most out of email campaigns
Like it or not, The CMO Survey found that marketing spending is increasing across all industries, averaging 11.8% of an organization's overall budget — on par with pre-pandemic spending. With added investment, new strategies and technologies are being developed daily. What worked yesterday may just be irrelevant tomorrow. There are two major developments in marketing technology that will help you need to begin using today to take your email marketing campaign to the next level today.
Email mapping (or CRM retargeting) campaigns and marketing automation are necessary for organizations to succeed in the digital era. Both tools allow new methods for targeting the right people at the right time with messaging that's catered to that specific audience. The days of direct mail — at least by itself — are over. Today, people are expecting personalized digital experiences and general messaging alone won't grab attention.
Email mapping
Email mapping is a new type of digital ad campaign that links email addresses to IP addresses. Once linked, you can serve ads to these users. The beauty of this type of campaign is that you can use these email addresses that you've collected over time, targeting specific lists with specific messages.
One note: Since this is a relatively new type of campaign, there's been a lot of evolution in its naming. Google calls this customer match while LinkedIn calls it matched audiences. And then Facebook and Twitter call it custom audiences while elsewhere you may see it as CRM retargeting. If you're in the Feathr app, you'll find it under email mapping.
Here are just a few ideas of ways that you can segment your audiences with your email lists:
Member status (current, lapsed, non-member)
Donation activity (recency, amount, campaign)
Event attendees
Volunteers
Newsletter subscribers (or unsubscribers!)
Just think of the ways that you can use email lists you already have on hand! A non-member will certainly respond differently than a current or lapsed member, so these groups should be receiving different types of ads. And think about the synergy you can build when you keep up your email marketing efforts and then combine them with email mapping!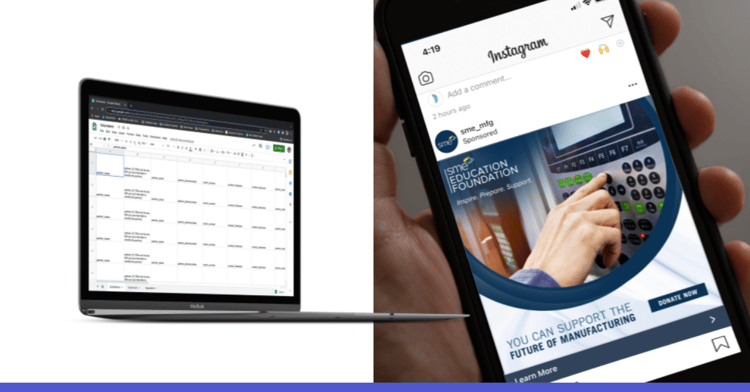 An email list and an example ad from SME's email mapping campaign
One key thing to remember: no emails are sent. This can be especially valuable for newsletter unsubscribers. These people may not want an email in their inbox, but that doesn't mean that they don't care about your organization anymore. A well-placed ad can be the right amount of interaction to keep someone in the loop.
Another question that comes up often is how large a list of emails you'll need. Aidan says, "A good rule of thumb is at least 2,500 emails on a given list. This is because with a 40% match rate, you would still have 1,000 linked accounts, which is the minimum number required for these campaigns."
Marketing automation
Marketing automation is a new technology that allows organizations to customize and streamline their email marketing campaigns. Instead of building out single emails and then uploading lists of recipients, smart organizations can make all of these actions automatic based on user behaviors.
There are three major activities that go into marketing automation:
Connecting web visitors to contact records.
Setting triggers to automatically send emails based on set behaviors.
Scheduling series of emails ("drips").
All of these things that used to require hours and hours of time, filling in user data and scheduling email after email can now be a once-and-done activity. This gives your team back precious time that they can now use to build great content, and they can even begin to focus on different audience segments instead of reusing the same messaging for everyone.
Takeaways from Ads & Email: Better Together
The most important takeaway is that if you aren't leveraging digital ads to support your email marketing, today is the day to start. Though trying something new can be challenging, we all know that change is good. And your results are going to agree too.
Second, technologies have changed, and marketing automation is going to save you lots of time, which is going to result in lots of money saved.
Aidan says, "So the one-two punch of doing your email marketing and then doing an email mapping campaign to show ads to the same people — that's where you're really going to see the most impact."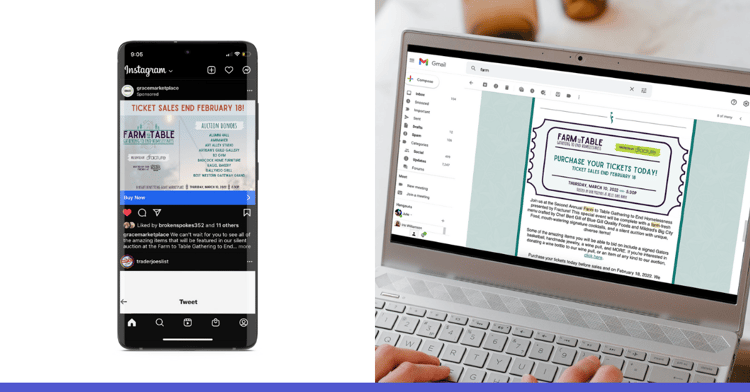 The one-two punch: Grace Marketplace running social ads in parallel with a traditional email marketing campaign
In the past, marketers had to base a lot of decisions off intuition, but today the tools are available to know who's visiting your website when. Linking your email marketing efforts to website visitors' behaviors is step one in getting the right message in front of the right person at the right time!
Fly with us
Feathr has helped thousands of organizations know, grow, and engage their audiences. Discover if Feathr's digital marketing platform is right for you.