We encounter marketing materials everywhere we go. We see advertisements on TV, read about the latest sales in email, and see new products while scrolling through social media platforms.
As your organization leverages strategies to promote your mission, you need new and refreshing marketing ideas to get in front of the right audience at the right time and in unique ways. New and innovative ideas will help you stand out from the sea of marketing materials your supporters see on a regular basis.
That's why we've put together this list of marketing ideas for nonprofits. While many of these innovative ideas have been put to use in the for-profit world, many nonprofits believe them to be out of reach. They think the marketing software is too advanced or they simply don't know how to get started. But these emerging marketing strategies are just as applicable for nonprofits as they are in the for-profit world!
Adopt these marketing ideas for nonprofits early to get ahead of the game and outstrip your competition.

1. Retarget supporters with digital advertisements.
Imagine a supporter reaches your nonprofit's website and clicks through to your donation page. Then, they're pulled away from their computer or get distracted by social media, navigating away from your website. That's no reason to give up on this prospective supporter! They obviously were drawn into your mission to land on your donation page in the first place.
Retargeting advertisements allow your organization to reach those supporters who have visited your site before with targeted ads.
This means the supporter who has abandoned your donation form will start seeing ads as they read the news or look up a dinner recipe online. It reminds them of their incomplete donation and provides them with an easy opportunity to return to your site.

Maximizing this Marketing Idea for Nonprofits
With the right solution, you can segment your site visitors based on the page they left on your website to create hyper-specific ads. This allows your prospects to pick up where they left off, on a page you know draws their attention. If someone left your donation page, they'll see an appeal to return to that page and complete their gift. If they abandon the event registration page, they'll see ads reminding them about the event activities and drawing them back to that page.
2. Leverage email mapping campaigns to get in front of supporters.
Studies show that it takes between 17 and 20 impressions each month for a marketing message to "stick." Rather than sending over twenty emails every month, you can combine your use of email and digital marketing advertisements to capture your existing supporters' attention. Essentially, email mapping campaigns allow you to add an advertisement "layer" to your email marketing strategy.
Upload a segmented list of email addresses to launch an email mapping campaign.
This allows you to combine your email marketing strategy with your digital advertising strategy, providing more touch points, getting in front of existing supporters more often, and driving additional traffic to your various initiatives.
Maximizing this Marketing Idea for Nonprofits
Don't over-complicate your advertisement messages. Email is the place for longer-form marketing. You can tell complete stories and drive impactful engagement as a part of your message there. Digital marketing ads should be kept simple. They're simply reminders of the emails that your supporters are already receiving.
Keep it simple by limiting the content to a bold headline, branded visual, and specific call to action. This advertisement is small, so you don't want it to feel cluttered. Simply remind supporters about your campaign and encourage them to click through to get involved.

3. Use geofencing to target concentrations of prospective supporters.
When you send emails to supporters or even create email mapping campaigns, your goal is to re-engage your current support base. They've interacted with your organization before (which is how you received their email addresses), allowing you to know more about their interests and goals. Meanwhile, geofencing is a top-of-the-funnel strategy, allowing you to target and acquire new, previously unknown supporters for your mission based primarily on location.
Geofencing uses GPS and RFID technology to define virtual boundaries within which you can target prospects with advertisements.
Geofencing is an increasingly popular tactic for nonprofits looking to grow programmatic awareness, drive ticket sales for an event, or reach new donors in a specific area. Keep in mind that geofencing campaigns target mobile devices so be sure to size your ads accordingly.

Maximizing this Marketing Idea for Nonprofits
Carefully choose the parameters for your geofence. If you're trying to reach a younger audience for a campaign or an event, try setting up a geofence around a college campus. Or, if you're hosting an event similar to one another nonprofit hosts, set one up around that competitor's event.
4. Ask board members to participate in influencer marketing.
Your board members play a key role in your nonprofit activities. Their main responsibility is to set the large-scale vision that they'd like to see your organization achieve. However, as passionate supporters, they're also key players in your fundraising campaigns and other mission-driven opportunities.
Leverage an Invites campaign to ask your board members to get involved in promoting your upcoming organization opportunities and campaigns.
These campaigns allow board members to set up their own landing pages to invite their friends, family, and followers to participate in nonprofit activities. For example, if your organization is hosting an upcoming event, you might ask your board members to share a page that refers their friends and family to the registration page.
Maximizing this Marketing Idea for Nonprofits
Influencer marketing isn't just for trendy teens on TikTok. Your nonprofit has influencers built into your everyday activities and you can ask them for help promoting your organization and campaigns. Your board members are only one option. You can also ask your executive directors, major supporters, keynote speakers, local celebrities and other key stakeholders to participate.
Make it easy for your influencers to spread the word by providing them with the marketing materials they need up front. Provide a campaign template so that they can simply customize it and share with their network.
5. Send behavior-based email streams.
You likely already have some email automation tools set up. You might send an automated thank you message after a supporter gives to your organization or a confirmation email when a supporter signs up to attend an event. However, behavior-based email streams take this idea to the next level.
Behavior-based email streams allow your nonprofit to set up several emails to be sent out over time after a supporter completes a "trigger" action.
For example, a site visitor may sign up for your organization's newsletter and receive a thank-you email as the first message in the stream. Over the next several weeks or months, that same visitor may receive a series of marketing emails, gently guiding them to the next desirable action—donating.
Maximizing this Marketing Idea for Nonprofits
This marketing idea for nonprofits is best implemented when you've tested to ensure you're using the most effective message possible. Leverage A/B testing to test various elements of your email messaging and find the one that converts more supporters.
6. Monetize your audience by selling sponsored retargeting ads.
What if there was a way to support your sponsors and bring in revenue while doing so? There is — it's called sponsored retargeting.
Sponsored retargeting advertisements are those purchased from your nonprofit by a company in your nonprofit's orbit. These ads could be 100% promotional for your sponsor or co-branded. Co-branded ads are a great way to promote an event's title sponsor or to announce a matching gift. Your nonprofit gets to sell marketing packages to local businesses and bring in revenue; meanwhile, the company gets to advertise directly to your audience.
To begin selling sponsored retargeting ads, first decide how you'll package and sell them and turn to any companies that have sponsored your nonprofit in the past with events or major fundraisers, such as capital campaigns.

Maximizing this Marketing Idea for Nonprofits
Sponsored ads work best when the nonprofit and company are aligned in their general focus areas— such as a food bank and a local restaurant, an animal shelter and local pet retailer, or an education-based nonprofit and children's retailer.
7. Leverage paid advertisements on social media platforms.
Social media is home to a wealth of information about your supporters. Think about how much information Facebook or LinkedIn have on the average person. They have names, ages, location, employers, work histories, genders, interests, and more. You can use this information to set up ad campaigns that reach specific audiences and demographics of people.
Social advertising is a marketing idea for nonprofits that even Fortune 500 brands are not leveraging to its fullest extent. That means it's an incredibly underpriced strategy that holds a lot of potential.
Use social platforms to reach your organization's ideal audience, most likely to engage with your organization. For example, if your audience is primarily made up of middle-aged women in Mississippi, you can target that particular audience with your social ad, setting the demographics directly on the social platform and writing a message to appeal to that particular segment.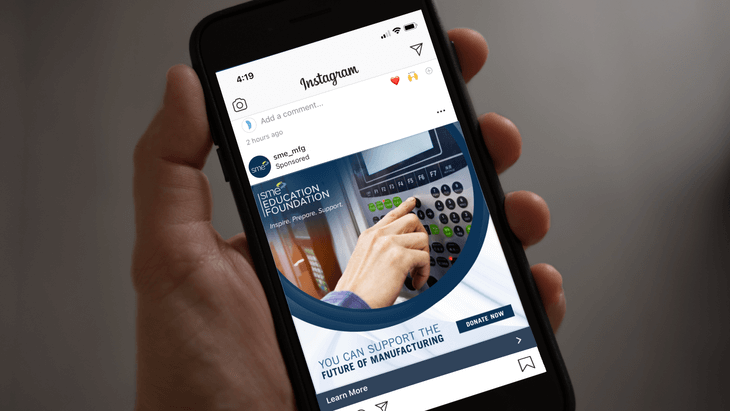 Maximizing this Marketing Idea for Nonprofits
To maximize your use of this marketing idea for nonprofits, target a lookalike audience of your other marketing sources. For example, you might target an audience that has the same qualities as your web visitors or past campaign participants.
8. Research the keywords your target audience is searching for.
Think back to the last time that you first learned about a need in the world— perhaps you overheard a conversation about food insecurity in your area or inequality in education in a third-world country. Did you go home (or, reach into your pocket for your smartphone) to Google search the topic and learn more? Probably.
There are likely individuals who are interested in your mission and conducting similar searches every day— something to the tone of "How can I help with [Mission]?" The answer to their question is your nonprofit, and keyword-targeted paid search advertisements ensure that your organization is displayed as one of the first results to their inquiry.
Taking Google for example, anywhere from the first one to four results on the search engine are typically filled with paid advertisements. Begin by discovering which keywords your audience is searching for and then use Google Ads to set up campaigns targeting individuals who search those terms.
Maximizing this Marketing Idea for Nonprofits
When choosing the keywords you'll target with your campaigns, begin with the broadest possible topics, categories, and ideas that relate to your organization. Choose your top categories from that list and input them into Google's Keyword Planner. This will give you a list of terms related to those keywords.
From there, select 10 keywords from each of your top categories to target with your campaigns.
9. Segment your supporters for personalized outreach.
Have you ever donated to a nonprofit through its online donation form, been added to its email list, and then received a plethora of messages that weren't applicable to you? Perhaps it's a multi-branch nonprofit and it sent you a number of messages about volunteering a few states away. Or, maybe you began receiving targeted ads about purchasing tickets to the nonprofit's upcoming gala— but, the tickets are far too expensive for you to afford?
Segment your audience to avoid making this mistake at your nonprofit. Segmentation refers to the practice of separating your audience into categories, or segments, and tailoring your marketing messaging to best align with each segments' interests or past involvement with your organization.
Segmentation can be used in every aspect of your marketing efforts. For example, rather than sending the same ad to every individual who visited your website (a "full site" segment), you can send specific ads depending on the specific pages each visitor landed on. This could also be aligned with how far down the marketing funnel an individual gets on your site— for example, you can send retargeted ads about completing the donation process to all supporters to navigate to your online giving page.
Maximizing this Marketing Idea for Nonprofits
Your ability to segment your supporters is largely dependent on the technology you're using to conduct the various aspects of your marketing campaigns. Ensure that the email and digital marketing software solutions you invest in come equipped with segmentation tools, so your team can make the most of this idea.
10. Use content marketing to provide value through your website.
One of the first places that prospective supporters will go to learn more about your cause and nonprofit is your website. If that website has little information, it can be challenging for supporters to immerse themselves in your mission and demotivate them from taking further action.
The easiest way to avoid this is with content marketing— essentially, writing regular blog posts about your nonprofit's mission and work. Each of the following would be valuable topics to write about:
Educational background information about your mission.
Updates about previous or current fundraising campaigns.
The latest news surrounding your cause.
Information about how to get involved with your nonprofit in various ways.
Spotlights on influential individuals in your community.
Not only does this function to provide information for new supporters, but current supporters can also see that your nonprofit is actively pursuing its mission. This builds credibility and trust in your organization as a whole.
Maximizing this Marketing Idea for Nonprofits
Avoid making your blog content a stream-of-consciousness with little direction. Instead, create structured posts with an eye-catching title, headings that break up the text, and attractive imagery.
Think back to your keyword research from section eight, and feature one primary keyword in each blog post— include it in the title, headings, and throughout content itself. This will signal to Google what your content is about and, in addition to writing clear and valuable content, can improve the chance of that content ranking in search engine results.
11. Equip your supporters with tools to spread the word.
Earlier, we discussed involving your nonprofit's board members in influencer marketing— a practice that allows your nonprofit to leverage your board members' audiences in addition to your own. But, what about your everyday supporters? Surely, your passionate followers are going to discuss your cause with their friends, family members, and colleagues.
Word of mouth is a powerful marketing tool and your supporters use it on a daily basis. Just as with influencer marketing, give those supporters the tools to be successful when advocating for your cause!
For example, create educational graphics about your mission and share them on social media. Then, invite your supporters to quickly re-share the graphics with their network, and so forth. You can also provide social sharing buttons on your donation page, educational blog posts, and other resources, making it easy for supporters to share their engagement with your organization via social platforms as well.
Maximizing this Marketing Idea for Nonprofits
Pay attention to which of your supporters are regularly discussing your nonprofit with their peers, and thank them for their efforts! Showing that you appreciate their time and energy will encourage them to continue spreading the word.
12. Draw on the power of emotions with video marketing.
You've heard the saying that "a picture is worth a thousand words." Multiply that saying tenfold to illustrate the impact of video content.
With video marketing, you can awaken your supporters' emotions in a short 30-second to two-minute clip. Perhaps it's a joyful child having just received school supplies, a hard-working volunteer discussing why it's so worthwhile to give time to your cause, or even a montage of dogs in need backed by a sad song (if you recognize an ASPCA commercial, you've experienced the power of video marketing firsthand).
Begin by considering the emotion you want to convey with your video advertisement. Joy? Worry? Motivation? Then, build your video content around that emotion.
Maximizing this Marketing Idea for Nonprofits
There are a number of ways to use videos in your marketing strategy, including on your website, as posts on social media, as digital advertisements, and even as TV advertisements. Consider using your video elements across multiple platforms to make the most of your investment into the format.
13. Go back to the basics with direct mail.
Digital marketing is highly popular with nonprofit organizations, and considering the relatively low cost and high return on investment, this makes sense. However, you should still aim to incorporate more traditional marketing elements— such as direct mail— into your strategy.
Direct mail describes the practice of sending physical mail to your nonprofit supporters. While it has slowly decreased in popularity as more nonprofits move to digital strategies, it's worthwhile to continue using as not every supporter is receptive to digital marketing. For example, you may have older supporters who are distrustful of digital marketing, but keep an eye out for your nonprofit's holiday appeal each year.
It's best to use a combination of direct mail and at least one digital marketing channel in your efforts. Research has shown that this combination can lead to a 118% increase in response rate when compared to campaigns that use direct mail alone.
Maximizing this Marketing Idea for Nonprofits
Conduct regular data hygiene efforts, specifically turning to your nonprofit's direct mailing lists. Compare your list against the National Change of Address database system to discover which supporters have moved and update their address accordingly. Additionally, review the national Do Not Mail list to ensure you're not sending mail to any supporters who do not wish to receive it. Both of these practices will save your nonprofit the cost of sending mail to addresses that no one will respond from.
14. Inspire conversations with product marketing.
Have you ever walked down the street, noticed someone wearing an interesting shirt, and asked them where they got it? Or maybe, someone was wearing a shirt featuring the logo of your favorite sports team and you chatted with them about a recent win.
The items we wear each day spark conversations. With product marketing, these conversations can be about your nonprofit.
Essentially, you either sell or hand out items that feature your nonprofit's logo, a tagline, or even an intriguing phrase related to your mission. The goal is to get these items into the hands of your supporters— donors, volunteers, board members, staff members, and more. Then, as these individuals move through their daily lives sporting your gear, they'll hold conversations about your nonprofit and mission because of it.
Maximizing this Marketing Idea for Nonprofits
Product marketing isn't confined to clothing. Coffee mugs, sports gear, water bottles, and bumper stickers all make great conduits for product marketing as well. Choose the products that best align with your nonprofit and mission! For example, an animal shelter might create branded collars and leashes, while a food bank might create branded coffee mugs.
15. Hosts contests or challenges to inspire healthy competition.
For this marketing idea, you simply create a challenge for supporters to participate in while spreading the word about your organization. There are a number of forms this could take. For example, you could host:
A drawing contest.

Your nonprofit's supporters submit their best drawings conveying your mission and the drawings are posted online. A winner is chosen by public vote— so, supporters have to spread the word about your nonprofit and the fundraiser to garner as many votes as possible. Each vote brings a new prospective supporter to your website.
A tagging challenge.

Challenge supporters to complete a silly task and post a photo or video of it on their social networks. In the post, they should share some information about your nonprofit and why they support your mission. Then, they tag the next five to 10 people in line to do the same.
An influencer fundraising challenge.

Choose the most influential individuals in your nonprofit's orbit and have them compete to raise the most money in a short period of time, such as one day to a week. They'll naturally need to interact with new supporters of your nonprofit to edge out the competition, and therefore will spread the word!
Throughout the competition or challenge, remember that it should be fun! Closely monitor your competition participants to make sure everyone is playing fairly and kindly, and it should go off without a hitch.
Maximizing this Marketing Idea for Nonprofits
As with any other marketing idea that empowers your supporters to spread the word, share resources to help them do so effectively. A social media graphic or even suggested messaging about your cause can help a supporter who is less familiar with your cause still join in on the fun!
16. Invest in nonprofit marketing tools to elevate your strategy.
Few nonprofits have extensive marketing and advertising teams to dedicate to multi-channel strategies. It's much more likely that you have one individual or team that manages all of your marketing efforts, and that means that you have limited bandwidth for new, innovative ideas.
To both add efficiency to your nonprofit's marketing efforts and increase success, invest in nonprofit marketing software.
For example, you could invest in a digital advertising platform that empowers your organization to run numerous ad campaigns, optimize those campaigns, and collect data for analysis all automatically— as in, with little to no ongoing intervention needed from your team. With that software, you can scale up your advertising and increase your team's capacity for advertising greatness at once.
Maximizing this Marketing Idea for Nonprofits
While there are numerous marketing tools on the market, fewer are targeted specifically to nonprofit audiences. Invest in a platform that was created with nonprofits in mind, to ensure it can meet your organization's unique needs.
To learn more about Feathr's nonprofit marketing platform, request a demo today.
Wrapping Up
There are numerous ideas to elevate your nonprofit's marketing strategy and better engage your supporters, and now it's up to you to choose which would best suit your audience.
Whether digital advertising and retargeting, influencer marketing, or even more traditional efforts such as direct mail, combining a few ideas on this list will result in a strong strategy for your team.
To learn more about how Feathr can expand your nonprofit's reach and further your mission, connect with us today. In the meantime, explore the following additional resources: