Nonprofits have traditionally relied heavily on email marketing and found great success across the industry. Nonprofit organizations have some of the highest email open and click-through rates of any sector with an average open rate of around 26.6% and a click-through rate of around 2.7%.
This is why this method of communication has become the backbone of so many nonprofit marketing strategies around the world.
But you don't simply want to settle for average email rates. Instead, strive to create a better nonprofit email marketing strategy, allowing you to better engage your audience, garner additional support for your cause, and boost your fundraising efforts.
In this guide, we'll cover the ins and outs of nonprofit email marketing and discuss how you can create an impactful strategy for your organization. We'll cover the following points:
Before we dive into how you can use email marketing to enhance your nonprofit's promotion strategies, let's make sure we're all on the same page about its importance.

Why email marketing for nonprofit works
Email marketing is a long-time favorite digital communication channel for all sectors. It allows organizations to send personalized messages directly to individual supporters' inboxes. This is different from strategies like flyers and social media posts, which target a broad audience rather than a specific person.
Because of the personalized nature of email, your nonprofit can use email to send messages specifically tailored to align with each recipient's interests. More often, nonprofits will use segmentation strategies to send personalized messages to groups of people rather than taking the time to write each message individually. This allows you to reap the benefit of a personalized strategy without the time commitment it takes to write out every message for every supporter.
Plus, email presents a popular channel for recipients to view and check on a regular basis. In fact, according to some sources, 99% of email users check their inboxes daily, some as many as 20 times per day. So when you send a message via email, it's not likely to be missed entirely.
Finally, email marketing tends to be an incredibly cost-effective strategy. It costs very little to operate an email account for your organization. Plus, effective software allows you to increase your return on investment tenfold by making it easier to set up campaigns, automate messaging, and ensure personalization.
In short, email marketing for nonprofits is important because it's a cost-efficient and impactful way to reach your audience.
Creating a nonprofit email marketing strategy
Instead of sending out the same email en masse to all of your supporters, take a more deliberate approach to email marketing and create a specific strategy. In this strategy, you'll consider who you're sending messages to and what content is most likely to elicit a response.
Here are the steps we recommend you take to craft your organization's email marketing strategy:
1. Set your email marketing goals
To maximize your results, make sure you understand exactly what your email marketing is meant to accomplish. Sending messages for the sake of doing so won't get you very far.
Instead, discern the exact goals and initiatives you want your email marketing campaigns to support. For example, you might decide you want your email campaigns to:
Support your nonprofit's fundraising campaigns.
Intrigue new supporters and funnel them towards giving.
Increase your brand recognition.
Once you have specific, measurable goals in mind, you can start taking the actions necessary to make them possible. The first of these is to create useful segments of your supporters.
2. Create segments of supporters
As mentioned, writing personalized messages for your supporters is what makes email marketing so effective. The most efficient way to do this is by creating specific segments of supporters in your database based on their shared characteristics.
Some of the characteristics you may use to segment supporters include:
Donation amount. Mid-tier, major, and first-time donors will likely have their own individual segments, so you can provide each group with the most relevant messages for them.
Volunteer experience. Your volunteers can be just as valuable as your donors. Plus, you'll likely have some overlap between volunteers and donors.
Engagement recency. The more recently a donor has engaged with your organization, the less likely they are to lapse. However, if a supporter's engagement drops suddenly, you might add them to a segment of supporters in danger of lapsing.
Reason for support. Supporters help your organization for all sorts of reasons. They may have a family member or friend who is impacted by your mission. Or, maybe they were constituents of your mission themselves. Ask supporters about their motivations to give to your mission and use this data to create specific segments.
Supporter interests. Keep track of your supporters' relevant interests. An animal shelter might record which of their donors are dog lovers versus cat lovers and create segments based on this information.
Once you have your lists of supporters segmented, you can tailor your messages to individual groups of people. For example, an animal shelter may reach out to their list of dog lovers about the new puppies who were recently rescued. Or, they might reach out to their list of major donors about the upcoming "Gala for Good Dogs" with plates starting at $1,000.
3. Determine the type of content to send
Throughout the year, your organization should vary the type of content you send to your supporters. They'll likely get bored or annoyed if you send the same donation solicitation over and over again. So keep it interesting with a number of different types of content.
For example, you might try sending your supporters the following types of messages:
Welcome emails.

Reaching out to supporters the first day they get involved with your organization is step one in ensuring they're retained for years to come.
Newsletters.

Your supporters are invested in your organization and your programming. Keep them informed about everything your organization is up to and where you're planning to be in the future with a regular newsletter.
Donation appeals.

Of course, you'll need to send donation appeals to your supporters, soliciting gifts that keep your nonprofit afloat. Write a message for your annual appeal and different ones for your other fundraising campaigns.
Advocacy appeals.

Offer non-monetary opportunities for supporters to get involved like by signing petitions or participating in a click-to-call campaign to discuss legislation with their representatives.
Stories of impact.

Impact stories show your supporters how their contributions affect your mission. Use them to continue to build the relationship or as a part of appreciation messages.
Event invitations.

For upcoming events, send your supporters personalized invitations, providing sneak peeks of event activities that will most interest them and a link to your registration page.
Appreciation emails.

After a supporter helps your mission by donating, volunteering, attending an event, participating in an advocacy campaign, or contributing an in-kind donation, send them a thank you message. Specifically, reference how they helped your mission and the impact they made.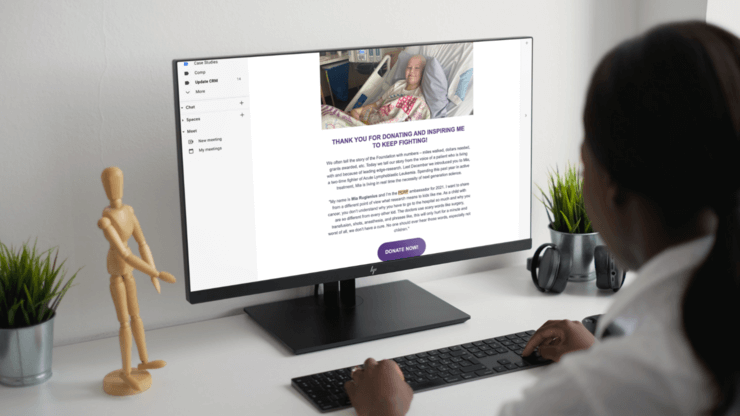 Create templates in your marketing system with general outlines for each type of message. But don't become too reliant on your template! You should remember to customize these templates based on the individual or supporter segment you're sending it to.
Be sure these templates also contain your nonprofit's branding so that you don't need to reformat each message's visual design before sending it, saving your staff valuable time.
4. Analyze your email marketing results
After launching various campaigns as a part of your nonprofit email marketing strategy, you'll have collected a lot of data regarding how supporters responded to the email messages you sent.
After each campaign, your staff members should review the metrics you've collected and determine what parts of the campaign were successful as well as any opportunities for improvement. This will help you better reach out to your supporters in the future.
Some of the metrics you should review include:
Open rate.

As mentioned earlier, the average open rate for nonprofit emails is around 26%. Analyze yours to see if your nonprofit email marketing strategy is above or below average. To make your rate higher, you can adjust your strategy by trying out a new variety of messages and testing different subject lines.
Click-through rate.

Once people open your emails, they may click through to learn more about your organization. This shows an inclination to get more involved. Optimizing your calls to action in your nonprofit email marketing messages can help improve this rate.
Conversion rate.

Past your click-through rate is your conversion rate, which includes those who complete the action intended by your email like donating or registering for an event. To improve this rate, you might need to adjust your call to action so it's more specific or to optimize your landing page.
Unsubscribe rate.

On the flip side, your organization should also keep track of your unsubscribe rate. A high unsubscribe rate indicates that you may have a high supporter lapse rate as well. Find out why supporters are unsubscribing by asking in a survey after they unsubscribe. Then, adjust your strategy accordingly to keep more supporters involved.
With any of these metrics, your organization can experiment with how to improve your rates by conducting A/B testing. Independently test components of your emails to see what supporters respond best to. For example, you might change the visuals between emails and send them randomly to a number of supporters to see if the click-through rate differs between the styles. Or, you may test different styles of subject lines to see which is more effective with your audience.
7 Nonprofit email marketing best practices
Above, we walked through the basic steps to developing a nonprofit email marketing strategy. However, there's more that goes into the process. By leveraging nonprofit email marketing best practices, you can also ensure that your strategy is optimized to perform well and maximize your return on investment.
Here are seven best practices to consider while developing your strategy. Some of them we touched on briefly above, but they're important to keep in mind so you can make a conscious effort to incorporate them into your strategy.
1. Brand your emails to your nonprofit
Visual branding helps your supporters immediately recognize your organization. In fact, it's likely to be the first thing your supporters process mentally when they review your email. Some statistics show that humans process visual information 60,000 times faster than text.
Therefore, when supporters review your email, the first thing they'll notice is your logo, colors, pictures, and the way you visually organize the email. Keeping this in mind, you should make sure your content is not only visually appealing but also accurately representative of your organization.
When you create email templates for your future nonprofit email marketing content, be sure each one follows your organization's branding guidelines.
The other benefit that accompanies effective branding is trust. Imagine this: You've been donating to a nonprofit for years. Their brand colors are blue and gold. Then, when you receive their latest email, the organization's logo appears in orange. More than likely, you'll think this email is a scam. You may even think your organization had a security breach and can no longer be trusted! Either way, donors who encounter emails with incorrect branding are much less likely to click through.
2. Use A/B testing to improve KPIs
When you choose your goals for your nonprofit email marketing campaign, you'll set several key performance indicators (KPIs) that will determine whether your campaign is successful or not. To improve on these KPIs over time, your organization should leverage A/B testing.
For example, you might consider an email campaign to be successful if your click-through rate is above 15% and your conversion rate is above 10%. To improve your conversion rate, you can test out different calls to action in your emails, sending half the recipients one with one message and half with the other. For example, you might send one that says, "Donate today!" and another that says, "Give back to your community now!" Then, you can see which performs better among your audience.
3. Use email addresses to reach supporters on other platforms
Multi-channel marketing campaigns are the most effective way for your organization to communicate with supporters. This means using additional platforms to get in touch with supporters alongside your email campaigns.
Luckily, your supporter email addresses can make reaching out to them on other platforms much easier. Specifically, you can use the email addresses in your system to target your supporters with tailored advertising campaigns.
Using a marketing platform like Feathr allows your organization to use email mapping technology to show your supporters advertisements while they surf the web.
4. Optimize your emails for mobile devices
Before you hit "send" on your next email campaign, check to see how that message will be viewed on all devices. Over 70% of people check their email via their smartphone, but chances are you'll set up your email campaign from your computer.
Check what your email looks like on both desktop and mobile devices to be sure it fulfills your purpose and helps your organization succeed no matter where supporters encounter the message.
This means the images you use should be resized depending on the size of the screen they're being viewed on. In addition, the text should be readable and may need adjustment as well. This ensures people can simply scroll down on mobile to read your message rather than zooming in and out and scrolling side to side to read it all.
5. Tell stories of your impact
Did you know that people are about 22 times more likely to remember a statistic when it's embedded in a story? We're wired for storytelling and easily connect to the protagonists of our favorite stories. So tell stories about your mission's successes and needs to keep supporters engaged and make sure the message sticks.
In your emails, embed stories into your solicitations, appreciation letters, and other messages. For example, in your messages for a campaign that will help provide school supplies for kids in the community, you might tell a story about one of the kids who benefited from the program.
6. Feature calls-to-action on emails
Nonprofit email marketing campaigns always have a purpose. You never send an email for no particular reason. You want your supporters to do something based on your messages, whether that's donating, volunteering, signing up for an event, sharing their recent interactions, reading your blog, or otherwise getting more involved.
Use buttons and links in your emails to encourage supporters to click through and get more involved.
These calls to action should be specific so supporters know exactly what to expect when they click the button. It should also be highly relevant to the email message itself. You wouldn't include a "donate now" button on the thank you email for a past donation. However, you might include that button on solicitation emails.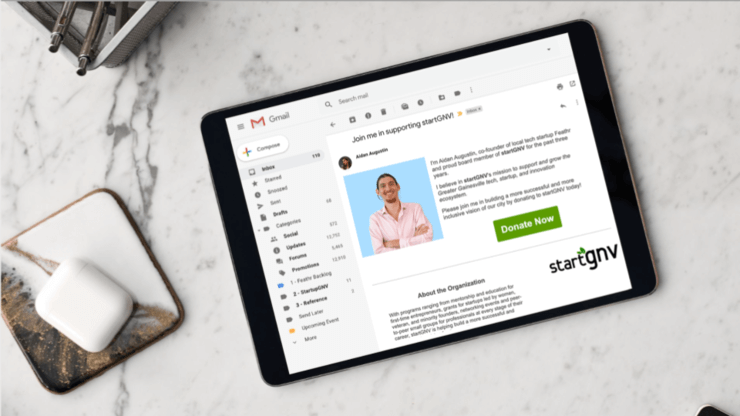 7. Ask supporters to also email your audience
Influencer marketing is all the rage on social media. But you also have influencers on your side whether you realize it or not! Your organization can reach out to board members, event keynote speakers, and experts on your cause, asking them to get in touch with their own following on behalf of your organization.
Ask them to create their own branded pages and email campaigns based on templates that are co-branded with your organization.
These messages can inform their following of an upcoming event you're hosting, a donation opportunity, or another campaign. This strategy not only provides another source of information for your current supporters to receive appeals from, but it also adds credibility to your cause and can positively influence your supporter acquisition rate as influencers reach new audiences.
What to look for in nonprofit email marketing software
Email is the backbone of many nonprofit marketing strategies. While this platform has been around a long time, long gone are the days in which you could simply type a message, hit "send," and expect to see significant results. Now, there's a lot more strategy that goes into it, including your graphic design, key performance indicators, and careful consideration of campaign conversions.
By leveraging effective nonprofit email marketing software, you can not only nail your email strategy, but you can also determine how it will best fit into your larger marketing plan.
Feathr offers the marketing software you need to make your email marketing campaigns a success and ensure it works in tandem with your other marketing initiatives. With Feathr, you'll gain access to features including:
Supporter list segmentation to send personalized messages to recipients.
Email templates that allow you to save commonly used email formats and customize them for future campaigns.
Email mapping so you can target ads to lists of email addresses.
Scheduling

so you know your emails are sent to the right people at the right time.
Comprehensive metrics to keep track of your nonprofit email marketing metrics, determining the wins and opportunities for improvement.
Not only does Feathr have email tools that will help your organization succeed, but their team also offers services to help you put your marketing strategy in action. Instead of guessing and checking for months before finding the baseline strategy for your organization, you can rely on experts to help you determine the best opportunities to reach your goals.
Wrapping up
The first version of email was invented in 1965 and the platform was popularized during the 1980s and 90s. It's by no means a new strategy. However, the technology around email marketing has advanced, and organizations need to continually update their strategies to take new functionalities into account and keep up with new trends.
Therefore, having the most up-to-date software with the right experts on your team is essential for nonprofit email marketing success. Don't get left in the dust as email marketing technology continues to evolve over time. Reach out to our team at Feathr to see how you can use the tips in this guide along with our expertise to increase your return on your email marketing investment.
If you're interested in learning more about how your organization can make the most of your marketing strategies, check out the following resources: