Work-life balance has always been a top priority at Feathr, and we've strived for years to offer our team members the space they need to feel comfortable and balanced.
That isn't what sets us apart, though.
Luckily, work-life balance has become a priority for many workplaces, in particular tech companies and startups, which tend to offer more flexible PTO, remote work options, pet-friendly offices, and more. We also hope it will continue to catch on for other industries – especially after so many pivoted to remote work in 2020.
But one thing we've realized through all of the changes that happened in the last several years is that there isn't really a cap on how important work-life balance can be. It shouldn't be something we use to meet an industry standard or check a box on a list of Things That Make Us Cool.
Prioritizing the mental health of our employees should be a constantly evolving process with a target that moves based on what people actually need at any given moment. This can look like a lot of things. For us, one of those things was switching to four-day workweeks — and so far it's been amazing.
How it started
After just a few weeks of seeing our customers struggle with canceled events, lost revenue, and downsizing in early 2020, we decided to help by being more flexible with payments and pricing. But that meant we'd have less money to go around, and preventing layoffs was an equally important priority for us.
We weighed the options and chose to avoid layoffs by temporarily reducing pay across the company by 20%, with management taking a larger cut and employees under a certain threshold remaining unaffected.
This was not a decision we made lightly, since we knew it would only add to the abnormal levels of stress brought about by the pandemic, shutdowns, and social unrest. To make the pay drop feel more reasonable, we reduced work hours by 20% to match, which meant employees now had Fridays off.
As our industry began adapting and recovering, we knew we would soon be able to resume full pay, but we also noticed how much employees seemed to be benefiting from having the extra day off — so we decided to keep that part.
On January 1, 2021, we returned to 100% compensation for all employees and made the permanent switch to four-day workweeks.
How it's going
We've loved hearing about all of the ways our team members are making full use of their Fridays!
From spending more time with the kids or doing stuff around the house, to going on hikes or just plain old sleeping in, we're happy to know our Feathren now have an extra day to balance all of the craziness that life throws our way.
Here are just a few examples of how our team members spend their Fridays:

Suzanne, our People Operations Manager, has been spending
more time with her beautiful new baby and adorable pup.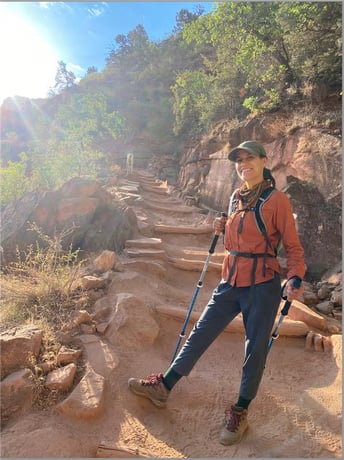 Senior Director of Services, Ariana Aragon, enjoys a nice, long hikes on a Friday.




Design Lead Tyler Botts has been hustling hard on Fridays with his pop-up coffee shop.



If you would like to learn more about Feathr or are interested in becoming a member of the flock, check us out at https://www.feathr.co/careers.