We're excited to announce that you can now run all of your email marketing campaigns in Feathr!
Until recently, we were focused primarily on helping customers succeed on one channel: digital advertising. In a world where email marketing solutions were plentiful, we set out to help marketers use digital advertising to reach their audiences in new ways.
This was just the first step, though. Our vision has always been to create an all-in-one digital marketing platform to give customers everything they need to run personalized, multichannel marketing campaigns.
That's why we're thrilled to announce Feathr Email, a new email marketing toolkit that takes us one big step closer toward fulfilling that vision for customers.
Why email?
With newer marketing channels catching on in recent years, there has been chatter that email is becoming a thing of the past. This simply isn't true. When used the right way, email is more important than ever for a holistic multichannel approach.
First, the ROI of email alone is reason enough to keep it in your marketing repertoire. Email generates $36 for every $1 spent, making it one of the most cost-effective channels.
Even more importantly, your email subscribers will always be one of your warmest audiences, since they have opted in to hear from you and are therefore more likely to convert.
What has changed is the approach to email marketing. Today, buyers are tech-savvy, spoiled for choice, and have their attention pulled in more directions than ever before, which means the age of generic, single-channel marketing is long gone.
Today, the most effective digital marketing programs are personalized and multichannel.
With the addition of email marketing to our already powerful suite of audience tracking and digital advertising tools, Feathr users have everything they need to run the personalized, multichannel marketing campaigns that align with modern buyer expectations.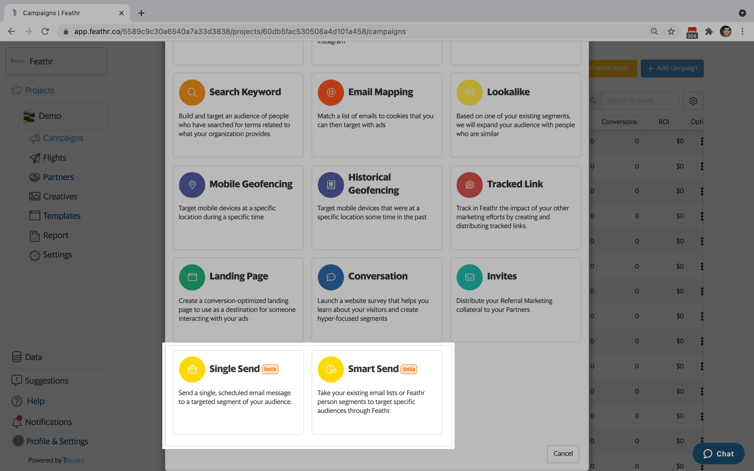 How our email tool works
Step 1: Import your contact data and create key segments
We know that you've already got contact data stored in other systems – like your AMS, EMS or registration platform. Our Data Importer makes it easy to import that data, so you can leverage all of the valuable information you've already captured about your customers and prospects. Simply upload a spreadsheet with each contact's email address plus any other CRM data you'd like to include, and then map each column of data to a field in Feathr.
By default, Feathr can store a long list of standard contact data and can be further customized to store as many additional custom data points as you'd like.
And to make sure that new contacts get added to Feathr automatically, we can integrate with your key data input points, like registration pages or a member login page. As new contacts come in through those pages, they will automatically be added to your Feathr account – reducing your workload and ensuring that your Feathr audience stays current.
After you've imported your marketing contacts into Feathr, you can segment them into buckets based upon any data that you've imported – like job title, years of membership, products purchased, their last website visit, etc.

Step 2: Send personalized emails to segments of your audience
Once you've got your segments ready, it's time to email them! Feathr lets you send one-off emails to your contact segments, and in the coming weeks, we're releasing a feature that lets you set up triggered emails that send every time someone enters that segment.
Let's go through an example. Say you want to send a reminder email to everyone who began registering for an event but didn't complete their registration – a "registration abandonment" segment.
You could start by creating a segment of people who match those criteria today and send one big message to that whole group. Then, you could set up a second triggered email campaign that sends a similar reminder email to everyone who matches those criteria in the future.
So in just a couple of steps, you've got an automated system running that will remind registration abandoners to come back and finish signing up.
You can do this with any segmentation approach you want – whether around audience data or web activity like page visits, form submissions, etc.
And once you've run a few email campaigns, you can further segment based on email open and click behavior to ensure you're reaching people who are interested in your offer and dialing it back for those who aren't ready yet.
Easy-to-use editor for brand consistency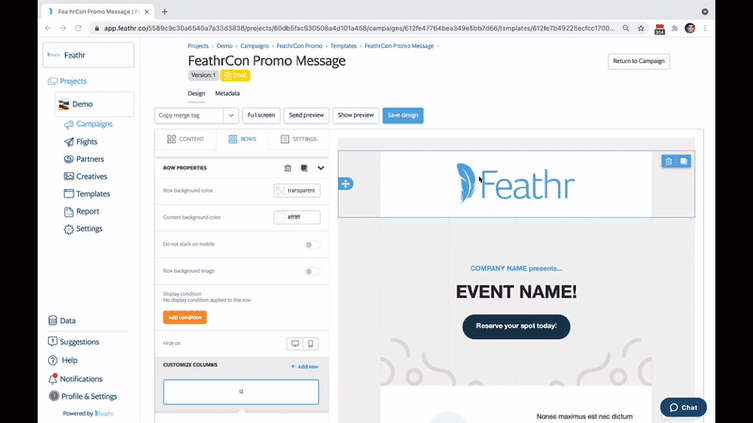 Feathr's drag-and-drop editor makes it easy to create continuity between your website, ads and emails. If you already have an email template that you like to use, you can import it by adding your own code or simply replicating the design using our WYSIWYG editor. Or if limited bandwidth is an issue, pick from a variety of elegant templates that you can use out of the box or easily modify to save tons of time.
There is virtually no limit to how customized you can get with your design, and you can rest assured your emails will render nicely in the inbox, whether your recipients are on desktop or mobile.
Sample Feathr email template


Sample Feathr email template
Step 3: Track your results with conversion and Flight reports
Our email tool offers the same conversion tracking and reporting as your other Feathr campaigns, letting you monitor the performance of your email campaigns deeper than the surface-level stats of opens and clicks.
If you want even more useful reporting, add your email campaigns to a Flight* that includes all Feathr campaigns for a certain initiative. That Flight reports on combined effectiveness of all campaigns within it to give you one de-duplicated conversion number – showing the overall effect of the campaigns you've launched for that goal.
*A Flight is a planning tool that helps you organize and report on an entire set of campaigns that are tied to a common goal, like boosting event attendance or driving donations.
Integrating email and retargeting
Every contact you track and store in Feathr can be targeted both through email and our digital advertising channels. That means that your contacts will see consistent, personalized messaging from your brand – whether they're in their inbox, on Facebook (through our Facebook retargeting integration), or on the general web.
Retargeting is also a better communication channel for certain types of messages. Email is highly effective for specific communications, like newsletters or complex reminders. But it's not always the best option.
A lot of your communication with audience members is to give them some sort of nudge, whether that's to complete a donation, or download a piece of content from a page they visited on your site. Retargeting is often a better, or at least an additional, option for delivering these kinds of frequent and subtle reminders, since it communicates with people in a non-invasive way while they browse the web rather than bombarding their inbox with 15 emails per week.
How Feathr ties it all together
The unique benefit of doing all of your marketing in Feathr is that your channels speak to each other, removing the guesswork that comes with having data across multiple platforms.
Feathr gives you an apples-to-apples view of your digital marketing channels, so you can more accurately compare how they're performing and get a clear picture of how customers are moving through the entire customer journey.
Insights from your email campaigns can inform decisions about your retargeting strategy and vice versa, allowing you to create a more cohesive, personalized experience for your audience members.


If you want to see our email tools in action,
book a quick demo.