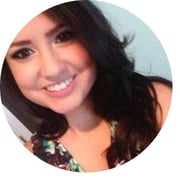 Damaris Duarte is Manager of Industrial and International Marketing at National Association of Home Builders.
Welcome to the inaugural issue of Taking Flight, Feathr's newsletter of inspiration and insights from customers who have earned their wings as industry leaders. Featured in this issue is Damaris Duarte, Industrial and International Marketing Manager at the National Association of Home Builders.
Like many ambitious young marketers, Damaris began her career in social media. Her drive to succeed quickly earned her more responsibilities and bigger projects. She joined the NAHB team in 2016 as a temporary marketing assistant and moved up to a permanent marketing manager position within a year. She now focuses on attendee acquisition for the NAHB International Builders' Show® and uses Feathr as part of her marketing strategy.
In this issue of Taking Flight, Damaris shares some of the lessons, losses, and surprises she has experienced during her time in the associations and events industry.
---
What acquisition strategies are currently working best for you?
Targeted special event marketing and exhibitor landing pages. We're currently focused on promoting our special events, so when people register for the show they also sign up for other ticketed events. Getting people registered for the show is great, but having people register AND purchase tickets is even better. The attendee gets a personalized recommendation and we meet our revenue and attendee goals.
As for the landing pages, with 1,400+ exhibitors these seem to be a natural fit for us. If every exhibitor invites one person, that's a win. Last year we started using Feathr two months before the Builders' Show, and in those two months we had 414 conversions and a 14.06% conversion rate.
What are your biggest predictions for how attendee or member acquisition will evolve over the next few years?
Over half of NAHB's members are 55 years of age or older. I predict that as these Boomers retire and Millennials move into the industry, our acquisition efforts will involve more social media marketing.
If you had a magic wand that could solve any of your problems with one wave, which problem would you solve?
International attendee acquisition and brand awareness. The NAHB International Builders' Show® (IBS) attracts attendees from more than 100 countries, but between the language barrier and competing international building shows, recruiting new international attendees can be difficult.
What has been your least successful marketing experiment?
Our first retargeting campaign targeted past IBS attendees for the last four years and promoted our upcoming registration deadline. We thought the campaign was going to do great. Good creative, a great landing page and a clear call to action—what could go wrong?
Well, with approximately 60,000 attendees per year, our targeted list was extremely large. The super pixel was tracking so many cookies that it could only serve 1 to 2 ads per person. As we've gotten more familiar with Feathr and the way campaigns work, we've learned our ads usually see the highest conversions when we reach 8 to 9 views per person. We've also learned it's best to either segment the audience or break up the attendee list into multiple campaigns.
Is there anything else you'd like to share?
Yes, don't be afraid try new ad creative. I told our designer I wanted a "different" color palette for our second set of ads and she sent me yellow and green ads. I was convinced these ads weren't going to perform as well as the first set of beautiful blue ads, but I decided to post a few as a test. To my surprise the yellow and green ads performed the same as the first set, if not better.