Imagine you're scrolling through Facebook. You see pictures of your baby cousin learning to walk, videos of parrots mocking their owners, and questions someone posted about hiking equipment in a group that you're a part of. Mixed in with these fun updates are advertisements for a nonprofit you're passionate about.
These ads remind you to visit their website, but you decide to do that later. Then, you check your email and there's a message from that same organization! You click through to learn about their latest campaign and end up contributing $50.
This example shows how a nonprofit's multi-channel digital marketing strategy can influence a supporter to learn more about the cause and make a contribution.
In this guide, we'll discuss digital marketing for nonprofits and how your organization can make the most of your online presence. We'll cover the following subjects:
Digital marketing is a major asset for nonprofits that has only become more relevant and necessary over the last several years. In addition to becoming a more popular form of outreach, digital platforms became absolutely essential during the COVID-19 pandemic. Looking ahead, reliance on online communication is here to stay. Let's dive in!

Why is Digital Marketing Important for Nonprofits?
Digital marketing is composed of the various online outreach strategies that organizations like yours use to promote your cause to current and potential supporters.
Effective digital marketing for nonprofits will drive engagement for your organization's activities and increase brand awareness in the community. Your donors are already online, scrolling through social media, conducting work, or shopping online. So, meet them where they are with an impactful and well-designed digital marketing strategy.
Naturally, this means there are a number of online platforms that your nonprofit can use as a part of your digital marketing strategy, each of which may appeal to different individuals and segments in your audience. That's why it's essential to plan your outreach strategy that will engage your audience and best deliver your message. Develop a concrete digital marketing plan to maximize the potential of each of these platforms and outreach messages.
Crafting a Digital Marketing Strategy for Your Nonprofit
Developing a concrete plan for your nonprofit digital marketing strategy is the best way to engage your audience members. Here are the seven steps necessary to create a digital marketing strategy:
Define your goals.
The first essential step to develop a digital marketing strategy for your nonprofit is to define your goals. Determine what you want your marketing strategy to accomplish and what success will look like after you have implemented that strategy.
As you define these goals, avoid using words like increase, more, and other non-definite adjectives. Instead, create goals that have a concrete metric attached. Consider the following two examples:
Goal #1: Increase the size of your nonprofit's email marketing list to acquire more donors.
Goal#2: Expand your nonprofit's email marketing list through online newsletter signups by 200 people, and use that list to acquire 50 new donors by the end of the year.
In the first example, there is no way to tell if the goal has been, nor a clear timeframe for when to assess its success. There is no difference between adding one or 100 new names to the email marketing list; both would be considered increasing the size of the list. By contrast, in the second example, there is a concrete metric of increasing the marketing email list by 200 people and acquiring 50 new donors from that list.
This makes the second goal SMARTer. SMART goals are specific, measurable, attainable, relevant, and time-based:
Specific:

In the goal mentioned above, the statement not only refers to a list of supporters but specifically to the nonprofit's email marketing list. It even defines how that nonprofit will gain those additional supporters (through online newsletter sign-ups).
Measurable:

Measurable goals establish concrete metrics to define success. This is where the numbers cited in goal #2 become useful. The measurable aspect of the goal is the 200 new sign-ups for the email list and the 50 new donors acquired through that list.
Attainable:

The metrics you choose for your goals should be attainable for your nonprofit. If you choose a goal that is too ambitious you run the risk of demotivating your team as they can never reach the goal. But, if you choose a goal that is not ambitious enough, you won't maximize your potential outcome.
Relevant:

Your goals should relate back to your mission in some way, helping you advance your organization and create additional value for your cause.
Time-based:

Keep your team engaged by setting an end date for your goal. In the example cited above, the nonprofit wants to acquire 50 new donors

by the year's end.
Setting effective goals is the best way to lay the foundation of your digital marketing strategy for your nonprofit. It's how you determine what to focus on in your marketing and what you hope to achieve by spreading your message.
Segment your audience.
After you've established your goals, it's time to determine how you will reach them. That brings us to our next step in developing a strategy for your nonprofit's digital marketing: segmenting your audience.
Every message you send your audience should be personalized to capture their attention. Imagine the last time you got an email that was addressed to "Generous Donor." Did you read that letter in full? Even if you haven't gotten a message like that in a while, you can imagine how poorly it would hold your own attention. But simply addressing a donor by name is not the only personal element you need to incorporate into your outreach strategy.
Segment your donors by grouping them based on common characteristics. Then, you can use these segments to reach out to entire groups of supporters with a message that will appeal to all of them. This creates an efficient method of personalization that captures and holds your donors' attention.
Segment your supporters based on their past engagement with your nonprofit such as their donation history, campaign engagement, event attendance, volunteer hours, interests, and motivations to get involved.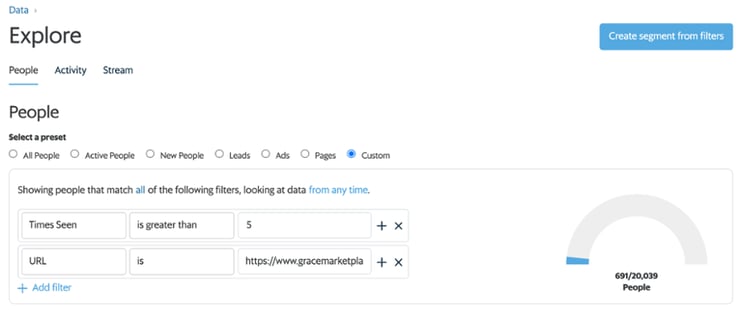 Example from GRACE of audience segmentation in Feathr using behavioral analytics
such as the number of site visits and visits to a specific giving page.
For example, your organization might host several marketing campaigns to promote different opportunities. One is for your volunteer program, another for online donations, and a third for your upcoming gala. You can segment donors based on which campaign they first use to learn more about your organization.
Let's say one prospective new supporter encounters your advertisement for your volunteer program while scrolling through Facebook. They decide to click through to learn more and end up both registering to be a volunteer and donating to your latest fundraising campaign. It's apparent that this donor is most interested in volunteer work and should therefore receive messages that appeal to volunteers.
Create email streams.
Email is the bread and butter of many nonprofits' digital marketing strategies because these messages are sent directly to individuals' inboxes. Leverage email streams to make the most of this important and popular digital marketing platform. Email streams allow your nonprofit to send several emails in a row that follow up on a trigger activity performed by your supporter.
For example, if your supporter signs up to receive your nonprofit's newsletter, you may decide that the next action you want them to take is donating to your latest campaign. Therefore, you can send several emails—let's say two per week—guiding that supporter towards the donation process. The first email should be an appreciation email for the action they have already taken, the next may be an educational email regarding your mission, and the third can contain the first donation solicitation.
Some other triggers you may leverage to set up an email stream include:
Donating
Following your organization on social media
Registering for an event
Registering to volunteer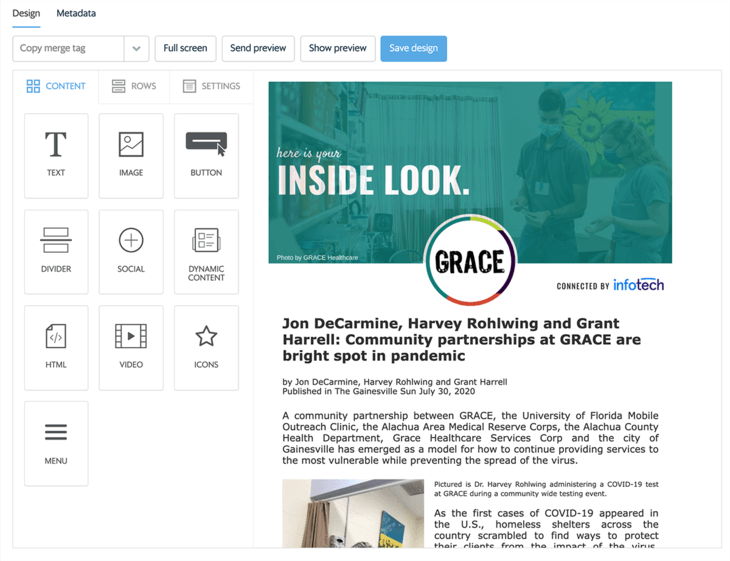 Email created by GRACE using the Feathr drag-and-drop builder.
Your marketing strategy will ideally not only engage your supporters one time, but keep them coming back over and over again. Email streams allow you to gently guide your supporters back to your website to engage with another aspect of your mission.
Design digital advertisements.
Imagine a new supporter lands on your website, is intrigued by and passionate about your mission, and decides to donate. However, for one reason or another they are pulled away in the middle of the donation process and don't hit the final submit button. Should you just give up on this person and consider the donation lost? Of course not.
Digital advertisements allow your nonprofit to remind supporters of their in-progress donation as they travel the web.
Retargeting with digital advertisements involves designing ads that your website's previous visitors will see as they browse the internet. They may see your advertisement as they read the New York Times or scroll through their Facebook feed. Carefully craft your ads to target your audience based on what page they last visited on your website. Plus, take into account their interests based on their previous engagement with your organization.

Ad from a campaign run by the Humane Society of North Central Florida targeting people who visited their event page and started filling out the form to buy tickets but didn't finish their purchase.
That way you can use your ads as a part of your digital marketing strategy to recapture previously abandoned registrations for your events, drive donations, and promote volunteer opportunities. This strategy also allows your nonprofit to increase your cause's brand recognition because supporters will encounter your brand more frequently. This means that even if they don't engage now, they will be more likely to do so in the future.
Lean into social media.
When social media first emerged as a marketing tool, organizations would simply create a profile, write posts on their wall, and hope that their followers would stumble upon their messages. Today, the process has become more complex, but also more deliberate. There are several platforms, tools within those platforms, and methods you can use to share your message via social media.
As one of the first major social platforms, Facebook is the foundational platform for sharing your message, but you can also leverage Twitter, Instagram, Snapchat, and even Tik Tok as part of your nonprofit's digital marketing strategy.
Then, within those platforms, you can share posts and updates to get your message across, as well as reels, stories, groups, and advertisements. We recommend using a variety of these tools as a part of your social media strategy.
Finally, what you share matters. Write specific messages for each of your fundraising campaigns and encourage your donors to spread the word about these campaigns through social buttons and other sharing strategies. This allows you to promote opportunities and fundraise for your mission directly on your chosen social media platform. Ask your supporters to share and participate in fundraisers that integrate naturally with social media platforms, such as:
Peer-to-peer fundraisers
Crowdfunding campaigns
Online donation pages
Facebook birthday fundraiser
Be sure to also reach out to people who have significant influence on these platforms and ask them to share information about your cause.
Influencer marketing isn't just for for-profits or trendy teens. You have people in your network who can make a difference for your organization simply by spreading the word. Consider who has an impactful voice in your industry. It might be your board members, a keynote speaker from a conference, or even educators on a subject related to your mission. Reach out to these individuals and ask them to promote your cause, your brand, and the opportunities your organization offers.
Maximize your website.
Digital marketing for nonprofits revolves around one particular tool: your website. Your website is where your supporters will get directly involved with your mission whether by donating to your cause, registering for an event, or even reading educational materials about your mission. That's why it's essential for your website to be as user-friendly and persuasive as possible.
Maximize the use of your nonprofit's website by implementing key design principles, including:
Mobile optimization.

Mobile phones account for over

half of annual internet traffic

globally. Ensure your audience can both read the content on your website and interact with your opportunities from whatever device is most convenient for them. This means text and images should resize to fit the screen they're viewed on and forms should be able to be completed on any device.
Navigability.

Website navigation should be intuitive and user-friendly. This means all buttons and menus should have clear labels that lead to predictable website pages. Include your website's core pages in your main navigation such as the homepage, about page, and blog. Then use bold button calls-to-action and other linking opportunities to drive traffic to high-value pages such as your donation form.
Accessibility.

The last thing your nonprofit wants is to alienate members of your audience. That's why you should ensure your website is accessible to everyone. Add accessibility features like alternative text, which make it possible for people using screen readers to gain value from images on your website. In addition, use closed captions for multimedia page features and a hierarchical structure for headings and titles to make the page more readable.
Each of your online marketing platforms should help create a flywheel for your digital marketing strategy. Your social profiles may drive people to follow your organization, then include links to the latest newsletter. Your email content should lead people to the most important information on your website. And your websites should allow people to sign up for emails or share on social platforms. It creates a cycle of engagement for supporters.
Evaluating Your Nonprofit Digital Marketing Strategy
After you have implemented digital marketing practices for your nonprofit, you'll need to evaluate how successful they were. This is the only way you'll be able to determine where you have done well and what can be improved on in the future.
Craft a report by pulling the most important metrics for your marketing strategy. Then compare the metrics in this report with the ones that you set in your goals. This allows you to see how your strategy stacked up against your ideal outcome.
For example, let's say your digital advertising strategy met and exceeded your goal of retargeting and capturing 30% of visitors who abandoned your donation form. You'll likely set a more challenging goal for the future and only refine certain elements of the strategy you used. However, if you found that your email marketing strategy was lacking, you may determine that you need to implement better segmentation practices and set a new goal focused around how you fell short.
You can analyze the following metrics for your digital marketing strategy and individual outreach campaigns:
Email open and click-through rates
Campaign conversion rate
Supporter acquisition cost
Campaign return on investment
Donor retention rate
Look at your strategy's metrics as a whole as well as the metrics for each individual marketing campaign. This will allow you to see trends in your messaging and marketing platforms usage which can help identify gaps in your strategic planning. Leverage this information to improve your marketing strategy over the years, attracting additional support and retaining your current donors.
Wrapping Up
Digital marketing has become an essential tool for nonprofits to attract and maintain support for their missions. By crafting a concrete and informed strategy, your organization can make the most of your online resources.
Use the tips in this guide to get started with your own digital marketing strategy for your nonprofit. And remember, the tools you use to implement your strategy can be just as important as the strategy itself. Choose a platform that allows you to leverage several types of outreach and specific, personalized messaging.
Feathr provides advanced nonprofit digital marketing tools and assistance in crafting a strategy for organizations like yours. Contact our team to learn more about how you can maximize your own marketing techniques.
For more information about digital marketing for nonprofits and other marketing tips and tricks, consult the following additional resources: