Challenge
MHI is the largest material handling, logistics, and supply chain association in the United States, offering education, networking, and solution sourcing for members, their customers, and the industry as a whole through programming and events.
The association's signature event is ProMat – a biennial trade show that gathers people from all over the world to see the best solutions and innovations in the manufacture and supply-chain industry and meet the leading providers in person.
MHI's marketing team had three major goals for ProMat 2019:
Increase registration and attendance rates

Grow the event overall (exhibitors, speakers, attendees)

Lower CPA for event attendance
In the past, MHI had contracted agencies to manage its digital marketing campaigns, which included some analytics, but there were issues with transparency and efficiency.
"With agencies, we weren't getting data quickly enough to adjust campaigns on the fly, and there were too many layers between us and the campaigns. We chose to work with Feathr so we could have more visibility into what we were doing, while also getting the help we needed to run campaigns and create content at scale."
- Carol Miller, Vice President of Marketing and Communications, MHI


For ProMat 2019, MHI decided to use Feathr Concierge, a managed services program that allows Feathr to help its customers set up their accounts, plan campaign strategies, design collateral and ad creatives, and launch and optimize campaigns.

Solution
MHI worked with the Concierge team at Feathr to run a fully integrated marketing campaign for ProMat 2019. They launched the campaign six months out and then ramped it up as the event got closer.
The overall strategy included some traditional touchpoints like direct mail and print ads, but it leaned more heavily toward digital. To maximize event registration and turnout, Feathr helped MHI implement, track and optimize a wide variety of digital marketing campaigns including:


Awareness campaigns to spread the word about ProMat 2019 to new and existing audiences.
Conversion campaigns geared at getting people to register and upselling registrants to paid ticket events.
Retention

campaigns to keep registrants engaged and recapture people who abandoned registration.

Awareness Campaigns
In addition to targeting ProMat's large audience of former attendees and registrants, MHI also wanted to reach new prospective attendees to optimize turnout for 2019. The Concierge team implemented multiple awareness campaigns to target both new and existing audiences.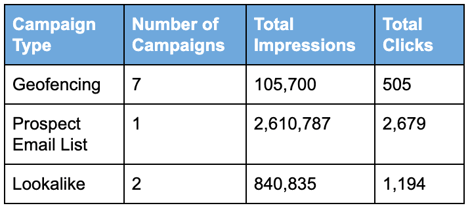 Conversion Campaigns
As prospects became engaged with the awareness campaigns, Feathr implemented event feature campaigns focused on converting those prospects to registrants. ProMat is free to attend, so Feathr also ran upsell campaigns to help MHI generate revenue in other ways.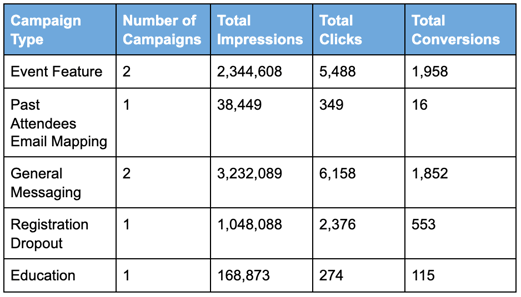 Retention & Upsell Campaigns
Free events often see higher drop-off rates from registration to turnout, since there's no upfront investment to attend. Feathr ran two campaigns to reduce this drop-off and keep registrants excited about attending ProMat.

Creative Services
In addition to running all of these campaigns, the Concierge team also designed the creative assets – emails, ads, landing pages – and met weekly with MHI to do content refreshes as the event drew nearer.
The teams tested out a variety of designs and styles, including some animated ads to capture more attention.



Sample ad encouraging registrants to attend a networking session at ProMat.
"Even though the creative was engaging initially, the sheer volume of exposure meant it was getting stale more quickly. Because of this, we had to change up our content frequently leading up to the show, and the Feathr team was available to help us make that happen.""
- Morgan Pettrone, Content Marketing Manager, MHI


Results
ProMat 2019 generated the best results MHI had ever seen from one of its events. With the help of the Concierge team, MHI was able to get in front of new audiences, keep them engaged over time with fresh content, and maximize event registration and attendance.
Here's a breakdown of the key results:

The event attracted 935 exhibitors and 50,000 attendees, which resulted in a 24% increase in attendance and 11% overall event growth compared with ProMat 2017.


MHI decreased its overall CPA by 20% compared with ProMat 2017.


ProMat 2019 saw an increase in the number of attendees, but more critically, in the quality of attendees, both of which are the most important factors in keeping exhibitors coming back in the future. The event had the highest floor density to date, with 4.5 attendees per 100 square feet.


MHI plans to continue growing its digital efforts with the help of the Concierge team and the Feathr platform, starting with another event their MODEX event in 2020.



"We're a small marketing department, so doing all of the digital for such a big show is difficult. Feathr helped us set up, run, and analyze our campaigns, move our budget around, optimize our creative content – and they kept us in the loop the whole time so we felt part of the process without the burden of too much work. The Concierge team is a nice in-between of doing everything in house versus getting an agency to do it all."
- Morgan Pettrone, Marketing Content Manager, MHI