It is easier than ever for your members to receive continuing education as well as network through social channels and groups outside of your association. With competition continuing to ramp up, it's important that associations actively focus on member engagement on an ongoing basis.
Some ways to increase member engagement include establishing online member communities, offering eLearning opportunities, hosting in-person events, and promoting philanthropy. These types of activities are especially important as your Millennial and Gen Z membership grows. Both groups are social, accustomed to having everything (including education) at their fingertips, and they want to be associated with organizations and brands that support philanthropic initiatives.
There is a good chance you are probably using one, if not all, of the tactics outlined above. Whether you are or not, it is important that these are all considered to be key elements of your member engagement strategy. Here are some tips on how to use them.
1. Online member communities
Communities serve as a space where members can connect when they can't meet in person. This is especially important for associations with members located throughout the country and around the world. Even if you have in-person events throughout the year, communities can help keep your members engaged on an ongoing basis — this also empowers them to take charge of their own level of engagement.
Before creating your online community, you'll want to consider the nature of it, aside from just generally creating increased member engagement. You could start with a searchable member directory that has internal messaging tools or an online forum hosted through your website. Or, you could use communities for specific committees and other member-managed groups. Another great use of an online community is as a collaborative work platform to share ideas.
You can also integrate your community with your eLearning platform, potentially allowing people to display certifications and badges on their profile as well as encouraging members to engage with other aspects and offerings that your association provides.
2. eLearning opportunities
Continuing education and learning opportunities are big reasons that inspire people to join associations. As we mentioned earlier, there is more competition than ever before for educational opportunities. With sites like Coursera and LinkedIn Learning making it easy to learn a new skill or take a course, associations must make sure they are providing easy-to-access eLearning courses online. These are some different online learning formats to consider:
Online lectures: If you're already hosting an annual meeting or in-person training class, record it! The time is already being put into these presentations. By recording these sessions and placing them online, you'll expand your reach and extend the life of the content.

Webcasts: Not everyone can make it to your in-person events, but they still might like the feeling of a live event. Live streaming a webcast of annual meeting sessions allows virtual participants to receive the same education in real time and allows them to directly engage with presenters.

Webinars: Holding webinars throughout the year allows your members to continue engaging with your organization months after an annual meeting. While the event is completely virtual, they still get the experience of a live event and can engage with the presenter and other attendees. These can also be recorded and distributed as online on-demand courses just like your conference recordings.
With any of the options above, assessments and evaluations can be attached. Certifications and continuing education credits can be rewarded. You're keeping your members engaged with event-based learning.
In addition to the event-based learning mentioned above, traditional courses can be created by simply recording presenters for the sole purpose of creating an on-demand presentation and course.
3. Digital marketing
The vast majority of us are online every day, and a quarter of American adults are online constantly, according to Pew Research. It's just a fact of life these days. As we mentioned, online communities and eLearning are excellent ways to boost member engagement while they're on your website, but how do you keep them informed about important events and opportunities while they're browsing elsewhere?
Email is still the most popular way to keep in touch with your members, but a multi-faceted approach is more effective for not only keeping your association top-of-mind with existing members, but for recruiting new members too. Behavior-based marketing tools like retargeting, triggered emails, geofencing, and paid search advertising are the next step beyond email to make absolute certain your message gets out to members. They're inexpensive and simple to use, especially if you wear more pressing hats than "marketer."
Feathr offers a complete toolkit built specifically for associations to engage with members wherever they are online. Check out this article to learn more about how effective modern digital advertising tools can be for engaging members old and new, and for registering them for your...
4. In-person events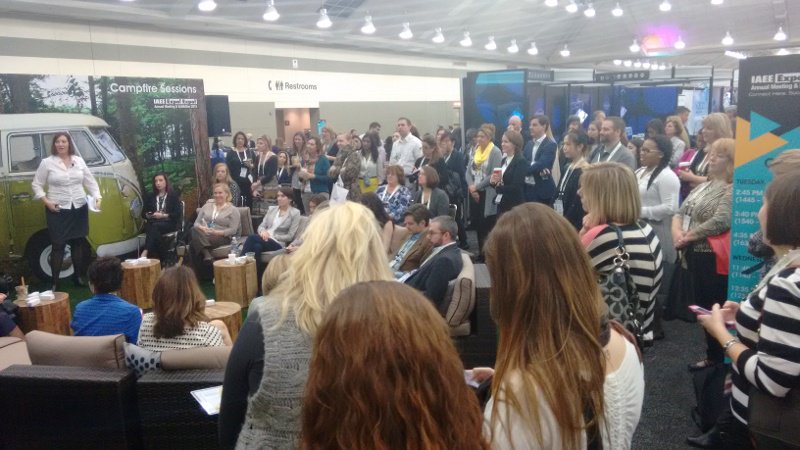 A bustling "Campfire Session" at IAEE's Expo! Expo!
While our last three tactics relied heavily on digital experiences, in-person events are still essential. People still want to feel that connection and be able to network in a way that is truly different than chatting with someone in an online forum or during a web event. With in-person events, it's important to think outside of the once-a-year annual meeting box.
Lunch and Learns - while these can easily be held virtually, why not hold these in-person in different cities throughout the country and around the world? They can even be live streamed or recorded so that others not located in that city or unable to attend can still attend virtually or watch on-demand — again expanding your reach and extending the life of your content.

Annual Welcome Events - whether or not this occurs alongside your annual meeting, it's important to recognize and make your new members feel welcome. You want to make sure engagement is high from the start!

Local Meetups - learning is important, but networking is too. Organizing meetups at a local bar or restaurant is a great way to get people engaged on a social level and to develop new relationships with members they may not mingle with during an educational event.
5. Philanthropy
While education and networking are two main reasons that people join associations, people also want to feel good about the organization they are a part of. That's where some philanthropy comes in! Collecting continuing education credits is nice (and many times required) and socializing at a local bar or the annual meeting kick-off party is fun, but having a cause to work toward, together, can bring people together in a wonderful way — and keep your members coming back for more!
If this isn't something your association is doing, it can be overwhelming trying to figure out where to start. A common place to begin would be to think about a cause that is connected to your association's mission. Next, research to see if that specific organization has a local chapter. You could partner with local chapters for smaller events and initiatives to create additional, more intimate engagements. Nothing coming to mind yet? Survey your members and find out what they care about — after all, this is about engaging them!
Offering your members these valuable items is a great start in getting — and keeping — them engaged. Take the time to figure out the best platforms to deliver some of these initiatives and start boosting your association's member engagement!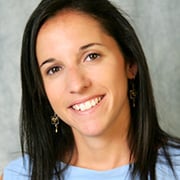 Jocelyn Fielding is director of marketing & sales operations at BlueSky eLearn. She has over 11 years of experience in sales and marketing, with eight of those spent at Blue Sky, working with associations, corporations, and pharmaceutical companies. When Jocelyn isn't working, she enjoys being outside — whether hiking or heading to the beach. She's also an avid traveler, has been to six of the seven continents, and is always planning her next trip (or two!).