With so many in-person events getting canceled in recent weeks, there's been a huge uptick in the number of virtual events being promoted by associations and companies. And while there are some obvious downsides to removing the in-person component of an event, there are also some unique benefits that we've seen popping up for our own customers who are running virtual events.
The main advantage is that virtual events offer a much lower barrier to entry by:
Providing more flexibility for attendees who can't get away get away from other responsibilities at work or at home, especially during these difficult times
Eliminating the need to book a hotel and travel, or allows people to get some money back if they already booked these
Offering free or low-cost registration – unless you're offering continuing education credits, in which case your virtual event can serve as a great revenue driver while other initiatives are on pause
The result is that your virtual event becomes more broadly appealing to people who wouldn't or couldn't have participated in your live event, such as international attendees, senior executives, junior team members, multiple individuals from the same organization, or general skeptics. In other words, running a virtual event can be a huge opportunity to expand your reach very quickly, drive brand awareness and membership efforts, and get people interested in attending the in-person events that you'll host in the future.
So, if you're promoting your own virtual event (or considering it), you're probably looking for all of the ways you can leverage digital marketing channels to maximize registration and engagement.
Feathr can help you go virtual
We've been creating some resources around the topic of promoting virtual events, with a focus on using targeted digital advertising to maximize retention and participation.
The first piece was a webinar that our co-founder Aidan Augustin hosted this week. If you weren't able to tune in live, you can watch it on-demand here. It's chock-full of advice on taking your event virtual, with recommendations for marketing timelines, ways to get stakeholders more involved, and sample ads and landing pages from Feathr customers who've gone through it.
The second piece is this blog series, in which each post will cover a new story about a customer who has used Feathr to promote a virtual event. We've seen great results from many associations and AMCs over the last few weeks, so we want to share some of those experiences to give you some inspiration for your own marketing and remind you that you're not alone in dealing with these challenges.
We're kicking off this series with a story about how the Association of Certified Fraud Examiners (ACFE) managed to turn a big annual conference into a virtual event with just three weeks of lead time.
* Be sure to read till the end for a downloadable version of ACFE's ad creatives along with more ideas and tips.


How ACFE used Feathr to take an event virtual in less than three weeks
ACFE is the world's largest anti-fraud organization and a top provider of anti-fraud training and education, with more than 85,000 members worldwide. One of the association's main offerings is that it administers the Certified Fraud Examiner (CFE) credential, which denotes expertise in fraud prevention, detection, deterrence and investigation. ACFE also offers ongoing professional education to help CFEs continually build their skills and stay in compliance with industry standards.
Events are a huge component in ACFE's educational offering, as they provide members and non-members alike with opportunities to learn directly from top CFEs and earn continuing education credits.
One such event is ACFE Fraud Conference Europe – an annual, three-day event that takes place in a different European city every spring. The event attracts speakers, sponsors and attendees from Europe and around the world to discuss how to tackle corruption, change perceptions, and influence governments and businesses in regards to fraud prevention.
This year, Fraud Conference Europe was scheduled to take place in Copenhagen on April 5-7. Due to local health authority recommendations, however, ACFE decided to replace the in-person event with a virtual alternative.


"This was our first-ever fully virtual event. We've been doing hybrid events (in-person event with some sessions streamed online) since 2016 – but hosting a fully-online conference was very different." - John Loftis, Event Manager – ACFE


ACFE had already run two retargeting campaigns back in January and February to promote the in-person event – one was a campaign announcing the release of the conference agenda, and the other was an early registration campaign. After deciding to switch to virtual, ACFE ran retargeting ads that closely resembled the ads it had already been using to promote the live event.
Pro tip: If you already ran ads for an in-person event that has now gone virtual, keep the same look and feel in the ads you use to promote the virtual event. This creates visual continuity for your audience and makes the ads feel familiar, which will make people more likely to engage with them. If you've postponed your live event and added an additional virtual event to your lineup, you'll probably want to visually differentiate that new virtual event from the postponed live event. More nuance on this recommendation in a future post.
Another step was to figure out how to position the benefits of the event now that it was happening virtually. Most of those benefits were detailed on the event landing page, but ACFE also used some space on the ads to highlight that registrants could:
Access on-demand video recordings of all sessions
Earn up to 20 CPE by attending online sessions or watching the recordings



Sample ad from virtual event retargeting campaign

The ads led to an updated event landing page, which contained information about the benefits of attending, ticket prices, and multiple options for people who had already registered for the in-person event, including:
Transferring registration to the virtual conference
Transferring registration to next year's conference
Canceling registration with no penalties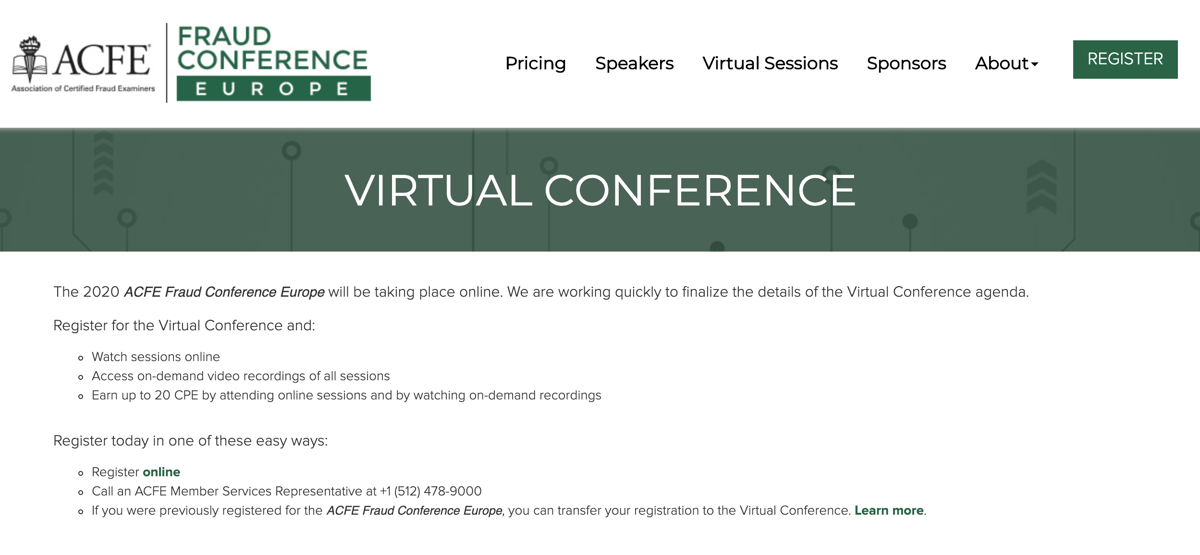 Landing page from virtual event retargeting campaign

Results & Lessons Learned
Considering that ACFE had to move its event online just three weeks before the conference, attendance exceeded expectations and the event was a success. The team at ACFE learned a lot from this event and feels prepared to move the ACFE Global Fraud Conference virtual in June.
Here are some lessons they've learned so far:
Allow extra time and have extra staff on hand to help with speaker webcam and microphone issues. ACFE asked speakers to arrive 30 minutes before their session, but plans to allow an hour in the future.
Just like an in-person conference, unexpected issues will arise the day of the event. Have contingency plans in place to react. What do you do if a speaker has technical issues? What if their internet stops working right before the session?


"With so many organizations relying on email marketing, people's inboxes are overflowing these days (I know mine is). Having a multi-channel approach was important to reach audiences outside email. Running a retargeting campaign to promote the virtual event allowed us to communicate the new online format to previous website visitors. Feathr makes it very easy to run these types of campaigns." - John Loftis, Event Manager – ACFE