We're back with part two of our Events Going Virtual series, and this time, we're following the Maine Osteopathic Association on their journey as they go virtual with their upcoming annual convention. The event is scheduled to take place on June 5-7, so promotions are currently in full swing.
As we mentioned in last week's segment, this blog series is centered around the topic of promoting virtual events, with a focus on using targeted digital advertising to maximize attendee retention and participation. As more of our customers make the switch to virtual, we're sharing their stories in hopes of providing you with some inspiration for your own marketing campaigns.


About the Maine Osteopathic Association (MOA)
With more than 400 physician members, the Maine Osteopathic Association (MOA) serves the osteopathic profession in the state of Maine through a coordinated effort of professional education, professional advocacy, and member services, with the goal of delivering top-quality osteopathic care statewide.
MOA relies heavily on events to drive revenue and promote its educational offerings. Each year, MOA sponsors two continuing medical education (CME) conferences, which make up some of the largest CME events in the northeast. MOA also co-sponsors a number of other educational programs and provides CME certification of many of those programs in order for them to qualify as osteopathic CME credits. Finally, MOA provides a seminar that empowers physicians and their office staff to improve the management of their practices.


About the MOA Annual Convention
For 108 years, MOA has hosted an Annual Oceanside Convention – a three-day educational program for physicians and other healthcare providers. The event includes clinical vignettes and updates on the latest medical guidelines, with a focus on continuing the integration of osteopathic philosophy and principles into the practice of medicine.
In addition to the educational benefits, MOA's Annual Oceanside Convention has always provided a social component as well. Hosted on a beautiful coastline resort, the event offers a full weekend of family-friendly activities, giving attendees the flexibility to turn it into more than a business trip.
The 2020 convention was originally scheduled to take place on June 5-7 at the Samoset Resort in Rockport, Maine. However, due to the widespread cancelation of events recently, MOA decided to take things virtual.


How MOA is using Feathr to go virtual with its annual convention
So far, MOA has run three types of ad campaigns in Feathr:
Geofencing campaign targeting hospitals around Maine
Keyword search campaign based on relevant search terms
General retargeting campaign reminding people to register
Luckily, MOA had only done one save-the-date campaign before realizing the event was going to have to go virtual, so there wasn't too much backtracking from an advertising perspective. However, since this is their first-ever online convention, there was plenty of work in terms of adjusting timelines and deciding how to market the event in a way that would maximize attendance.
While losing the social component of the in-person event was a disappointment, MOA decided to keep things the same in terms of the educational offering, informing registrants that they could earn all 20 of the CME credits they were banking on… now from the comfort of their couch.
Pro tip: Offering a virtual event can actually open up your audience of potential attendees pretty significantly. Virtual events boast a lower barrier to entry – by providing more flexibility and eliminating the costs of hotel and travel – meaning that you might actually attract a more diverse audience than your in-person events usually bring.

Running geofencing campaigns at hospitals
For most associations and event organizers, geofencing competitive events and company headquarters hasn't been an option recently – since everyone who could normally be targeted is now staying home and away from group settings.
However, MOA is in the unique position of being an association that targets medical professionals, and it just so happens that one of the few places where people are still gathering is in hospitals.


"We've geofenced some competitors' events, which actually worked well for us prior to the pandemic, as there were frequent events around the country with very similar audiences to our own. We are now just targeting hospitals, and we can't get too specific with it (we want to reach the physicians – not the patients – and it's impossible to get that granular). However, targeting hospitals has seemed to get us more visibility about our event, and then whenever someone engages with a geofencing ad, we throw them into our retargeting campaign and remind them to register."
- Amanda Richards, Executive Director – MOA


Pro tip: Don't stop expanding your audience! If you're interested in targeting people who were in a specific location in the past, like a competitor's event that took place earlier this year, Feathr lets you run historical geofencing campaigns.

Getting creative with ads
Because the annual convention has always taken place at an oceanside resort, MOA typically uses a coastal theme to advertise this event. But when this year's convention quickly went from beachside to desktop, the team at MOA had to get creative with its retargeting.

One way in which they played on the original theme and location was to use an image of a squawking seagull to signal the change to virtual.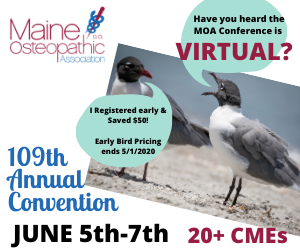 Sample ad from virtual convention retargeting campaign


"People see so many ads every day (especially these days), so I find that humorous or light-hearted ads tend to stand out and draw in our audience more. We decided on the seagull as the 'messenger,' and it's a theme that we've kept using throughout our other ads."
- Claire Berger, Membership Coordinator – MOA

One month out, and things are looking good...
MOA typically opens registration earlier in the year, but after making the switch to virtual, they decided to wait until the end of April to run their ad campaigns. This has allowed MOA to "go heavier" in its promotion, and after just a few weeks of marketing the virtual event, things are on track for registration numbers to be similar to the numbers MOA normally sees for its annual convention.

"Going virtual has been a really positive experience in terms of how attendees are responding. Everyone has adopted the "we're in this together" mentality, and we are thankful for that from an administrative perspective. Taking a big event virtual is definitely a new frontier for us, and we're excited to be giving it a try."
- Claire Berger, Membership Coordinator – MOA