In the era of social distancing, many associations have turned to programmatic advertising to grow their memberships.
With site retargeting alone, the most adept turn web visits into revenue without exhausting their marketing budgets.
But despite the power of these tools, attracting new members is still a process.
Most people aren't willing to drop a few hundred dollars on an organization they've never heard of—and they probably won't be ready after seeing a single display ad either.
The truth is, nurturing prospects takes time and effort to be successful.
To help, this article offers a mix of strategic and tactical tips for associations ready to attract and engage new members through programmatic.
Map out the marketing funnel and buyer's journey
Buying a membership is a major purchase for most people. They won't do so on a whim, and they'll need your association's help to move them through each step of the process.
This is where the marketing funnel comes in. As a handy way to visualize the buyer's journey, a marketing funnel defines stages and activities that allow you to track progression between each stage.
For associations, the marketing funnel could look something like this: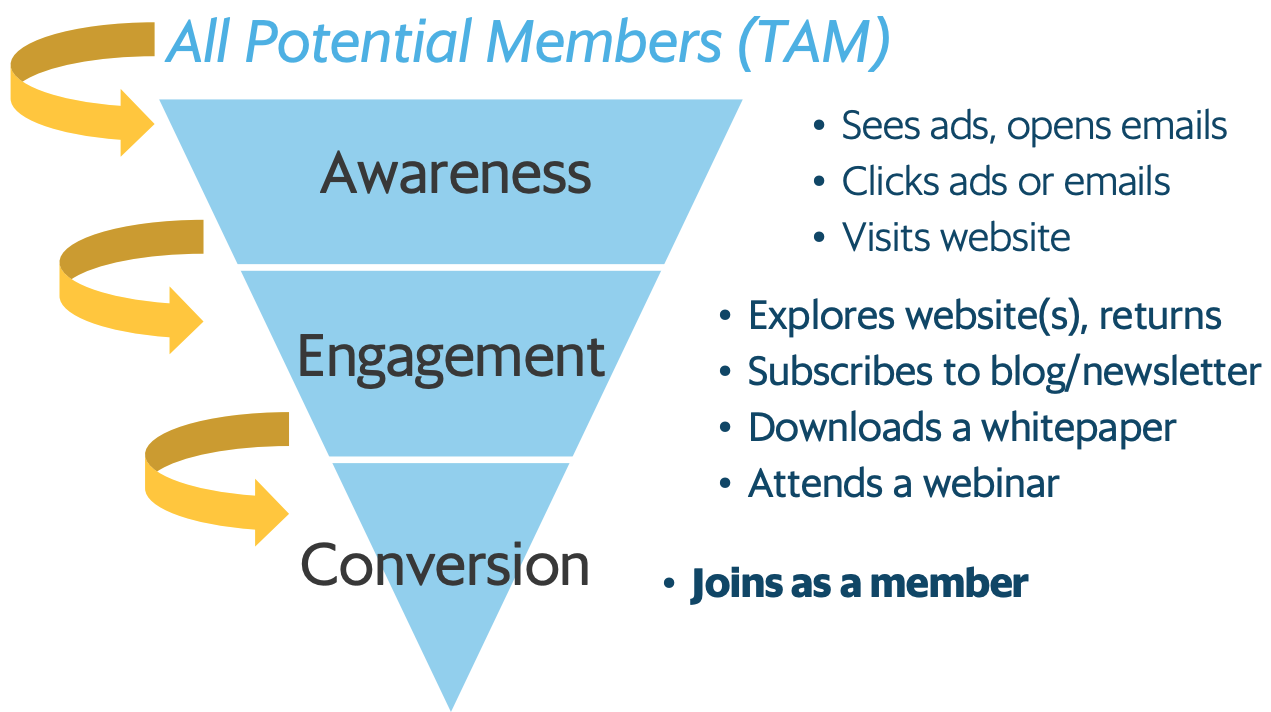 By breaking member acquisition into a series of measurable steps, a marketing funnel helps an association:
Determine which people are most likely to convert or become members
Trace the path from "website visitor" to "member"
When paired with programmatic, it can also help your association create contextualized and targeted ads for specific audiences based on their behavior.
Instead of attempting to get new people to become members on the first touch—which rarely works—a programmatic, funnel-based approach enables marketers to promote the right ads at the right time to the right people.
Use top-of-funnel campaigns to drive web traffic
Moving people incrementally through the funnel starts with building awareness.
Before an association can grow its membership with targeted digital ads, it must attract new and qualified visitors to its website.
Programmatic campaigns that leverage geofencing, search keywords, lookalike audiences, and to some extent, contextual third-party data are the best suited to driving top-of-the-funnel awareness.
Here are some considerations for each campaign type:
Geofencing
Who you'll reach: People who were in a specific building or group of buildings on a specific date. Reach members of your target audience based on industry conference attendance or work location.
What to consider: It may be less relevant during social distancing, and retroactive geofencing is generally only effective for up to three months into the past. However, if your association serves an industry where people are currently going into work—like hospitals or restaurants—you might still be able to leverage geofencing.
Search keywords
Who you'll reach: People who searched for a specific keyword or phrase within the last 30 days. Attract new site visitors based on search intent signals.
What to consider: Your ads will only display when people search for keywords you've bid on and won. You can only retarget those who click on your ad.
Lookalike audiences or persona-based contextual data:
Who you'll reach: People who "look similar" to your existing web traffic based on data from third-party vendors. Target people based on their browsing behavior and other indicators (e.g. people who visit certain websites).
What to consider: Your success will depend on the accuracy and integrity of third-party vendor data, which is often a black box.
Whether you focus entirely on paid search or use a combination of all three campaign types, once you've earned their clicks, you can retarget anyone who's visited your website with other campaigns (like site retargeting and email list matching) to advance them through the funnel.
Build ad messaging around offerings
Crafting the right message is crucial to attracting a qualified audience. Arriving at that message is all about knowing:
Who you should reach
What funnel stage they're in
Which technical methods can get your message in front of them
For associations especially, the best way to attract the right people often starts with defining all of the great work your organization does for the professionals it serves.
For instance, a hotel association might want to promote an extensive research report about operating safely during the pandemic. A dental association might want to showcase its continuing education (CE) courses when people search for certain keywords.
To create some order out of the possibilities, list and sort everything your association offers, grouping each offering into one of two categories: members-only or available to anyone.
When you're done, your list will look something like this: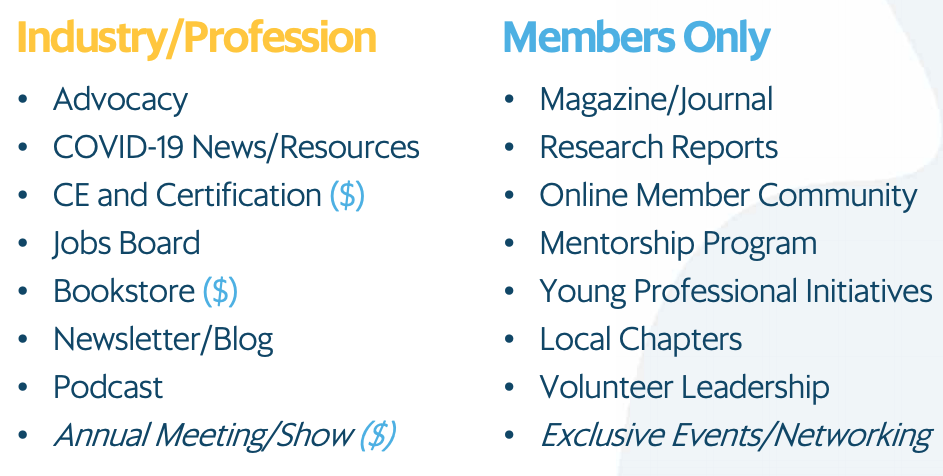 Any offering open to non-members should become an opportunity for top-of-funnel ads.
At this stage, the goal is two-fold: You want to make people in your target audience aware of your existence and you want to show them the value of your association in general.
Engage website visitors with retargeting
Attracting qualified web traffic is step one. Step two is devising ways to engage these visitors and lure them back to your website.
At this stage, the goal is to incrementally earn more buy-in and commitment without asking anyone to become a member—at least not yet.
With data from website analytics and your digital advertising tool of choice, you can track things like:
How many people saw your ads
How many people clicked your ads
How times each person saw an ad before they clicked
Of the people who clicked, what did they do next?
Leverage these and other data points to support your next play: retargeting people who clicked your ads by focusing on other offerings.
If someone visited your jobs board but hasn't been to your blog, for example, you can create ads that follow them around the web inviting them to visit other sections of your website.
If a visitor interacted with your memberships page, you can retarget them with ads that invite them to learn more on a specialized landing page.
No matter the approach, the goal is to drive these people back to your website to increase their investment. You'll better the odds when your retargeting ads are relevant to visitor behavior.
Here are a few things an association might ask its visitors to do to drive engagement:
Subscribe to a newsletter
Read a specific research report or blog article
Attend a free or paid webinar
Content offerings that require identifying information like an email address are especially useful as they open the door to additional nurturing and retargeting possibilities like email list matching.
If your association typically makes paid content available to non-members, consider offering that content to your most engaged visitors for free.
Some examples of ad messaging used in engagement stage retargeting.
Making members out of website visitors
If you've done the work of earning qualified web traffic and engaging those visitors with targeted ads, getting them to become members becomes a matter of timing.
Whether your association makes the case directly or takes what some consider to be a "bait-and-switch" approach, making the ask comes down to advertising that special something your audience can only get when they become a member.
By strategically deploying members-only benefits in your association's ads, the most engaged and invested people in your audience will have a hard time saying no.


Start growing your member base with Feathr ad campaigns.