Promoting your virtual event in a way that generates excitement will take more than a few digital tactics.
You don't want to devote the bulk of your attention to the technical aspects around execution without thinking about strategy.
You'll want to invest enough time in figuring out how to meaningfully connect with people who already have a wealth of digital experiences to choose from. You'll also want to make sure your organization's marketing and advertising plays align with the unique interests of each target segment.
This is part two of a blog series that identifies core considerations for any organization going virtual and provide battle-tested digital advertising recommendations to maximize your return on investment. (Check out part one if you missed it last week!)
Build a messaging strategy
An organization that already has an engaged online audience may have an easier time converting those audience members into virtual attendees.
But if you haven't built an audience, there are still some steps you can take to craft an effective messaging strategy.
Here a few characteristics to keep in mind:
Relevancy
Relevant messaging is about reaching people with the right message based on their respective pain points. If you're targeting different audience segments, think about why your event would matter to each of them. What specific problems or challenges can your event help them tackle, either in the near term or the future?
Positioning
When building your marketing plan internally, you don't want to frame the event as a consolation prize for the lack of an in-person meeting. This kind of mindset can seep into your messaging and get in the way of highlighting your unique selling point(s) in a way that compels people to take action. Speak to the benefits of your event in a way that makes attendance a no-brainer.
Cohesion and consistency
A multi-channel approach to event promotion means that people will receive different marketing in different mediums. It also means that your team is responsible for delivering a consistent experience across these channels and touch-points. Your messaging shouldn't be identical, but it should fit together to tell a cohesive and on-brand story.
Remember, there are two things to drive home in all of your messaging:
The specific value your event will deliver
How the event will look, work, and feel
Some attendees will have doubts about the value of a virtual conference, while others may be unsure whether it's worth navigating an unfamiliar format or software tool.
By baking both of these ideas into your messaging, you can speak to either objection in one fell swoop.
Connect messaging with execution
With geography no longer a factor, associations and other organizations with relevant event content can cast a wider net to attract high-quality attendees—whether that means engaging individual members with a company-based membership or reaching net-new people in previously underrepresented groups.
But crafting and arriving at the right messaging requires knowing:
Who you should reach
What stage of the marketing funnel they're in
Which technical methods can get your message in front of them
Deploy targeted digital advertising
Straightforward retargeting
With basic retargeting, you can track people who visit your virtual event page without finishing registration. Then you can use ads to re-engage these people around the web and get them to come back to finish the registration process.
In making their case for attendance, ACFE emphasized the continuing education (CE) credits included in their virtual Fraud Conference in Europe, while VMUG (VMware User Group) emphasized one of their keynote speakers.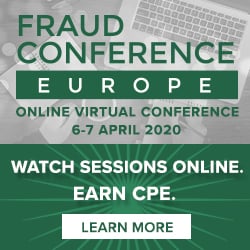 Advanced retargeting
Nuanced segmentation can bring basic site retargeting to an impressive level of precision.
Just as you can choose to send an email blast to your entire database or limit the send to select subsets, with site retargeting you can show different ads to different people based on a variety of criteria, such as:
Who's been to your blog but hasn't visited the virtual conference page or website?
Who's already been to the virtual conference page or website but hasn't yet registered?
If you have an online schedule, who's looked at a specific track or clicked on one of the sessions?
People communicate what they're interested in with their actions. Site retargeting software helps you track what people are clicking on, which sections of the website they're visiting or returning to, and how many times they come back.
Then, it allows you to leverage these data points to target those people with ads that showcase the specific event features they're most interested in. The more personalized and targeted your messaging, the better.
Consider other programmatic campaign options
Site retargeting is one of several different types of programmatic advertising an organization can use to promote an event. Other types of programmatic will also enable your association to show the right message to the right person at the right time.
Email List Matching
This is a great option for associations with rich data in their CMS. Start by segmenting your contacts into meaningful lists. Then upload an email list into a programmatic advertising tool that will crawl the web to match each email to third-party cookies used elsewhere on the web. With email list matching, you can show targeted ads to a specific group of people based on your existing CMS data.
Geofencing
This may be less relevant given pandemic-related restrictions, but if you're targeting a group that has returned to on-location dealings—such as nurses or college students—geofencing could still prove useful in promoting your event. With geofencing, an association can target people who were in a specific building on a specific date and then continue to retarget anyone who clicks an ad.
Map the marketing funnel to advertising efforts
For every person on the fence about attending your event, there are plenty of other people who have never heard of your organization.
Given varying levels of awareness, people will generally respond best to messaging that meets them where they are.
That's where the marketing funnel comes in.
Awareness
How do you make members of your total addressable audience aware of your event in the first place? In the awareness stage, the goal is to get people to see an ad, open an email, click an ad or email, and visit your website.
Engagement
Of the people who have visited your website, how can you get them engaged? In the engagement stage, the goal is to get people to explore or return to your website, subscribe to your blog or newsletter, or provide their email address through a content download or webinar registration.
Conversion
Of the people who regularly engage with your organization online, how can you get them to sign up for the event? By the conversion stage, the goal isn't to keep hyper-engaged people invested in reading your content. You need to build incremental commitment that makes them more likely to take the next step—signing up for the event.
When paired with the right campaign types, the marketing funnel can help your association create contextualized and targeted ads for specific audiences based on their behavior.
Let transparency and value drive marketing campaigns
Funnels aside, the success of your promotion strategy will come down to the unique value your event can promise virtual attendees.
Are there any industry leaders or peers presenting on niche topics with live Q&A?
Will the event offer one-on-one matchmaking or small group discussions with industry leaders or peers?
Could the event deliver its own expo hall with suppliers—or offer a curated showcase of supplier solutions?
Be sure to showcase whatever mix of benefits attendees stand to gain for showing up and staying the course. This goes double for any organizations that plan to charge a high ticket price.
Marketing campaign ideas for paid virtual events
Paint a clear picture of what to expect
Virtual events are still a fairly new experience for most attendees. If this is your first time hosting one, this is likely their first time attending one. Give them the information they need to make the decision with confidence.
Get ahead of objections, questions, and concerns
If you can get ahead of their concerns or questions by baking the answers into your marketing campaigns, you'll ward off pushback on prices if you plan to charge. Use your marketing campaigns to include a proactive response to this kind of pushback, by keeping the focus on the specific benefits that they can only get by attending your virtual event.
Clearly communicate what will only be available during the event
It's always nice when an organization provides resources to no-shows after an event, but this practice disincentivizes live attendance in favor of waiting for the recording. It also positions your event as just another webinar. Whether your event includes goodies like matchmaking or an exhibit hall, make sure people know they'll only get exclusive access when they attend live.
Marketing campaign ideas for any virtual event
Drive post-registration or pre-event actions
Getting people to take certain actions or participate in certain activities will drive incremental commitment that increases the odds of them showing up.
What actions can you drive to increase psychological commitment?
Can you get someone to customize their schedule or create a networking profile after they register?
If you're using a mobile app or registrants need to install something on their computer before the event, can you drive them to do so—and maybe encourage them to create a login?
If you're offering some form of continuing education and attendees need to validate their credits, can you persuade them to complete these steps well in advance?
If you can convince registrants to put in some work to attend, they'll make a psychological commitment which will not only keep them engaged, but will also make them more likely to fully participate come event day.
Balance the value of registration vs. the value of attendance
This is about finding the sweet spot between getting people to register versus getting them to actually participate.
Many B2B marketers who promote webinars, for example, treat them as a top-of-funnel activity. In a scenario like this, getting people to register is where the value lies because capturing their email addresses is enough to market to them later.
But for organizations hosting virtual events—particularly those that care about attendance, participation, and engagement—shifting the communication to convey some level of exclusivity is a must.
It's the difference between messaging like "Just register to get these benefits" and something like "You'll need to tune in live to get these benefits."
Leveraging your partners to promote your event is one of the most powerful forms of advertising. Part three dives into how to empower your speakers, sponsors, and exhibitors to share your event, so you can reach untapped and highly engaged audiences.