In recent years, partner marketing programs have become hugely popular marketing channels for event growth. And with good reason, too — influencer marketing programs are the closest thing marketing teams can get to scalable and repeatable word-of-mouth promotion for their events. Companies such as Gleanin, nvytes, and of course, Feathr, offer data-driven digital influencer programs that will impress event partners, encourage more engaged involvement, and score new attendees. Let's look at 3 easy ways to get your partners involved marketing your event for you.
First, what are partner marketing programs?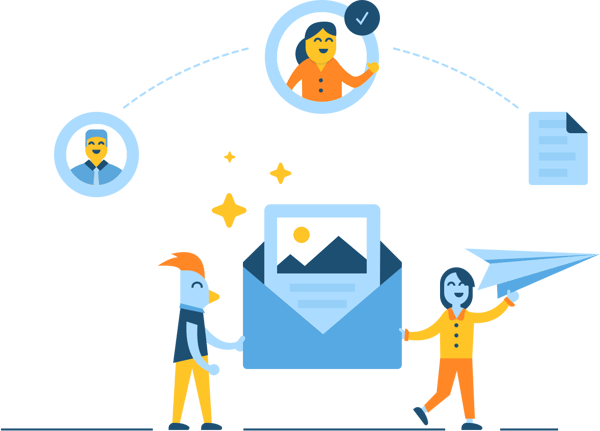 Simple. Partner marketing programs, influencer marketing, or invites programs are an organized and incentivized way to encourage event partners such as exhibitors and sponsors to promote their involvement in your event. By promoting their involvement, they are exposing your event to fresh eyes in their own audience.
Invites programs work by offering value to your partners in the form of participation incentives and eye-catching collateral that they will be not only willing, but excited, to share.
In addition to event-specific incentives you offer, partners have a vested interest in promoting your event to their audience because their audience will be better matched to their products and services than your broad event audience. And as the organizer, you want as many partner audiences exposed to your event as possible.
So here are 3 ways to make your event partners an offer they won't refuse.
1. Custom collateral
An eye-catching custom landing page shared by Albanese Confectionery for National Confectioners Association's Sweets & Snacks Expo. This landing page alone earned over 200 registrations.
Beautiful custom collateral is crucial to the success of your partner marketing program. In the past, events would assign exhibitors a booth number and send over some event logo graphics to put on the exhibitors' websites, and maybe some copy to add to staff email signatures...but that was about it. Efforts like those were essentially afterthoughts, and their contribution was inconsistent at best.
With a digital partner marketing program, it's easy to generate collateral like landing pages, branded invite emails, and banner ads to offer your partners. Custom digital collateral offers four enormous advantages:
It's co-branded with both the event logo and partner logos.
It's easy to share on any digital marketing channel.
It's fully trackable.
It opens a brand new portal to register attendees to audiences you may have never been exposed to before.
2. Valuable incentives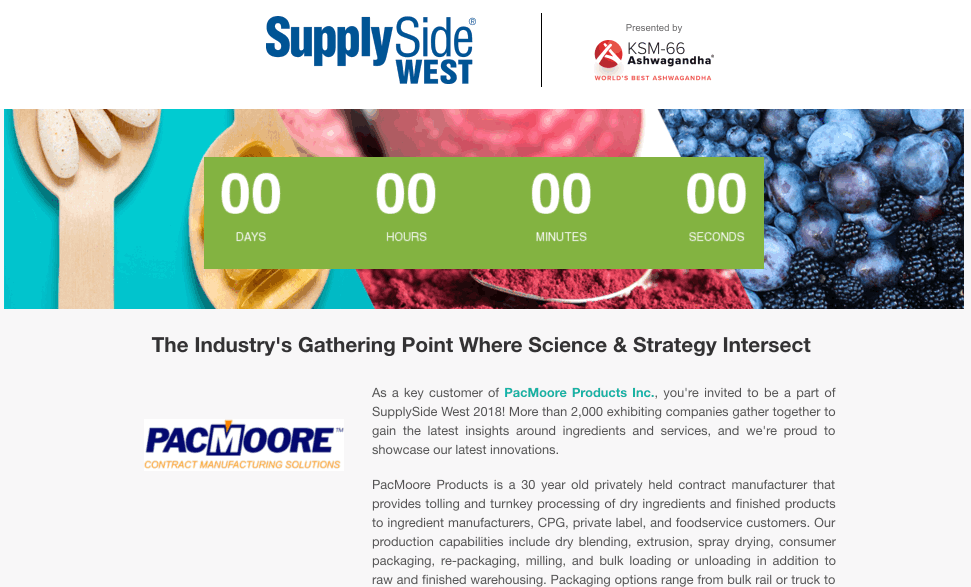 As a reward for participating in their invites program, Supply Side West passed on the incentives to their partners' customers, offering discounted tickets when registering through an Invites landing page like this one from PacMoore.
Since modern digital invite programs include portals to encourage partner audiences to register as attendees, and since they're minutely trackable, it's time for a little healthy competition. Feathr customers have had huge success getting partners to participate in influencer programs by offering upgraded booths, more tickets for their sales team, upgraded sponsorship packages and more. Let your partners know that to earn these upgrades, they have to register attendees too.
For example, give sponsors who register 10 or more new attendees through their invite collateral an upgrade to the platinum package (for next year's event, of course...might as well get a head start).
Or give exhibitors an additional free ticket for their team for every 5 new attendees they register. Getting creative with your invite incentives is fun and encourages participation, especially if your partners have a competitive streak.
Just make sure any incentives you offer have real value to your partners. That is the bottom line requirement for any successful invites program: always provide added value.
3. Consistently marketing to partners
Although they serve different strategic roles, partners are a lot like attendee prospects because they add value to your events. And like attendees, the more event partners you have, the more valuable your event will be. So why not market to them with the same fervor as you do your attendees?
A new and valuable perk like an invites program is a perfect reason to reach out to partners. You're offering added value and they deserve to know about it. You already have direct communication channels with established partners, but new partners need to know about your event and why they should partner with it.
Reach out to partner prospects programmatically to make them aware of your event, and drive ad clicks to a custom landing page touting the benefits of partnering. Retargeting ads, emails, even partner marketing programs themselves are excellent, inexpensive, and trackable channels through which you can market to partners.
Keeping your event top-of-mind for current and potential partners is essential to keeping a bustling roster of exhibitors, sponsors, speakers, and more at your events. And when they reach out to ask "what's new for partners this year?" you'll have an answer that will wow them.
Learn more about partner marketing
Discover if Feathr's Invites solution is the right way for your organization
to reach new audiences.