The days of spray and pray marketing are over. In fact, they have been for years.
The best marketing is relevant, personal, useful, and makes people feel like your brand truly understands them. That sense of understanding creates trust. And people buy from brands they trust.
But actually executing personalized marketing is hard. Not so much the creative part – writing emails, designing ads, etc. – but the data part. If you're going to personalize your marketing you have to know who wants what message.
That's why we built Conversations – a new product that lets your audience tell you exactly what they care about and how they want to be marketed to.
Simple usage, powerful insights
Conversations are beautiful, response-optimized website messages that ask your visitors one key question. This one from InsureTech Connect asks visitors, "What are you looking forward to the most at ITC?".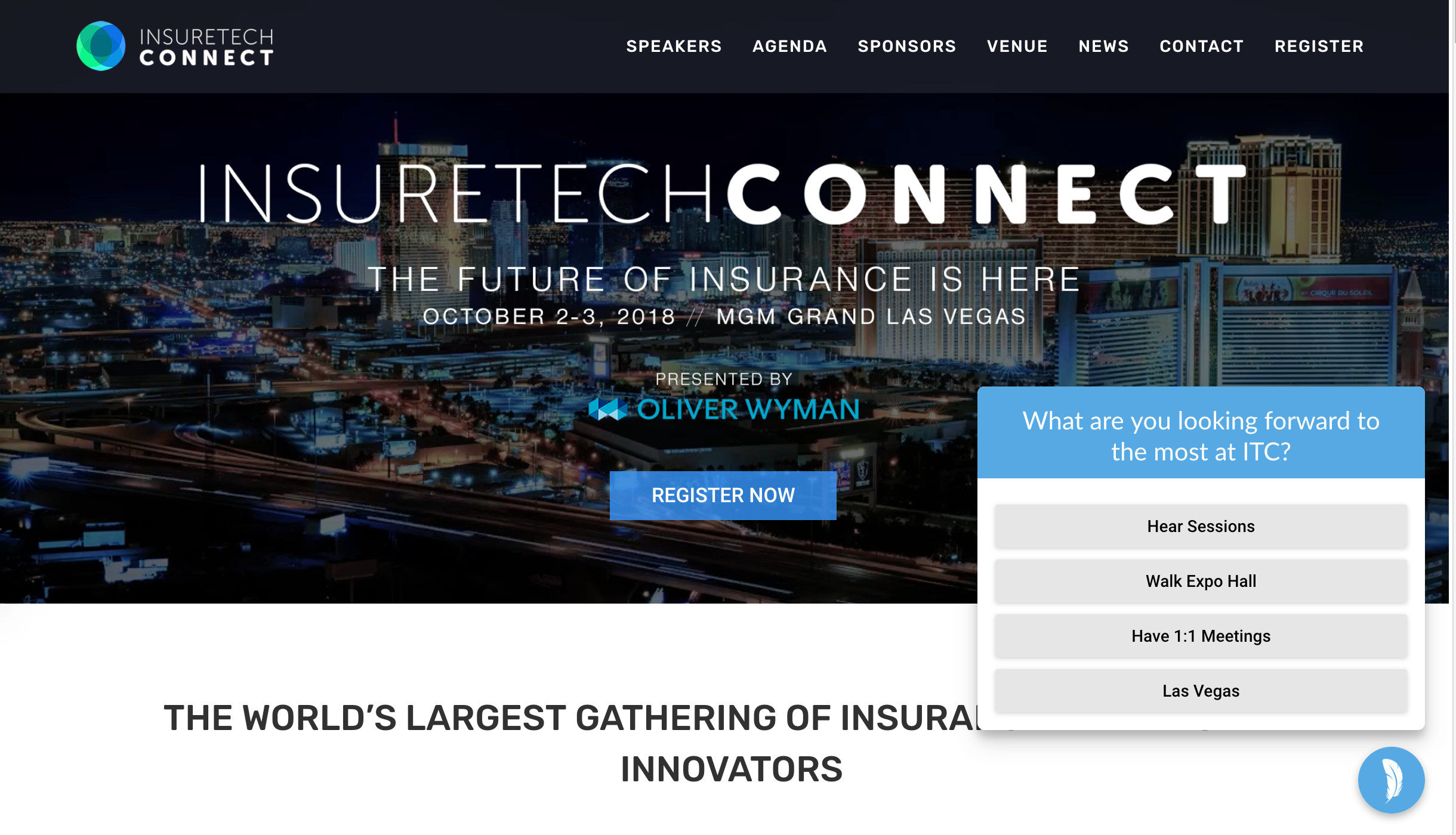 Each person who visits the event website is greeted with this question. When they select one of the pre-configured answers, their answer is recorded and sent to your Feathr dashboard.
In Feathr, you can see:
The number of people who were asked the question.
The number who responded.
The number of people who selected each answer.
In this case, going to Las Vegas and hearing the planned sessions were the top two responses. What does that tell the organizer? That the location and programming of the conference are important and are working. It also suggests that those aspects of the conference should be highlighted as much as possible.
Here are ideas for questions you can ask through Conversations
What is the main reason you're considering coming to our event?
What is the one thing you wish we added to our event?
Have you attended our event before?
What are you looking forward to most at our event?
What brought to our website today?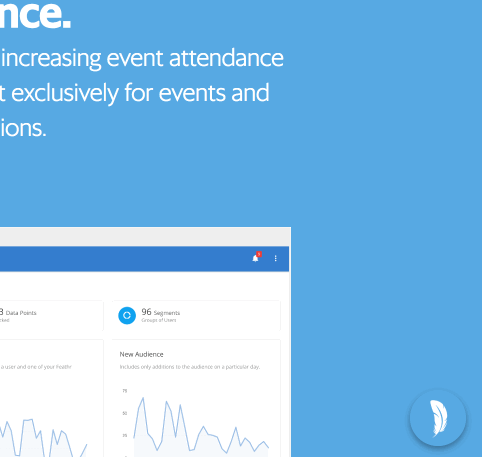 Personalized advertising at scale
Data and insights are great but acting on those insights is what marketers are really after. Conversations ties in beautifully with other Feathr products like Ad Targeting.
In this example, InsureTech Connect could target people who selected "Hear Sessions" with ads highlighting important sessions or target people who selected "Walk Expo Hall" with ads featuring an exciting exhibitor product announcement.
The result? Relevant, helpful advertising that people will respond to at significantly higher rates than they would with generic advertising.
Hyper-targeted digital sponsorships
The insights Conversations gives you about your audience aren't only valuable to you. These insights give you what might just be the most compelling audience targeting options your sponsors could possibly ask for.
With Digital Monetization from Feathr, you can give your sponsors the ability to show their ads to members of your digital audience based upon their Conversations answers.
So a big Las Vegas brand can target InsureTech Connect audience members who selected "Las Vegas" as the main thing they are looking forward to. Or an exhibitor can buy a sponsorship that gets their ads in front of those who selected "Walk Expo Hall". And because Feathr's retargeting reaches 95% of the consumer web, sponsors get broad, ever-present exposure to that hyper-targeted and valuable audience.
Just the beginning
We're excited about this first version of Conversations, but we're not stopping here. Based upon the feedback of beta users we already have some improvements planned.
Things like customizing the image and color of the button that loads the Conversation and asking multiple questions on one website are already on our roadmap! If you've got other ideas for improving Conversations, drop us a line here.
The use cases described above are just the beginning of the possibilities here. We can't wait to see all of the unique ways in which our customers use Conversations!
How to get Conversations
If you're an existing customer your access to Conversations will depend on your plan. If you're not sure what your plan includes – contact us here and we'll get you sorted.
If you're not an existing customer talk to our sales team to see how you can get started. We can get you setup in less than a day :)