Getting feet to the convention center floor. That's the ultimate goal of any event organizer, whether they're putting on a giant international trade show or a small professional conference. Here at Feathr, we've worked with both kinds, and every type of event in between. Along the way, we've learned from some of the best event marketers in the world exactly what it takes to earn those registrations, and we'd like to share some of that knowledge with you.
So read on to discover five campaign ideas to get those feet running—not walking—to your next event.
1. Cart Abandonment

The cart abandonment campaign for Taffy's Coverings '18 earned over 150 additional registrations.
Cart abandonment campaigns are a tried-and-true method of earning conversions. As an event organizer, your registration page is the "shopping cart." The vast majority of people who visit your registration page will not register on their first visit. There could be a million reasons why, but the most important thing is to not let those people off the hook.
Visiting the registration page is one of the clearest signs of intent to attend your show. Set up a segment of people who visited the reg page and run a campaign to remind them about your show. Everyone needs a little reminder every once in a while. A shopping cart abandonment campaign will ensure a bigger number of those people say "Oh yeah, I meant to register! Might as well do that now."
2. 'Drive-In' Campaigns
One demographic segment that is frequently overlooked is the audience that lives within driving distance of your event. Basic geographical information is part of the non-identifying data that you get to know about your site visitors, and many ad-serving platforms permit segmentation by location. The barrier of entry is much lower for 'locals' because they don't have to book air travel and might not even need lodging. It's less of a burden on their (or their employers') bank accounts to attend a nearby event. So run a locals-only campaign for an easy win.
3. Anti-Attrition Campaigns

NAB's housing campaign earned a whopping 900 registrations.
Getting people to register is the main battle, but actually ensuring they show up is paramount. Attrition is the difference between the number of registrations and the actual number of attendees, and it's part of an event marketer's job to make sure both the regs and the legs come waltzing in.
But how do you ensure physical attendance by using a digital channel?
The trick is to get registrants to make micro commitments. Hotel discount offer campaigns are a great example. Attendees who have booked lodging are likely to show up. A campaign that offers a portal to book 1:1 meetings during the event has a similar psychological effect. Running a campaign that encourages event app downloads is doubly effective because downloading the event app is a strong indicator of attendance, plus you can continue to communicate directly via the app.
4. Pre-Event Timeline Campaigns
If you only follow one suggestion from this article, make it this one. Consider the six months leading up to your largest annual event. Between the date announcement and the doors opening, there are a number of major "milestones" in the development of the event. Each of those moments gives you another excuse to market to your audience and earn registrations. Here are some of the milestones we've seen be successful along the pre-event timeline:
Save the date
Registration open
Award finalist announcements
Educational session topic announcements
New exhibitor categories
Early-bird and last-chance registration
5. Geofencing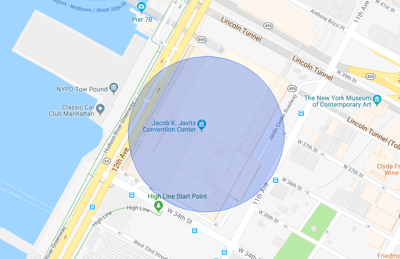 Geofencing is a way of hyper-targeting a geographical area. When administrators or developers create a virtual boundary or "geofence" around a specific area, people entering the geofence can set off triggers of any kind of communication, from security alerts to advertising.
So instead of saying "serve these ads to people in New York City," it's more like "serve these ads to people at the Javits Center." This works especially well when targeting attendees at a competing or related event while the event is occurring.
It's a perfect pinpoint opportunity, because who better to target than people who are already attending events like yours?
Want to learn more?
If you'd like to learn how Feathr can help you put ideas like these into action for your own events, schedule a demo today. We'll give a personalized overview of the Feathr platform with your individual goals in mind.