To have a winning event, you need a winning playbook. Feathr has helped grow 1000+ events with our powerful digital marketing tools. Like all tools, the more experience you have with them, the better you can make them work for you. That's why we created this playbook: to reconcile our experience with your needs and offer proven marketing plays that will boost registrations. Keep reading to learn about our first play in the series.
Play Summary: Loyalty Campaign
Today we'll talk about the first play you should run to boost attendance for your events. Even if this play sounds familiar, read on to discover some channels and tips you may have missed previously.
Before focusing on new attendees, cover your bases with those you have converted in the past.
There are many ways to reach out to past attendees, but for our purposes we'll stick to digital channels. Here are the key elements of the play: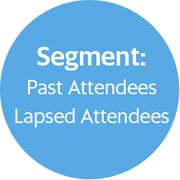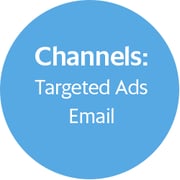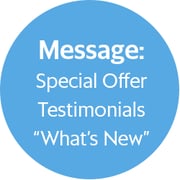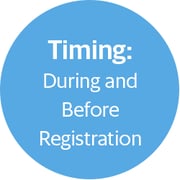 ---
Segments
• Past attendee
• Lapsed attendees
Your past attendees could be your event's most valuable resource. By re-engaging those who have attended your event in the past, you are removing the first (and often most stubborn) hurdle: their interest in attending.
So with this segment, throw away brand awareness messages and skip straight to the offer. It's like a QB sneak: no middleman needed.
Feathr is a terrific platform for segmenting your audience, but this can be done with almost any digital marketing service that enables audience segmentation. You will begin this play by building a segment that narrows your list to only those who have registered in the past. For the purposes of this play, we are referring to that audience as "past attendees," but whether or not they've ever physically appeared at your event is not important. Merely having registered is enough to qualify. The rest of the play will be built off of this segment.
Next we'll talk about the most effective digital channels to use for this play.
Channels
• Email
• Retargeting
Loyalty campaigns have an indirect and a direct component. For our digital purposes, the indirect component of this play is targeted display advertising and the direct component is email.
The indirect component is a "gentle reminder." As your past attendees browse the web, they are served ads for your event. Even if they don't click the ads and register right then and there, the display ads will:
Remind them the event is happening again.
Notify them when and where it will take place.
Put the thought in their head that they should attend again.
The display ads (and emails) will also achieve a fourth objective: offer a special incentive just for past attendees. We'll talk more about that in the next section.
Building your past attendee segment and using it to serve ads is easy to do with Feathr. But any ad targeting service will permit display ads to be served to your segment--even if it's only via social media. To learn more about Feathr's digital reach, click here.
The next channel in this play's one-two punch is email. Email is the direct component: a message straight from your organization inviting individual past attendees to return. The key to effectiveness here is personalization. Every email marketing platform enables personalization tokens that auto-fill certain information so the email reads as a one-on-one conversation. A direct email compels a response, even if it's only a mental one. Through email, your past attendees will feel personally invited and valued.
The cumulative effect of display ads and email invites on past attendees is incredibly effective at nudging them to make up their mind about returning to your event. You can nudge them even more with a compelling incentive. Let's go over a few ideas.
Message
• Special offer
• What's New
• Testimonials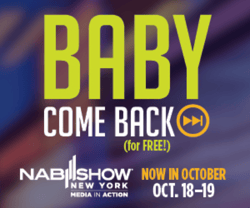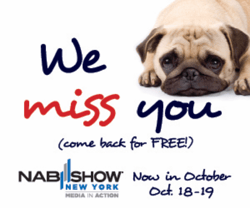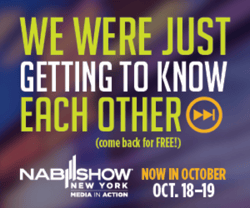 Creatives for the NAB Show that tug on the heartstrings of past attendees and offer them a free registration.
Your past attendees are VIPs. You need them. So do what it takes to make sure they return.
That means making them an offer they can't refuse.
The most effective offers are freebies, discounts, or packages that offer attendees a more elite experience. Depending on your event, you might want to make one or more special offers to returning attendees. For events that sell tickets, money talks. The most effective offer will always be a ticket price discount. If your event is free to attend, or if the unique experiences your event offers are a reliable selling point, focus your special offer there instead. For trade shows and conferences, that could be VIP networking events. For festivals, that could be meet-and-greets or access to VIP lounges.
Other offers could be to advertise what's new this year, especially high-profile speakers and exhibitors. Testimonials from past attendees talking about how valuable the event has been for their professional development also perform well to re-convert past attendees. The details are up to you as long as it's compelling.
Once you've decided on your special offer(s) to returning attendees, communicate them boldly.
Display ad creatives should advertise any discounts and link all clicks to a landing page with a registration form with the discount applied and the savings clearly visible. Creatives advertising a unique experience must describe the experience in as few words as possible and link to a landing page describing the experience in detail, along with a registration form. Give your past attendees as many opportunities to register as you can. Your audience should be able to go from ad/email to registration form in only one click.
Timing
• During and before registration
There are some plays where timing is everything. A loyalty campaign isn't necessarily one of them. Targeting your message to past attendees will be effective at every stage of the registration timeline.
That doesn't mean you can procrastinate! Beginning a loyalty campaign before registration even opens is a good idea to build awareness of your show dates and leave as much time as possible for attendees to register. Then, continue the campaign (replacing creatives, offers, and discounts as you go--but more about that on another play!) throughout the entire registration period.
Touchdown!
With their simple wins and minor effort, loyalty campaigns should be a cornerstone of your event's marketing and growth strategy. This article is enough to get you started, but we'd love to talk more about what you can do to ensure your event's growth meets (and exceeds!) your goals. That's what Feathr's platform does. Seamlessly.
To learn more and have a conversation with our experts, visit feathr.co/demo today.