"Most nonprofits rely on direct mail, social media, and email to get their message out," says Kim Bottom, associate director of sales at Feathr. "But unfortunately, these channels have become largely ineffective."
If you missed our webinar "How Digital Ads Can Help Fuel Your Next Fundraiser," no worries, you can still catch all 40-minutes of it here. And if you're time crunched, you're welcome to follow along with the slide deck and jump in right where you have questions.
1. Start advertising to reach people where they are
Kim says, "Adults in the U.S. spend about eight hours per day on digital media. You gotta reach them where they are."
A significant portion of nonprofits — 65% — with over 20 staff members have at least two full-time team members devoted exclusively to communications or marketing. This is a complete reversal from 2017, when The Nonprofit Marketing Guide found that most nonprofits didn't have a marketing budget at all! So it's not just for-profit organizations that realize the value of marketing.
2. Audit your online giving experience
If you think of your website as your online home, is it ready to host guests? Is the process smooth and intuitive? Would you have a positive experience if you clicked through on your phone?
Make sure it's not only about the visuals too. Does the content provide real value to your guests? Does the copy feel conversational and human? Does it match your brand's voice
3. Know your donor profile
So much of what happens online today can be tracked. It can feel a little unsettling to realize how much companies know about their website visitors, but it's time for nonprofits to harness this information for good instead of simply for profit.
It used to be that you could target people based on age or gender, but there's even more you can do today.
You can target people who are a part of a golf club or part of Delta's Sky Club as these are indications of wealth and interest in travel. You can target people who volunteer or shop luxury brands or eat at vegan restaurants. All these forms of indirect targeting also tend to be cheaper than other more generic forms.
And don't forget to always test. A/B testing allows you to try two different ideas out on the same group with the same budget. You can see which one's working better and move in that direction.
4. Geofence ads to the places your donors live, work, and play
Geofencing is the opposite of segmenting. Segmenting targets "known" people in unknown locations while geofencing targets unknown people in known locations. This is an excellent way to reach new people with your message as you already know a lot about a person based on the places they live, work, or play:
Country clubs, yacht clubs, golf courses
Office buildings
Expensive neighborhoods
Churches and places of worship
Festivals, concerts, sporting events
University campuses
Other nonprofit fundraisers 👀
Just think about the opportunities you have by showing mobile ads to people at these places. You can find new volunteers at the local college or donors in the more expensive neighborhoods. Or you can get in front of your competitor's audience by serving ads during their event!
5. Retarget your website visitors
"These are people who have shown interest in your organization," Kim says, "they've visited your website! But 90% of people don't convert the first time they visit your site. We need to nurture that interest with a customized journey and clear calls to action."
Retargeting allows you to follow supporters and prospective donors around the internet, helping keep your organization top-of-mind. When you begin advertising online, this is the first place to start as it's low-hanging fruit. You know they're interested; they know they're interested; all that's left is a well-placed reminder.
International Justice Mission raised over $100k with these kinds of ads. You can read all about their strategy and story here.
6. Retarget donation form abandoners
If you've ever placed something in your cart online but decided to wait until later, you've probably seen this technique in use. Did you start seeing that thing pop up everywhere you went online? This is called a cart abandonment campaign, but for nonprofits it can be just effective as a donation abandonment campaign.
If someone made it all the way to the donation form on your website but never clicked submit, then you know that you have someone very interested in your mission. This is the highest converting retargeting campaign of them all, so once you have enough people who have made it this far on your website, it's time to capitalize and follow up with ads!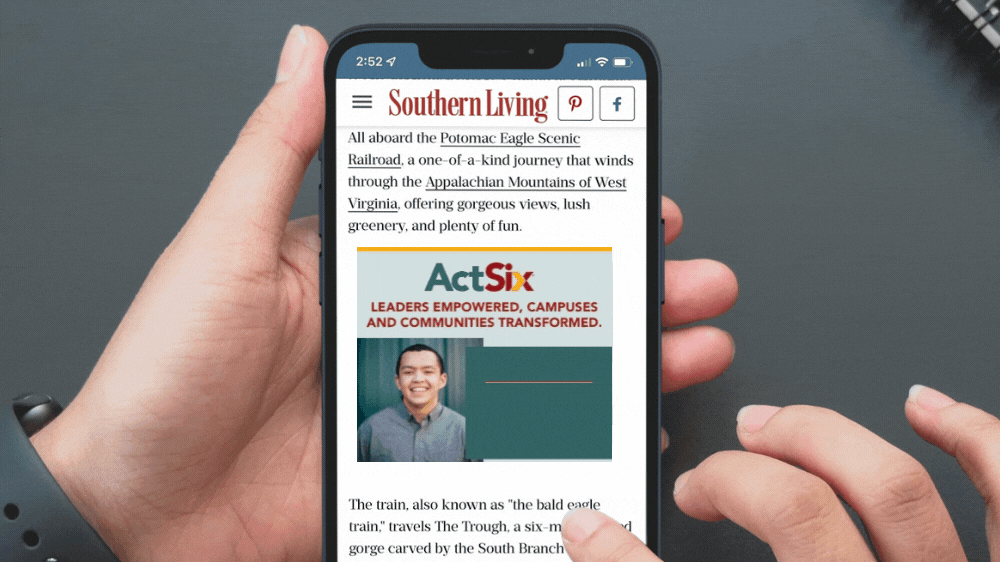 Example: Degrees of Change ran a retargeting campaign to increase student awareness
of their Act Six scholarship program, resulting in 161 completed applications.
7. Use your email lists
You probably have email lists for various types of contacts. Maybe you have a list from people who attended a gala two years ago and another list of email unsubscribers. Now you have all you need to segment your audiences and begin reaching the right people with the right message.
Kim says, "Someone who attended an event two years ago may need a refresher versus someone who donated six months ago, who may simply need a reminder to re-up their donation."
Email lists can now be linked to IP addresses through what Feathr calls email mapping, allowing you to target email addresses with ads. The Humane Society of North Central Florida used this exact type of campaign to raise $5,950 in donations while only spending $300 on ads.
8. Apply for the

Google Ad Grant

and try paid search
Google gives out $10,000 per month in free advertising to eligible nonprofits. Before you apply, there are just a few things to keep in mind:
You need high search volume to actually spend the $10K/month (such as climate change) - if you're in a cause area with a lot of search volume
You need to have landing pages that connects to what people are searching for (not just the home page)
You need to maintain an average 5% CTR after 5 months
9. Guide your donors through a journey
Someone doesn't typically stumble on your website for the first time and become a recurring donor that same day. Identify the key phases of your donor journey and begin to build tailored ad copy and landing pages to funnel people smoothly through that journey.
A blog article is a great way to learn about an organization, but testimonials or success stories may be more impactful as they become closer to giving.
10. Tell your story
At the end of the day, the important thing is to tell your story online. The best kept secrets aren't likely to receive more funding. You'll attract new donors or volunteers by sharing what drives you, who you are, and what your mission is.
We want the world to know about your organization because the mission isn't over!
Start advertising today
Learn more about Feathr's digital marketing tools and begin a conversation on
how to help fuel your next fundraiser through online ads