Email open rates have been in a steady decline with the current estimate across all industries averaging 21.33%. But email campaigns also average a $36 return for every $1 spent.
With email marketing not going anywhere, how can you make the most of your upcoming campaign?
It isn't always as simple as switching up the subject line (although that may help). We believe that all effective marketing begins by being audience first, responsive, omnichannel, and measurable.
In this article, we're going to focus especially on that third piece: omnichannel.
Omnichannel marketing is about orchestrating all your channels to more powerfully tell your organization's story. An email may kick things off, but then a timely, well-placed ad may nudge that same person to take action. Later they may see your organization again in their social feed. And then they can still get a physical mailer.
A good basketball team can get results with a star player or two, but the truly great teams tap into the synergy that comes from working together toward a common cause.
Email marketing isn't as effective as it once was
I know we mentioned it already, but it's important to understand why email marketing alone isn't cutting it. Email open rates peaked sometime early in 2020, but since then it's become more and more an uphill battle to hold attention in the inbox.
It's easy to get stuck in patterns that worked well in the past, but the organizations that get creative and have the courage to try new things stay ahead of the curve.
While building our State of Nonprofit Marketing report, we spoke with Dana Snyder, host of Missions to Movements, about the challenges nonprofits face today.
She said, "There's always fear in the nonprofit sector. And there's always fear around growth. But cutting marketing budgets doesn't work as a strategy. You don't have to start with a $50k role. You can start with something that makes sense for your organization."
How to get the most out of email campaigns
M+R Benchmarks saw digital advertising investment by nonprofits increase by 28% in 2022. With continued investment in the market, new strategies and technologies are being developed daily.
What worked yesterday may just be irrelevant tomorrow.
But what has always worked in marketing is building authentic connections with your audience through deeply understanding their needs and questions. Then it's about spending the time to answer those questions and inviting them into the story.
And because your community is online more and more each day, cultivating relationships with them means engaging with them where they are.
Although aligning your email marketing with your digital advertising may just be step one toward building an omnichannel marketing plan, it's a great place to start.
We believe there are two ways that you can begin to increase your email marketing impact today.
CRM retargeting campaigns and marketing automation are necessary for organizations to succeed in the digital era. Both tools allow new methods for targeting the right people at the right time with messaging that's catered to that specific audience.
Today, people are expecting personalized digital experiences and general messaging alone won't grab attention.
CRM retargeting
CRM retargeting is a new type of digital ad campaign that links email addresses to IP addresses. Once linked, you can serve ads to these users. The beauty of this type of campaign is that you can use these email addresses that you've collected over time, targeting specific lists with specific messages.
Here are just a few ideas of ways that you can segment your audiences with your email lists:
Donation activity (recency, amount, campaign)
Event attendees
Member status (current, lapsed, non-member)
Volunteers
Newsletter subscribers (or unsubscribers!)
Just think of the ways that you can use email lists you already have on hand! A non-member will certainly respond differently than a current or lapsed member, so these groups should be receiving different types of ads. And think about the synergy you can build when you keep up your email marketing efforts and then combine them with email mapping!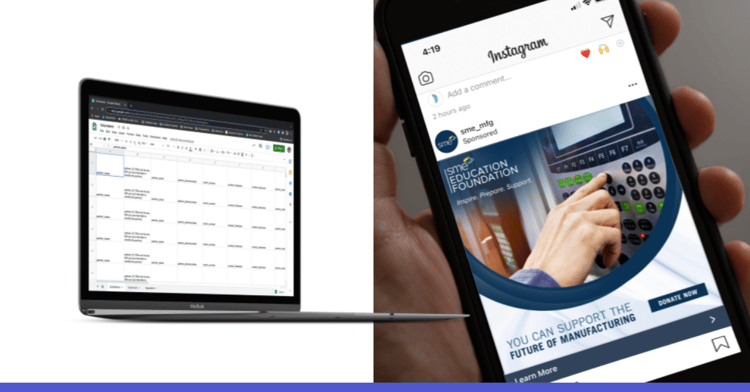 An email list and an example ad from SME's email mapping campaign
One key thing to remember: no emails are sent. This can be especially valuable for newsletter unsubscribers. These people may not want an email in their inbox, but that doesn't mean that they don't care about your organization anymore. A well-placed ad can be the right amount of interaction to keep someone in the loop.
Marketing automation
Marketing automation is a technology that allows organizations to customize and streamline their campaigns, and is especially useful when it comes to email marketing campaigns.
Instead of building out single emails and then uploading lists of recipients, the most efficient marketers can make all of these actions automatic based on user behaviors.
There are a couple major activities that go into marketing automation:
Connecting web visitors to contact records.
Setting triggers to automatically send emails based on set behaviors.
All of these things that used to require hours and hours of time, filling in user data and scheduling email after email can now be a once-and-done activity.
This gives your team back precious time that they can now use to build great content, and they can begin to focus on the real work of building audience segments, so that you're making sure you're sending your personalized message to the right person.
Takeaways
We wanted to keep things simple with just one ad campaign and some of the key features you should be looking for in an email service provider.
But within Feathr, there are so many other ways to create synergy between your email marketing, digital advertising, and social advertising campaigns. You can even connect your Feathr campaigns with physical marketing materials, gathering insights that give you visibility on all your marketing campaigns in one place.
The most important takeaway is that if you aren't leveraging digital ads to support your email marketing, today is the day to start. Then consider how you can better tie your social efforts and other campaigns into the mix.
Though trying something new can be challenging, we all know that change is good. And your results are going to agree too.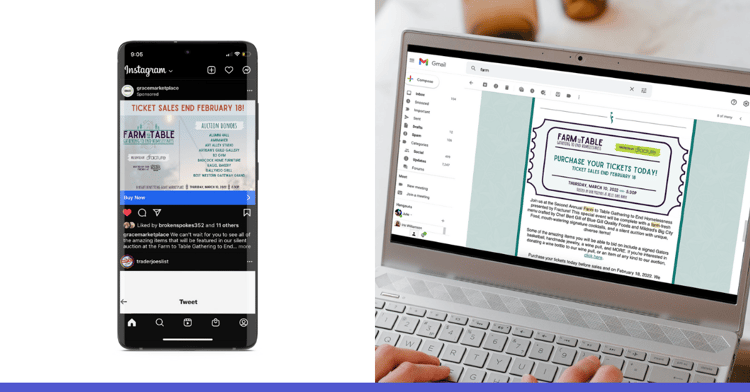 Grace Marketplace running social ads in parallel with an email marketing campaign
In the past, marketers had to base a lot of decisions off intuition, but today the tools are available to know who's visiting your website when.
Linking your email marketing efforts to website visitors' behaviors through automation, and then syncing all your marketing efforts to build off each other is key in holding attention in a noisier and noisier world!
Have more questions about email marketing? Here's a link to our complete guide to nonprofit email marketing where we talk through even more ways of optimizing this essential channel.