Why are online application abandonment rates increasing?
As credit unions make more critical sales through digital channels, there's one major issue credit unions will need to address: abandoned applications. As recently reported in the CU Times, leading analysts have claimed that abandonment rates for online banking applications are "at an all-time high."
There was a time when applicants were a captive audience. A sales representative either had them in the same room or on a direct call, but those days are long gone. Now, applicants are online and distracted by a million things, and just because they started an application doesn't mean that they're going to finish it. Does your credit union have a strategy for turning these application abandonments into completed forms?
There are three major factors that have led to the increase in application abandonment rates for online and mobile applicants. Understanding how these factors are contributing to the loss in sales is key before building a more effective strategy that gets these applicants to click submit.
There's no social pressure against leaving your website
Online and mobile users aren't a captive audience. They can close your webpage without an ounce of regret. And this makes users even more self-interested than before. Applicants can easily jump from one loan application to another the second they think they aren't getting the best offer or the most accurate information.
Your offer or your information has to make up for the social pressure of the past. If you haven't hooked them in the first sentence or if your competitor is getting ads in front of them with a lower rate, they're not going to stay on your page for very long.
Credit union websites aren't beautiful or easy to navigate
In the digital age, having the most intuitive and attractive website is a hot commodity. If someone thinks you built your website in 1996, they may assume that your services or offerings are outdated too. Taking the time to modernize your website will be well worth the cost as users have begun to equate a company's website with its trust and authority, whether or not that's actually the case.
On the user experience side, members should have most of the information in their application pre-populate, and applicants should have the option to integrate with Google so that they don't need to fill out every piece of information themselves. Making the application as painless and quick as possible is key to getting applicants beyond abandonment.
Credit unions aren't taking initiative
A lot of credit unions are simply taking this information in stride. Many credit unions have been forced online over the past few years, and higher abandonment rates feel like a part of the cost for switching up the game plan. Instead of using this information to make active decisions, too many credit unions are just sitting on it.
There is no reason why your credit union should accept lower conversion rates. Writing this trend off as an inevitability plays right into your competitors' hands. Investing in digital marketing may have some upfront costs, but the price of missed opportunities is far greater.
How to buck the trend of increased abandonment rates
There are a few things that you should do to immediately decrease online application abandonments. First, make sure that your website is up to date and easy to navigate. Research some of your major competition and be honest with yourself about whose page looks better and works better.
Second, make sure that as much information as possible is pre-populating into the application. Abandonment rates go up quickly once an applicant passes the five-minute mark.
Third, you need to build a digital marketing strategy that's diverse and effective — but one of most critical things to implement is an application abandonment campaign that will allow you to serve ads to people who started applications but didn't complete them. If you let applicants exit your application without following up, it's like never calling back a warm lead.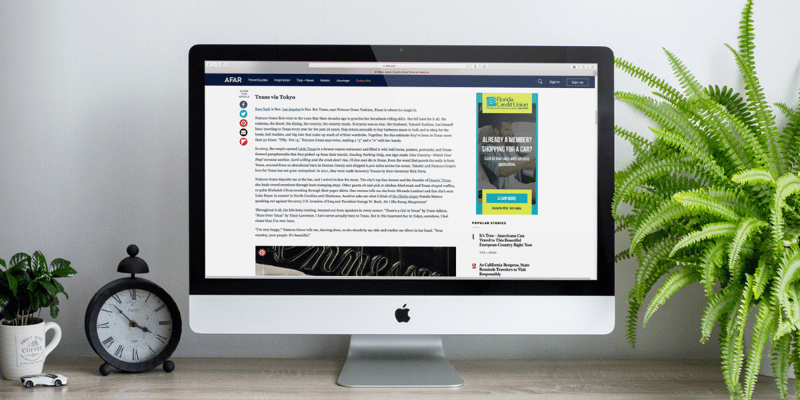 How to run a cart abandonment campaign
To set up an application abandonment campaign, you'll need a solution like Feathr that provides advanced tracking, detailed analytics, and the ability to serve retargeting ads. Once a tracking pixel is in place, you'll be able to serve ads that follow applicants around the web as they read the news or look up recipes, reminding potential applicants about your offering and encouraging them to come back and complete their application.
Here's an example of an ad from one of Florida Credit Union's application abandonment campaigns:

To learn more about FCU's auto loan campaigns, check out this video on YouTube.
If your credit union needs help with its digital marketing strategy, designing creatives, or campaign management, our Services team offers competitive rates and all campaigns built by our team include advanced conversion tracking for crystal-clear ROI.

We're passionate about building cost-effective and far-reaching digital marketing campaigns. We'd love to discuss strategies for increasing the ROI on your marketing spend, and we'd love to see if Feathr can help turn your application abandonments into new customers. Schedule a call with us today!