Giving Tuesday — often written as GivingTuesday or #GivingTuesday — falls on the Tuesday after Thanksgiving each year. And you likely already know this, but it's one of the most important fundraising days of the year.
What began as a simple donation drive for a New York City Y became an international movement encouraging philanthropic activities while kicking off the end-of-year giving season.
When was the first Giving Tuesday?
The first Giving Tuesday took place in New York City at the 92nd Street Y. The idea was simple: launch a movement that sparks generosity.
As yearly giving grew year over year, GivingTuesday moved out of its original location at the 92nd Street Y and formed its own nonprofit called GivingTuesday, headed by CEO Asha Curran.
Though the story about generosity is complex, the story about Giving Tuesday is simple — and in a good way! In 2020, 34.8 million people participated in GivingTuesday — a 29% increase in the number of donors from 2019. Between these two years, donations increased from $1.97 billion to $2.47 billion. And the number keeps ticking up — $2.7 billion in 2021 and $3.1 billion in 2022!
What is GivingTuesday all about?
GivingTuesday "is an independent nonprofit organization that is dedicated to unleashing the power of people and organizations to transform their communities and the world."
Their goal is "to create a more just and generous world, one where generosity is at the heart of the society we build together, unlocking dignity, opportunity, and equity around the globe."
It's amazing to hear how a local fundraiser evolved into an international movement that moves billions of dollars toward life-changing work.
Just because something starts small doesn't mean that it can't grow to change the world!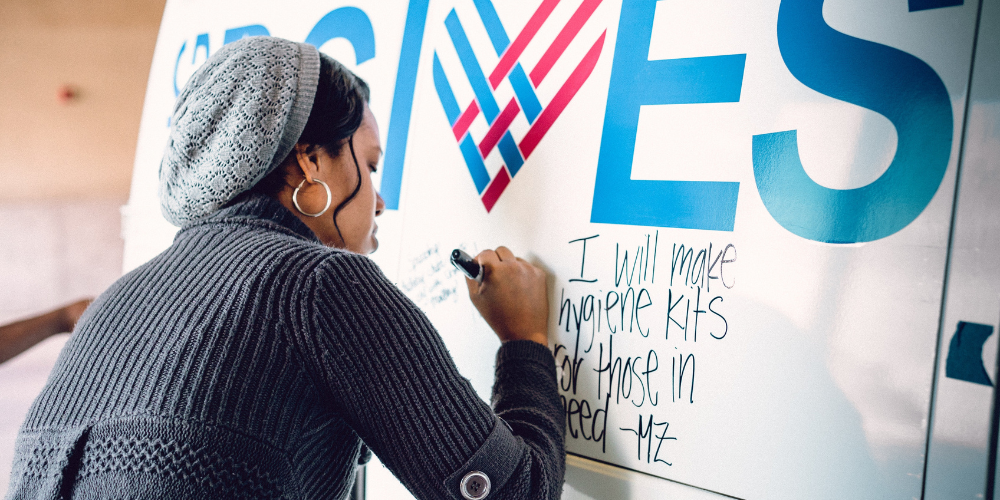 Why is this day important for nonprofits?
Though many nonprofits have specific days during the year that are important for them, there isn't a day that's as important for all nonprofits as Giving Tuesday.
Although each organization will need to focus efforts around their key events or internal deadlines, they should also participate in Giving Tuesday to build momentum for their end-of-year campaigns.
Donors are looking for the right organization to give to on Giving Tuesday, and if your nonprofit isn't promoting its participation, then that money will go elsewhere. Your mission most likely already speaks for itself, but don't let it stay the best kept secret.
Instead, get the word out about the projects you're working on and the lives you're changing, and give a donor the opportunity to make the world a better place by giving to your nonprofit.
What can nonprofits do to make the most of Giving Tuesday?
Marketing sometimes gets a bad rap in the nonprofit world, but we believe strongly that marketing is Good.
There are a million articles online about marketing strategies to try, but we think sticking to the basics and spending the time to get to know your community is what fuels consistent growth:
Email
You most likely already send emails to your volunteers, supporters, and donors. But make sure that you plan an intentional ramp up to Giving Tuesday. It won't be as effective if you send a last-minute email the Monday before.
Instead, begin to drop hints about the upcoming drive as long as it's the next big date on your organization's calendar.
Also, plan ways to gamify and incentivize giving on that specific date. Use the #GivingTuesday on social media and in your emails, and if possible, plan an online event or gather in person to make that more direct ask.
Digital advertising
If you aren't already advertising online, today is the day to start! The average adult in the U.S. spends over eight hours online each day. To get your message out, you'll need to go where your audience is: online.
Through advances in technology, digital marketing allows you to find new audiences by targeting physical locations or by using social media data. Instead of paying for a billboard on the side of the road, you can now find the right people who are already interested in your mission.
Also, begin to think of all your marketing campaigns as one larger campaign. One new digital advertising campaign can link your email lists with IP addresses, allowing you to send targeted advertisements to people you already know. This will allow you to maximize results from people you're already emailing or give you an appropriate way to stay top of mind for unsubscribers!
Direct mail
With the recent increase in digital advertising, some marketers have entirely dropped their direct mail campaigns. But all of us love getting something in the mail from time to time.
Receiving a hand-written note is always going to feel different from an email. A Tribe Called Quest said it well, "Things go in cycles." Just because direct mail was one of the original marketing channels doesn't mean it shouldn't stay in your marketing toolkit.
Summing it all up
First of all, take a deep breath and remember that all of the busyness in your life is because you're trying to maximize the good you put back into the world. In elementary school, this would amount to you deserving a whole wall of star stickers or a solid pat on the back.
Second, it's time to invest in #GivingTuesday. Get your message in front of potential donors when they're most likely to give!
We hope this year you launch your first digital ad campaign or spend a few more hours planning your email content and schedule. Or get super personalized and send some handwritten letters to some of your major donors.
Whatever direction you choose, we hope this year is your best Giving Tuesday ever, because we want your organization to grow and in the process make the world even better!