If you're new to targeted advertising and marketing automation, here's an important quick read for you. It's about the basics of segmentation. Think of segmentation like planting a garden. Even though all plants need water, some plants like a lot of sun and some prefer shade. Just like you must choose where to plant your garden before you start watering it, you should arrange your website visitors by their interests before you begin advertising to them. Still with me? Great. Let's get to the segments.
What is Segmentation?
Segmentation is the act of separating your website's visitors by their browsing activity. Most digital marketing platforms offer segmentation (though Feathr's is the only one built specifically for event growth), permitting you to build lists of website visitors based on what parts of your site they visited, how many times they visited, how long they stayed on a page, etc. There are many trackable behaviors you can segment for marketing purposes, but here are 3 crucial segments every event organizer should build and automate.
1. Attendee Prospects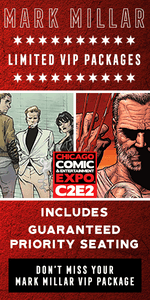 Here we have ads that were served to prospective attendees advertising speakers they may enjoy based on which pages they viewed on C2E2's website.
The most common and most effective use case we've seen over working with thousands of events is to serve targeted ads to people who visited event websites but did not register. 98% of visitors to your website will not register for your event upon first visit, but they are 70% more likely to convert when they are retargeted after visiting. Here's the tricky part: not all of your website visitors are potential attendees. You have a whole bevy of visitors who might be better suited as exhibitors, sponsors, rubberneckers, or people who just took a wrong turn at Albuquerque.
How, then, do you know when they are interested in attending? It's in their page visit behavior. Tally up any pages on your website that cater to potential attendees, such as...
Why attend
Attendee information
Attendee registration
Pages with embedded videos from past events
...and any other URLs you associate with attendee acquisition. Build your segment out of visitors to those pages and only those pages. Now you have an audience that you know: 1) is interested in your event by virtue of visiting your website in the first place, and 2) is interested in joining specifically as an attendee. The next step is advertising to that segmented audience with a pinpoint message just for them. But that's a topic for another article.
2. Exhibitor Prospects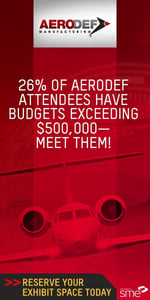 The creative on the left was part of a campaign by SME's Aerodef targeting web visitors who demonstrated interest in exhibiting. The purchasing power of your show's attendees is an effective message to put in front of potential exhibitors.
The best practices above apply to exhibitor prospects too. Audit any pages on your event's website relating to exhibiting. Don't forget pages like your media kit and organizational contact information. Ask yourself, "if I wanted to exhibit at my event, where would I look?" Once you've listed them out, build your segment to include visitors to those pages.
Tip: when advertising to prospective exhibitors, your messaging needs to be more nuanced than baseline attendee acquisition messaging. Because your exhibitors are closer to partners than customers, it is wise to nurture them with engaging content, persuasive value propositions, and special offers instead of painting them with the same "register now!" brush you might use on prospective attendees. You can read more about using segmented remarketing for lead generation here: Remarketing: The Unsung Hero of Lead Generation.
3. Education/Membership

A simple but effective message to potential MSAE attendees interested in furthering their education and earning certification credits.
We frequently hear from our association customers how important membership is to them, and in turn, how important continuing education/certification is to their members. While continuing education is important to every professional, it is mandatory in many professions.
Association members and other professionals are always looking for opportunities to keep up with new developments and especially with certification programs. Since annual conferences commonly offer points toward certifications and other continuing education courses, get the word out to those who want to hear it. Building a segment of people who visited continuing education-related pages is a great way to convert motivated members of your audience.
The same applies to association membership, only it doesn't even require an event! Segment an audience that visited pages describing the benefits of membership, membership signup pages, member testimonial pages, etc. That audience is golden to your association because it likely represents nearly all your warm prospective members. Nurture them year-round with campaigns offering relevant content, membership discounts, and educational opportunities. This will increase your membership and bring new people to your events.
Bonus! Cart Abandonment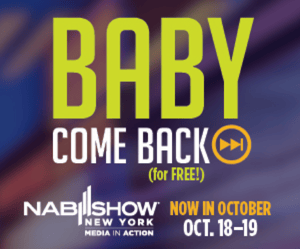 An NAB Show creative with a special offer for people who visited the reg form but did not submit it.
Another crucial segment for any website that sells goods or collects information is a cart abandonment segment. Essentially, it is a collection of the visitors who viewed a product or a form, but did not convert. The traditional use case is in online commerce, where retailers will frequently serve ads saying "Hey remember these tennis shoes you looked at? Don't you want to buy them?"
The same principles apply to any direct action you ask your audience to take, and for events and associations, that is usually registration. Membership application, exhibitor application, and any goods you sell through your website (branded merch, research reports, etc.) are also excellent candidates for cart abandonment segments.
It's really that simple.
Once your segments are built, they stay built. All you have to do is update your messaging and keep your creatives fresh, and conversions will continue to roll in. Segmentation and retargeting and automation sound more complicated than they are, but these technologies are within the capabilities and budget of even the busiest and most cash-strapped teams. And the best part is, they work.
We'd love to hear more about your organization and its goals, and show you how Feathr's platform works to grow your events affordably and efficiently. Schedule a demo today to begin the most lucrative conversation you may ever have.