Many nonprofits think of the phrase "charity marketing" as a contradiction. For some charities, marketing is perceived solely as a for-profit activity. This may have been partially true in the past, but every successful organization needs a plan to expand its audience and grow its supporters — especially charities whose stakes are much higher than simply a bottom line.
Budgets for nonprofit and charity marketing have been steadily increasing over the past decade. In 2017, the Nonprofit Communications Trends Report found 19% of nonprofits had no set budget for marketing and found money for these programs only as needed. But by 2022, 65% of nonprofits with over 20 staff had at least two full-time team members in marketing related roles.
The 2021 Charitable Giving Report by Blackbaud further reinforced the impact digital giving had on charities. Online giving increased 42% over the previous three years, and in 2021 alone, an estimated 28% of online donations were made on a mobile device.
Time is of the essence in the new digital order. Charities that allow peers to outpace them should expect fundraising goals to remain unmet and supporters to disengage. Nonprofits may not be able to spend on par with the largest for-profit organizations, but they must compete within their sphere as many of their peers have recently invested more heavily in outreach.
In this complete guide we'll go over what charity marketing is, why nonprofits need to expand this activity, some ideas for software solutions, and how organizations can make the most of their promotional efforts with effective planning. We'll cover these by diving into the following concepts:
What is charity marketing?
Steps to craft an effective charity marketing plan.
Charity marketing channels.
Analyzing campaign results.
What is charity marketing?
Charity marketing is any activity a nonprofit organization takes to expand its audience while increasing the effectiveness of its message. Not only do nonprofits need larger donations, they also need new donors, more invested volunteers, and more vocal supporters. All of these people can be found and their influence can be amplified through effective charity marketing.
Breaking down the results of charity marketing, we see how it can impact every piece of an organization's operations:
Additional revenue generation. Marketing helps organizations find new donors and inform them about their mission, which leads to increased giving and revenue. Or if revenue comes directly from clients, finding these clients through awareness campaigns will also boost an organization's revenue.
Increased event attendance. By spreading the word about upcoming events, charities can gain more attendees while increasing valuable face-to-face time (or screen-to-screen time for virtual events) with important supporters. All of this will increase engagement within their community and will positively impact retention.
Increased program awareness. The primary objective of a charity is to impact lives, so if you're looking to find new people to serve, charity marketing is a way for you to get in front of new clients.
Improved brand recognition.

Salesforce has found that it requires six to eight touch points before a prospect will decide to buy a product

. Though this example comes from the for-profit world, the same is true for nonprofits. They need to actively gain their supporter's attention and trust through persistent outreach. One single ad or email almost certainly won't turn a prospective donor into a recurring giver, but when done correctly, these campaigns can build a brand up so that donations flow much faster in the future.
Volunteer recruitment. Nonprofits require large teams of volunteers to drive initiatives forward and fulfill their ambitious programs. With thoughtful marketing, recruiting these volunteers — the backbone of any nonprofit — will be a consistent piece of their yearly outreach instead of an afterthought when the event is days away or when the program is launching without the necessary critical mass.
Marketing isn't simply about increasing revenue, although it often has an impact on the bottom line. It's also about making the most of interactions with key supporters. That's why it's essential organizations track donations or volunteer sign ups, but it's just as important they track open rates and click through rates as these are signals that campaigns are accomplishing their goals.
Now that it's clear how important and effective charity marketing can be, let's jump into the basics of building an individual marketing strategy for any organization.
Steps to craft an effective charity marketing plan
Marketing isn't magic, and although each organization's strategy should be unique to them, there are a few universal rules for how best to plan a successful campaign. Given the right planning and with the right tools, success isn't a matter of luck, it's a guarantee.
That being said, though charity marketing isn't impossible, it does require planning, creativity, and bold action. But nonprofits don't exist long in their space without already having these qualities in abundance!
Here are five things charities need to do to ensure that their marketing campaign is a success — and one important note here — no spells are required!
1. Define your audience
Marketing is often said to be the process of getting the right message in front of the right people at the right time. We'll get into crafting the right message and also talk about where and when to show these messages, but before taking either of these steps, a nonprofit needs to identify the right person, or the Ideal Customer Profile (ICP).
In marketing, segmentation is the process of identifying and sending the "right person" the "right message." By differentiating an audience based on distinct groups' behaviors, interests, demographics, or other defining factors, nonprofits are able to ensure their message sticks. Sometimes general messaging will get the job done, but more and more people online are expecting personally relevant ads.
One of the best ways of thinking about segmentation is by thinking about the messages charities send to major donors vs. volunteers. While sometimes they may get the same message, often organizations expect very different actions from the two groups, which makes it important to be careful not to cross signals.
Every nonprofit needs to spend creativity and thought toward answering who they want as a supporter. When organizations don't take this critical first step, they tend to send the right message at the right time to the wrong person, resulting in wasted time, money, and effort.
2. Specify your objectives
This is a message everyone's heard either in school or on a team. Without creating meaningful, quantifiable goals, it's easy to miss the mark. Much of the reason marketing had a poor reputation for nonprofits in the past was because it wasn't attached to meaningful results for the organization. It felt like a bunch of creatives just noodling around.
But today, with the right software, nonprofits can know exactly how many donations were influenced by a specific campaign. They can further track the click through rate and open rates of emails and know how effective subject lines or design had on the prospective donor's experience.
This means that nonprofits need to spell out what they expect from their campaign. If goals are ambiguous or unrealistic, team members will either never know if they hit the target or know that the target is unattainable, both of which are exceedingly frustrating. Crafting a clear road map for a team with quantifiable results is the second step on the path to success.
3. Clarify your channels
In the modern age of marketing, communication channels are constantly evolving and expanding. Some organizations think they need to be on every social media site to remain relevant while others go all in on a single platform.
Striking a balance between these two extremes is key. Once an ICP has been specified, the right channel will surface. Facebook is especially effective for audiences in their 30s, 40s, and 50s, but if an organization is aiming to recruit a younger audience, Instagram and TikTok may be the more effective route.
Every marketing channel has its strengths and weaknesses, so it's important that nonprofits choose carefully where to invest and serve their message. Putting all the eggs in one basket is often just as bad a strategy as trying to do everything at once. In the next section, we'll do a deep dive into available channels. But just because something is available doesn't mean it's necessary or valuable.
4. Craft key messaging
Only after defining the ideal audience, specifying the goals, and deciding on the channels is it time to craft the key messaging. And the most important rule in crafting messaging during a campaign is to keep it simple.
The clearer the call to action, the more likely people will know what's being asked of them. It's important to keep this as the fourth step in the process because it would be impossible to know what the message is if the platform is undecided, the goal is ambiguous, and the person is unknown. By having all of these decisions already made, the message almost jumps out.
For fundraisers, possible calls to action on display ads could be, "Change a life today!" or "Donate now!" while a volunteer drive may include these: "Volunteer to make an impact" or "Sign up to plant a tree."
Some channels will allow nonprofits to fully explain their mission like Facebook or Instagram, but others, Twitter or display ads, for example, have limitations on character count or space and so require that the message be punchy.
Audience, objectives, and channels should inform messaging instead of the other way around. This will ensure that the right people are hearing the right message at the right time.
5. Crunch the numbers
This is in many ways a continuation of the second step, specifying objectives. Goals and objectives will never be taken seriously unless they're actually measured, discussed, and rewarded. It's almost worse to have clear goals if nobody follows through with finding out if they're met. Teams will eventually lose steam and begin to wonder what all the effort was for when they built the strategy.
Today's digital marketing tools make this step easy as all the key metrics should be easily accessible on a single dashboard. But whatever amount of work it requires, it's essential that teams know how they performed against objectives so that they can continually refine, improve, and celebrate. Nobody grows without knowing where to make improvements. But it's just as important to receive a pat on the back when it's well deserved.
Charity marketing channels
We already mentioned how important it is to use the right channel to get in front of the right audience, but below we're going to deep dive into some of the most important channels charities can engage on to increase their donations and better engage with supporters. Remember, nonprofits don't need to be on every single channel to expand their impact.
Email
Even though email open rates have been declining across all industries, nonprofits fare better than most with a 25.2% average — only government organizations have a higher rate, 30.5%. Nonprofits do need to remember this is still only reaching about one in four recipients.
But another thing to keep in mind with email is that the average campaign makes a $36 return for every $1 spent. And because of this, charities shouldn't stop their traditional email marketing campaigns. They just need to ensure that they're making the most of their current investment.
One way to increase open rates and email campaigns effectiveness is to combine these campaigns with smart ad campaigns. One recent development in digital marketing is email mapping, which links email addresses to IP addresses and serves ads to these specific groups.
Instead of simply sending an email and hoping that it's opened, marketers can now ensure that there are multiple touchpoints, including well-timed ads reminding people of their interest in a nonprofit.
Social media
A majority — 59% — of the world's population uses social media and 75% of internet users from 16 to 64-years-old use social media to research brands and products — this includes nonprofits.
As we said before, this doesn't mean every nonprofit needs to be on every single platform. But they do need to be where their ideal audience is, which is also where they'll find the best results.
Staying consistent is half of the battle on social sites. Nonprofits need to take the time to engage with their community and stay involved in the dialogue. It can be a full-time job keeping supporters in the know while also responding to questions and likes. Charities have a unique ability to form meaningful communities, and these communities are often found and best engaged on social platforms, especially as people connect more globally and digitally instead of within the boundaries of cities, states, or countries.
Advertising
This is most likely the least used channel among charities, and this makes it the single best next step for many nonprofits that are looking to expand.
Digital advertising can be especially effective in an ever-increasing digital environment. But they're also so effective because they are easier to track and analyze compared to traditional media channels.
With programmatic advertising, organizations know exactly who engaged through the campaign and can track ROI, clicks, and views while simultaneously collecting essential data like emails or IP addresses for the next campaign. This just isn't possible with direct mail.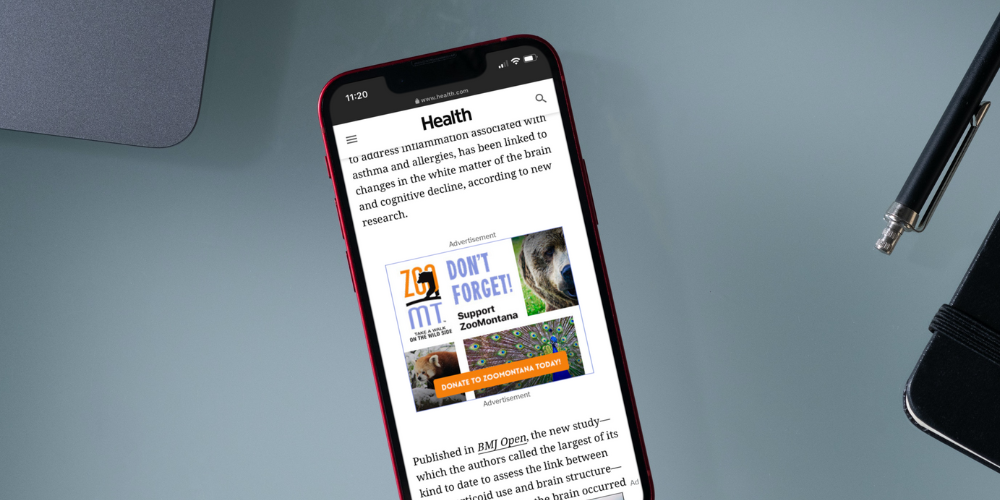 Example of a display ad on a mobile device
Influencer marketing
Although the first thing people think of with influencer campaigns are B2C Instagram and TikTok accounts, word of mouth is by far the oldest form of marketing available. And organizations need to take advantage of these types of campaigns in their own context.
Social media may be the traditional platform for influencer marketing, but having key speakers or subject matter experts share your organization's mission wherever they have an audience can have a profound impact on expanding awareness.
These campaigns are especially effective at getting in front of new people. Since many of the people who hear about your mission or event may be hearing for the first time, these campaigns won't always have as high of conversion rates, but that doesn't mean they aren't a success!
Knowing what to expect from each campaign is essential, because it's impossible to run the high converting campaigns without doing the proper prep work, and influencer marketing is often a great way of reaching new people who can be followed up with later.
Direct mail
We've been offering a lot of new ways to market, but sometimes it's important not to fix something that isn't broken. Direct mail and email shouldn't be 100% of the marketing mix, but that doesn't mean they shouldn't be any part of it.
Direct mail may just be the additional touchpoint that brings it to that magic number seven!
Analyzing campaign results
Properly tracking the results of marketing campaigns is an essential part of successful charity marketing. Teams can't adjust to new trends or know what needs to change unless quantifiable, trustworthy metrics are attached to the campaign.
Here are just a few key metrics that charities should be using to determine the success of their recent campaigns:
Email opens and click-throughs. What would change a person's mind from deleting to reading? Writing captivating subject lines and descriptions are key to improving the number of opens. But once it's open, clear messaging and simple calls to action can boost the click-through rates, which are essential if the ultimate purpose is a conversion.
Website traffic. Traffic to a website reveals who's interested enough to click through to learn more. Track what pages they visit on the organization's website but also ensure that the page they came from is known as well.
Landing page conversions. While it's key to track who arrives on a landing page (whether that's a donation page, event registration, etc.), what really matters is how many people click through to engage. A high arrival rate with a low conversion rate means optimization is required on your landing page to further encourage visitors to become supporters.
Social media growth and engagement. Are supporters becoming followers? Are they interacting with your posts? Once someone follows an organization's account, this opens up the door for future dialogue and engagement.
Email list growth. Asking supporters to sign up for an email list is a great way to encourage them to stay involved. If a campaign is focused on attracting new supporters, check the email list growth rate to see how effective the campaign has been.
Summing it all up
We know we just shared a lot of ideas all at once. Even though it may feel daunting, just putting one foot in front of the other should get you there.
Don't change everything at once, and especially don't let distractions get in the way of your mission or purpose. Keep on sending those emails because people are opening them. But also don't be afraid to try a few new things. All the best things in life come with a little risk!