Chances are, you know how many donations came through your website down to the exact dollar amount… but have you ever spent a sleepless night thinking about the ones that got away? What about all those people who started donating but got distracted, lost internet connection, or remembered they were late for a meeting? This isn't just a few people — on average 83% of donation page visitors leave without making a donation.

Cart abandonment campaigns can help you lure (or remind) your prospective donors to come back and complete their donation.
Why do cart abandonment campaigns work so well?
When someone has navigated all the way to your donation page, it's clear that they're interested in your mission. But how do nonprofits take advantage of this type of campaign without coming across as money-grubbing or insensitive?
It's important to take advantage of the revenue potential of cart abandonment campaigns, but as a nonprofit, it's also important to understand how to position your campaign effectively. Below we'll discuss a few essentials for nonprofits that want to increase donations by tapping into the revenue potential of cart abandonment campaigns.
What is a cart abandonment campaign?
If your team hasn't run a cart abandonment campaign before, today is the day to start! Cart abandonment campaigns follow users who have made it all the way to your website's checkout page but never finished the process.
Few of these people made it that far out of sheer curiosity. They were right on the cusp of donating, and it may be as simple as reminding them where they left off.
This is a particularly easy campaign to run for retailers. If it's a pair of shoes or a watch, all a potential buyer needs to see is the product a few more times. But as a nonprofit, you're going to need to be more creative to drive viewers toward completing the donation.
Just because it requires more effort, don't make the mistake of missing out on donations that could be yours!

PCRF raised $9,000 through their donation abandonment campaign!
How to build copy for nonprofit cart abandonment campaigns
As a nonprofit, your messaging and branding are often drawing from the exact opposite motives of the traditional buyer. Instead of relying on a person's self-interest, fear, or ego, you're building your organization off of their generosity and empathy. Your messaging needs to reflect this fundamental difference.
There are two major reasons why someone stopped short of making the donation: There's a problem of knowledge — they didn't have enough information about your organization's mission or the specific project they were giving to. Or there is a problem of time —they were too busy, got distracted, or didn't have their wallet on hand.
Make sure that your copy responds directly to these two problems, but also make sure to express sympathy for their excuse. They're both fair (with the possible exception of the wallet being on the other side of the room).
Here are a few copy ideas that you're welcome to use as inspiration:
"It takes only 5 minutes to make a difference in a person's life"
"Learn more about our [Campaign Name] project"
"A gift takes 5 minutes to give but makes a difference for generations"
"Learn more about the people whose lives have been changed by [Your Organization]"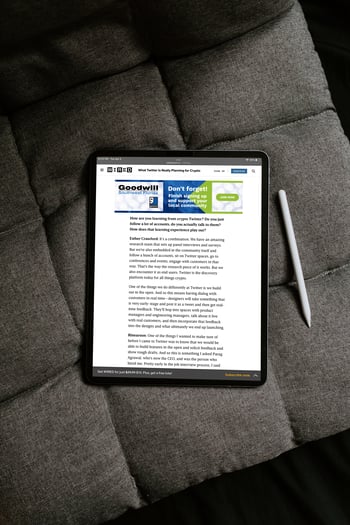 Example from Goodwill's donation abandonment campaign
Limit your ad spend with a frequency cap
It might sound counterintuitive, but as a nonprofit, you also need to make sure that you aren't bombarding your audience with ads. One of the easiest ways to do this is placing a frequency cap on the campaign, limiting the number of times someone sees your ad per day or week and removing users who have donated within the past month. This ensures that your message gets out there but doesn't pester prospective or longtime donors.
Even if your copy is perfect, it can start to seem callous if you're following users from page to page asking again and again to make a donation. Marketers like to think that they're pulling the strings, but people can read between the lines. It's fair to make a direct request, but it may read as overly aggressive to remind someone that they haven't donated multiple times over the course of a day.
I bet you never thought someone would tell you to spend less money! But setting frequency caps will allow you to stay on budget while making the most out of a campaign!
Don't miss out on cart abandonment campaigns
Please don't miss the opportunity of expanding your nonprofit's impact by running cart abandonment campaigns. It may feel strange to follow someone around the web, asking them to make a donation. But what your organization is accomplishing is important enough to make big asks.
There are many platforms that offer cart abandonment campaigns, but Feathr is passionate about partnering with nonprofits to ensure they can continue their work in making the world a better place. If you have questions about donation abandonment campaigns or about how much ad spend to allocate on a particular initiative, Feathr would love to work with you to give you better insight into your website's audience while increasing donations through abandoned cart campaigns.